HIGHLIGHTS
Google Maps and Search now show COVID-19 vaccination centres near you

Google makes it easier for people in India to locate COVID-19 vaccination centres

Here's how to search for the nearest COVID-19 vaccination centre in India
Google has announced that it is making it easier for the general public to find the COVID-19 vaccination centres in India, Canada, France, Chile, Singapore and the U.S. This effort by the search giant will let users check the nearest vaccination centres on Google Maps and in search results easily. As more and more countries kickstart vaccination drives across the world, there is a need to increase the vaccination rate in countries like India where the Coronavirus pandemic has a stronghold with over 15 million cases (April 18) and counting.
Dr Karen DeSalvo, Chief Health Officer at Google wrote in a blog post that, "Vaccines may be harder for people to access based on factors like where they live, how far they have to drive to a vaccination site, and if they have reliable internet access to book an appointment. And globally, it could be years before some countries even have enough vaccines. Overcoming the pandemic will require a coordinated effort on a global scale."
Google is now making it easier for eligible people to check up on their nearest vaccination centres and schedule an appointment to get immunized. It is as simple as searching for a query on Google Search or Maps and it will show a list of the official vaccination centres. Here's how to find COVID-19 vaccination centres on Google Maps and Search in India.
COVID-19 vaccination centres in India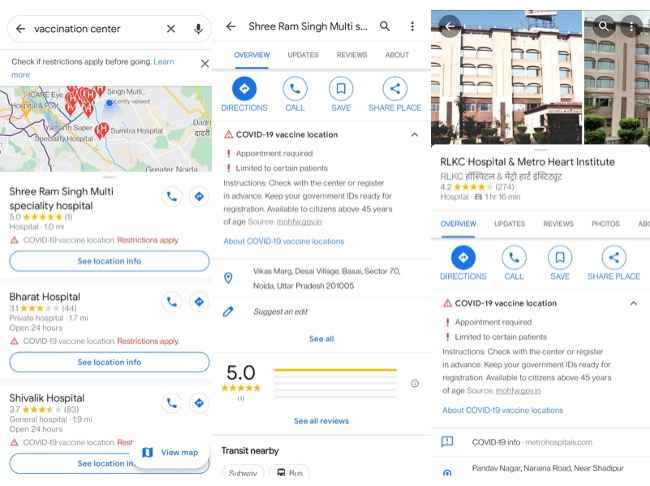 Searching for a COVID-19 vaccination centre is easy on Google Maps and Search. It is as simple as entering the term 'vaccination centre' or 'vaccination centres near me' on Maps or Search to get a detailed listing of the clinics and hospitals that have been designated by the Indian government to provide Coronavirus vaccine to the general public.
1. Open Google Maps on your phone.
2. In the Search box, enter 'vaccination centres' or follow it up with the name of the city: 'vaccination centres Delhi.
3. The search results will display a list of the vaccination centres nearest to your location.
4. Google has also highlighted the COVID-19 vaccine location in the search results and also provides additional information such as the prerequisite of an appointment if any.
5. People can just call up their nearest vaccination centres to enquire about the availability of the vaccine and set up an appointment to get the first dose.
Similarly, the feature has also been enabled on Google Search allowing users to just use the search engine to find and locate the nearest COVID-19 vaccination centre. Google sources its vaccination centre data from the Ministry of Health and Family Welfare, Government of India. Apart from details about the vaccination centres, Google is now also showing information about the COVID-19 testing lab on Maps and Search to facilitate Coronavirus testing in India. People looking to get tested for COVID-19 can just simply search for 'Covid 19 testing centre' on Google Maps or the search engine to get information on the nearest testing lab which is conducting tests for COVID-19.