Highlights:
Google release report aiming transparency in political advertising during general elections.
People can see expenditure by geography and advertiser.
You can also see the type of advertisement placed on different Google-owned platforms.

In a week's time, the world's largest democracy will enter the election phase where the people will vote for candidates in seven phases to form a government. In the past, it has been accused (and observed) that political parties have used several technology platforms to influence the voters. While the tech giants have already faced a lot of criticism on this issue in western countries, it seems they are already taking precautions in case of India to avoid a repetition of the ruckus.
While Facebook and WhatsApp have already released an outline of the steps they will take to ensure the transparency in this election, Google has now come out with their own way by releasing the Google Transperancy Report to share data that will sheds light on how policies and actions of governments and corporations affect privacy, security, and access to information. "Our goal is to provide greater transparency in political advertising on Google, YouTube, and partner properties. This report includes information about Lok Sabha election ads that feature or are run by a political party, a political candidate, or a current member of the Lok Sabha," Google said about the report.
Here's how you can check the facts and keep a track on the developments:
You can click here to go to the "Reports" section on the top left corner of the screen. From the third column, click "Political Advertising on Google" and select "India" to know about the expenditure on political ads by every political party since February 19, 2019. The report will also show you the states where the money has been spent. Moreover, you can also see the types and content of the ads that have been placed on different platforms owned by Google. There's also a break-up of expenditure made by each political party since February 2019.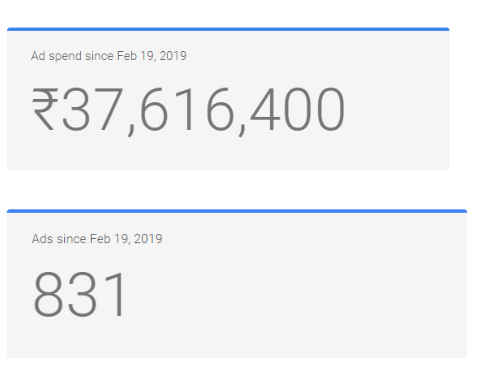 It is worth noting that the sum displayed here only shows the expenditure done to place ads only on Google's different platforms. The company updates the stats on a weekly basis. Google has segregated the expenditure into two sections: Ad spend per geography and top advertisers (the data on the platform represents total spend by verified advertisers since February 19, 2019.) The Google Transparency Report shows that over Rs 3.7 crores have been spent cumulatively by several political parties since February 19, 2019.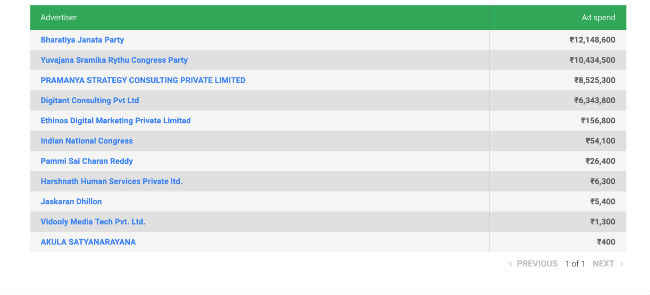 According to the report, Andhra Pradesh has seen the maximum ad expenditure on Google's platforms followed Telangana, Uttar Pradesh, Maharashtra and Bihar. It is worth noting that people in all these states will be voting in the first phase, that is, on April 11. The report also shows that the Bharatiya Janata Party has spent the most among all the political parties in the country. People can also download the data offline.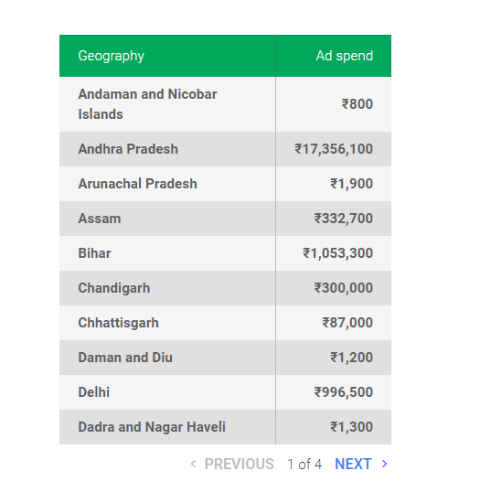 Recently, Facebook launched initiatives to boost civic engagement during general elections: Candidate Connect and Share You Voted. While 'Candidate Connect' will help people learn more about candidates contesting for Lok Sabha elections from their constituency, 'Share you Voted' will provide people with polling information and enable them to announce that they have voted.
Both the two new tools have been made available in twelve local languages in India. Either through a bookmark in their settings, or through a message in their News Feed, voters will be able to watch 20-second videos of candidates contesting from their respective constituencies. These videos, presented through the 'Candidate Connect' tool, will enable candidates to engage with the electorate.
On its part, WhatsApp also introduced tools to curb the spread of fake news and misinformation during the general elections. The instant messaging app launched a new tip line in collaboration with PROTO, an India-based media skilling startup to verify text messages, videos and photos circulating on the platform with regards to the 2019 Lok Sabha elections. The platform also added teeth by rolling out new privacy settings and invite system in India ahead of the elections aimed at giving users more control over who can add them to a group.
Related Read:
Twitter CEO Jack Dorsey banks on AI to help company curb fake news dissemination ahead of 2019 general elections in India