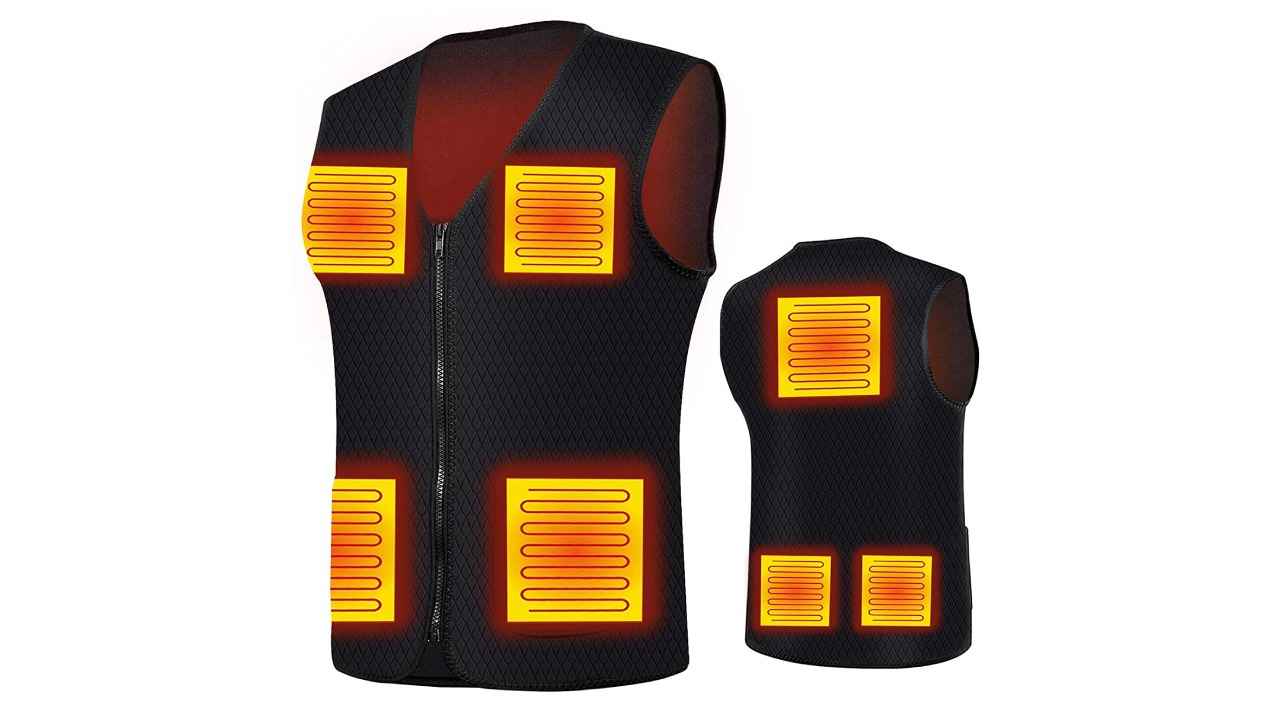 You can now fight the chilling winter breeze with a little help from heated vests. These are similar to heated jackets and provide heat to your body's core with the help of coils. Heated vests are slowly gaining attention as they allow greater movement. We have curated a list including some of the best-heated vests so you can buy one from Amazon in no time!
OZYILIAN Heated Vest for Men and Women
This heated vest is skin-friendly and can be washed so that you can enjoy various outdoor activities such as bike riding, golf, camping, hunting, fishing, skiing, hiking, or office daily wear even in this cold weather. It has 5 heat zones that warm up quickly, enhance blood circulation and help warm your stomach, waist and abdomen, and help relieve your muscles, shoulder and back discomfort. It offers 3 temperature modes, from high to low, and also automatically switches off to avoid low-temperature burns. The best part about this electric vest is that it is washable and can be easily charged through a USB port.
VanSmaGo's 2020 Heated Vest
This heating vest by VanSmaGo features 7 heating zones (one at the back, two on the chest, abdomen and waist) which help in providing much-needed heat to the core parts of your body and help resist cold effectively. It can be washed and is windproof as well as watertight (its exterior is made of durable polyester fibre), which makes it resistant to most tough weather conditions. You can adjust the temperature to high, medium or low (varying from 89°F to 260°F) and detect it using the different indicator lights installed on the vest. It uses eco-friendly carbon fibre heating elements which work with power bank supply and you can charge the vest with the help of a 5V power bank. It can be worn during travelling or outdoor activities as it doesn't restrict movement and provides warmth even in tough weather conditions.
Outgeek Electric Heated Vest
Outgeek is one of the most reliable brands as it is known for its premium quality products, and this heating vest falls in the same category. It is made of premium quality polyester fibre which is quite durable and can withstand tough weather conditions. It has three gears to adjust the temperature settings as per your preference. The vest helps channelise the heat to the core of your body and helps keep the upper body stay warm in the cold weather without restricting movement. It even has a pocket that can be used to store the power bank so you can charge the vest while on the move! The vest is washable as the power interface uses insulation and is waterproof, so it won't be damaged while washing it. It is windproof, which makes it ideal for daily use while commuting or other outdoor activities like riding bikes, camping, hiking, etc. Its interior is made of skin-friendly flannel, which is soft and warm.
P UPBEAMO USB Charging Heated Vest
This smart heating vest by P UPBEAMO can be charged via USB and can come in handy to keep the body warm and regulate blood circulation by keeping the upper body warm. You can wear it while heading outdoors for hiking, work or other outdoor activities as it doesn't restrict movement. Its interior is made of light insulation fabric that is soft and comfortable, while the exterior is made of durable polyester material, which is resistant to tough weather conditions. It is equipped with five carbon fibre heating sheets that quickly heat up and provide warmth to important body parts. You can change the heat settings to high, low or medium (temperature ranging between 45℃/113℉ to 65℃/149℉ using its smart heating system. You can charge it using a power bank and store it in the vest's pocket to charge it on the go.