Big play on Virtual Reality (VR), mobile first and regional content. Digit.in is the official partner for technology and gadgets news.
Republic TV today launched their mobile first digital destination – Republicworld.com. The website will have user centric as well as mobile-centric features such as algorithmically driven customisability, VR content and vertical videos.
Republicworld.com aims to be the go-to destination in India for live debates, opinions and interactive news content. It also plans to build communities around content verticals such as Entertainment, Music, Gadgets, Travel etc. For each of these verticals (or habits as they call them) Republicworld.com has partnered with various publishers such as Tripoto, YourStory, and Digit.in amongst others. The website also focuses a lot on regional languages such as Tamil, Telugu, Malayalam, Kannada, Hindi, Marathi, Bengali and more (with the help of regional partners once again). Speaking at the launch, founder Arnab Goswami said that such collaborations have enabled Republic World to be on the ground with stories much quicker than the competition.
A few of the innovations from Republicworld.com on the digital front include long-format live and VoD (Video on Demand) content in the form of vertical videos specially created for mobile audiences. This means users won't have to turn their devices when streaming content from Republicworld.com. This makes for a more native user-friendly experience.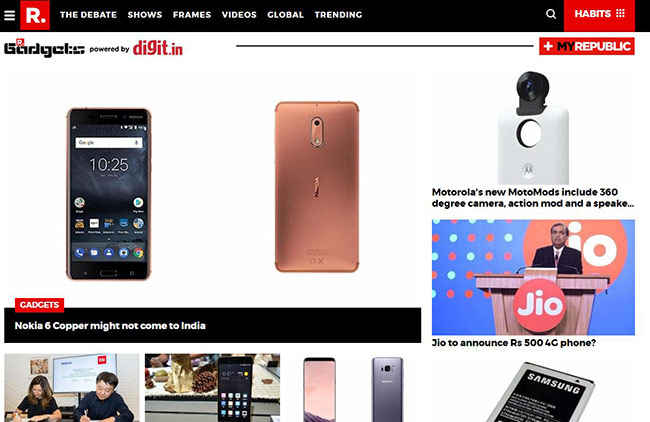 The other focus area is 360-degree and Virtual Reality content. The aim here is to let users experience on-ground reportage in a more immersive manner. "Imagine what it feels like being at a political rally. With VR and 360-degree video, viewers can experience some of that," said Arnab.
On the technology front, Republic video content is already streaming in HD using H.264 encoding. Jay Chauhan, COO and Technology Head, Republicworld.com told Digit that they are H.265 ready already, and will start streaming in the new format as soon as their backend stack supports the new codec. Republic also has a partnership with Microsoft for devices as well as deployment using Azure cloud. It also claims to be the only media house in India to produce parallel streams for live broadcast as well as digital (web) streaming. This means that the cuts and sequences for both mediums are tailormade to suit the medium.
Jay Chauhan, further added "Republicworld.com is at the intersection of content and tech, so we will keep pushing the boundaries of what's possible to constantly engage and improve upon the user experience for our audiences".