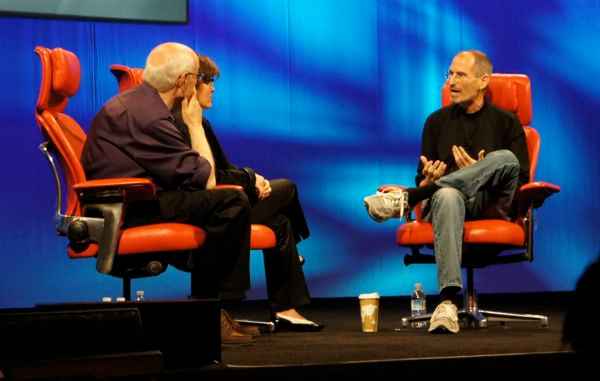 Apple CEO Steve Jobs took to stage with 'All Things Digital' producers Walt Mossberg and Kara Swisher at the D8 for candid interview, we have covered comprehensively today. Below is a summary of what he had to say about platform wars between Apple, Microsoft and Google
Apple vs. Google vs. Microsoft
To the hosts' question as to whether Apple is at war with other platform-makers Google and Microsoft, the Apple CEO said, "We never saw ourselves in a platform war with Mircorosft, and maybe that's why we lost [audience laughs]." Apple, he said, was merely concerned with "how to build a better product." It were the users that mattered to Apple, not the competitors. On the competition with Google, which has even led to dropping Google as the default search engine for iPhone, he said, "They decided to compete with us… so they are. They started competing with us and it got more and more serious. We didn't go into the search business!" When asked if recent acquisition of 'Virtual Assistant & Search' Siri pointed otherwise, Jobs replied, "They're not a search company. They're an AI company. We have no plans to go into the search business. We don't care about it — other people do it well."

When asked about Google's cloud-based OS, ChromeOS, Jobs responded, "Chrome is not really baked yet." He also said that ChromeOS was based on work they "did at Apple", the Webkit. Which is correct, since most modern browsers are based on WebKit, including offerings from Nokia, Palm, Android, and RIM. "We've created a real competitor to IE", Jobs said.
Apple's fingers 1 - Microsoft's stylus 0
Steve Jobs said that his vision of a tablet, operated using a finger is a winner over Microsoft's earlier tablets that used a stylus and handwritiing analysis: "it's too slow. If you need a stylus you have already failed." That is also the reason that Apple had to create an OS of their own: "But the minute you throw a stylus out, and you have the precision of a finger, you can't use a PC OS. You have to create it from scratch."
On Apple's Market Value exceeding Microsoft's
Jobs admitted that, "it was surreal but not important. Apple was 90 days away from going bankrupt. was much worse than I thought when I went back. People actually asked, "Why are you still here?" And answer was, because I bleed in 6 colors", said the Apple CEO, referring to the old logo of Apple Inc. That one is for the quotationary. We're touched.
Check out more from Steve Jobs's interview here.