A software update was released by Apple for the current Mac OS X line up yesterday. The update, which is meant for all users running the Snow Leopard (10.6.*) platform only, comes with a handful of patches, bug-fixes and solution for a few compatibility issues.

Users are suggested to back up their system, with Time Machine, as a usual word of caution. The update can be applied with the Software Updater over the Internet or the whole package can be downloaded and applied locally. The download size may vary depending on the system and the patches already applied before.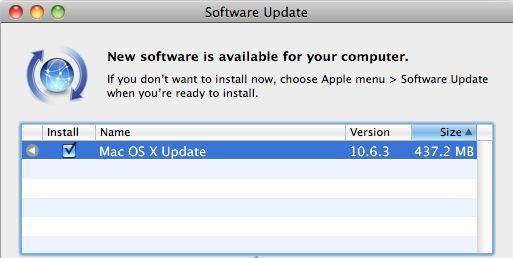 Here we have a few notable fixes, it comes with -
improve printing reliability
reliability of photo screen savers.
address a color issue in iMovie with HD content
improve sleep and wake reliability when using Bonjour wake on demand
resolve issues with recurring events in iCal when connected to an Exchange server
improved reliability and compatibility of QuickTime X
improve the reliability of 3rd party USB input devices
compatibility with OpenGL-based applications
background message colors to display correctly in Mail
resolve an issue that prevented files from copying to Windows file servers
improve performance of Logic Pro 9 and Main Stage 2 when running in 64-bit mode
fix glowing, stuck, or dark pixels when viewing video from the iMac (Late 2009) built-in iSight camera

Apart from these, several other Airport (WiFi), MobileMe and Time Machine fixes have been introduced in this update.

Snow Leopard 10.6.2 users can update their system with this package [720MB]. To migrate directly from 10.6 or 10.6.1 to 10.6.3, this Combo Update [784MB] has to be applied on the system.