Kuo claimed that Apple will introduce chip upgrades for the MacBook, MacBook Pro, an iMac with "significant display-performance upgrades". The Apple Watch could be introduced with larger displays.
After talking about this year's iPhone line-up extensively, famous Apple analyst Ming-Chi Kuo has published a new research note for the investors giving details about the upcoming iPads, MacBooks, Mac PCs and Apple Watch hardware. He claimed that Apple will refresh its old hardware as well as introduce new variants of the tablet, laptop and Mac PC. The analyst from TF International Securities also reiterated his stance on the 2018 iPhone lineup. Here is what Kuo expects that Apple will launch this fall.
iPads: Kuo said that Apple may launch an updated line-up of the iPad Pro. These new models are expected to do away with the Home button and come with the Face ID support -- just like the current iPhone X. The analyst also predicted that there will an be updated 12.9-inch version of the iPad Pro and the company may also unveil a new 11-inch variant. The rumoured 11-inch model may be a replacement for the current 10.5-inch iPad Pro.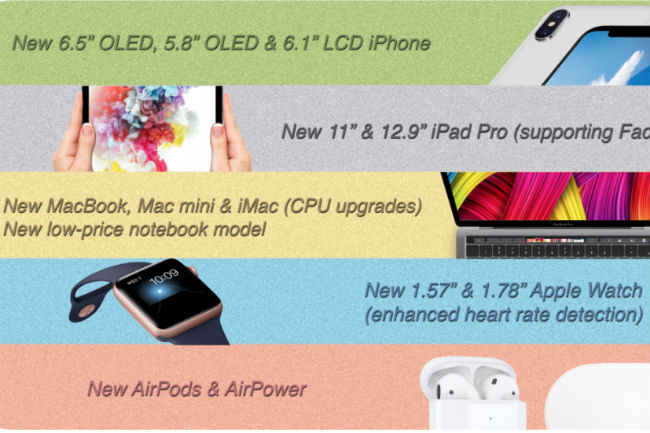 MacBooks and Mac PCs: Kuo expects that the Mac PC line-up will get a chip upgrade which will bring improvements in performance and display. Apple may also launch a 'Mac Mini' which is likely to be a much affordable Apple PC. When it comes to MacBooks, the whole laptop line-up will be refreshed and there is a possibility of a new "low-price notebook" that the analyst believes may not be called MacBook Air.
Apple Watch: Earlier a report had claimed that Apple is planning to introduce a touch sensitive solid-state button in the upcoming generation of the Watch. Now Kuo says this year's Apple Watch could be introduced with larger displays and have 1.57-inch and 1.78-inch screens. The wearable is also tipped to come with enhanced heart rate detection.
AirPods: The latest claim falls in line with Kuo's predictions that he made earlier this year. He had claimed that Apple might be working on a new version of its AirPods earphones. A Bloomberg report attested to that claim saying that the 2018 Airpods may come with a new chip that lets users access Siri via the 'Hey Siri' voice command, without the need to double-tap the headphones. In his latest note, Kuo said the company will launch and mass produce updated AirPods.
iPhones: The analyst had earlier made a lot of claims about this year's iPhone line-up. He said that this year, Apple is expected to launch three iPhone variants: an affordable 6.1-inch iPhone with LCD display, a 5.8-inch iPhone with OLED display and a 6.5-inch variant with OLED screen as well. These smartphones will have similar design to the current iPhone X. You can read more about these phones here.