Amazon App store will run android apps on Microsoft Windows 11. The leaker shared the app's link on Twitter but general users cannot use it.
A well-known leaker, the WalkingCat, spotted the Amazon Appstore on the upcoming Microsoft Store for Windows 11. Amazon app store can be seen on the Microsoft store, however, users can't use it at this time. The leaker also shared the app's link on Twitter but to download the app users need to redeem a code first. Furthermore, they also need Windows Subsystem for Android on their computers.
Windows 11 will launch with the ability to use Android apps via the Amazon app store. The upcoming Windows OS will allow users to install APKs and the Amazon Appstore will provide the user interface. Windows 11 users will have the ability to search different apps inside the Microsoft store and then shift to the Amazon App Store to install an Android app.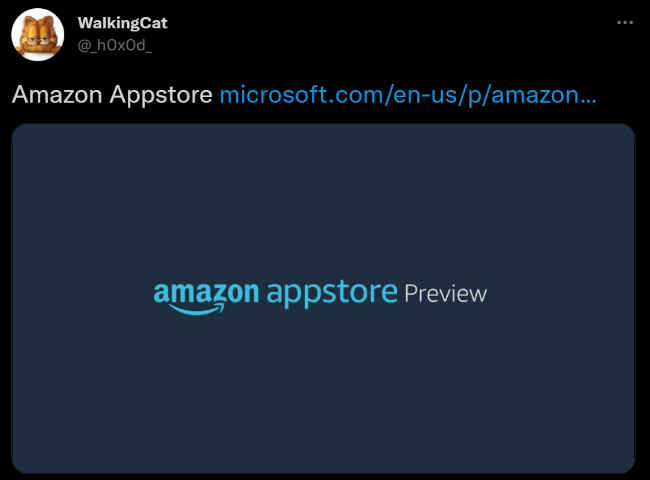 Amazon App Store To Offer Android App Support In Microsoft Windows 11
Windows 11 will be the first OS to offer built-in support for Android apps. Earlier people relied on third-party software like Bluestacks to mirror android apps on PC however with Mircosoft 11 such emulators will most likely become redundant.
A lot of people use android apps on PC, especially games like Call of Duty: Mobile, BGMI, Free Fire and many more. However, these people would have to wait a little longer to play android games on PC because support for these apps won't be available on the official Windows 11 launch on October 5, 2021.
Nonetheless, with the Amazon app store appearing on the Microsoft Windows store, its official launch seems imminent.
Tags:
Amazon App store Windows 11
Windows 11 android support
Windows 11 Amazon app support