We got a very elegant teardown of the PS5 from Sony itself where the company revealed not only the slot for expandable storage but also the large fan and cooling technology meant to keep the PS5 whisper quiet. If you missed that teardown, you can check it out here.
However, today we have an unofficial teardown of the PS5 DualSense controller. This one comes from TronicsFix who quite meticulously tears down the DualSense controller.
Once he opens up the controller, he compares it to the DualShock 4 controller found on the PS4. You can see that the haptic motors are quite different when compared to the vibration motors found on the PS4 controller. The battery on the DualSense controller is a lot bigger than its predecessor but it remains to be seen how much of a difference there is in the battery life of the 2 controllers.
There are also more chips on the DualSense controller when compared to the DualShock 4 to obviously cater to the new tech in the new controller. One thing to note is that the analog sticks on both the controller are exactly the same, as far as the hardware is concerned.
When it comes to the haptic motor, it is a lit larger than the vibration motor found on the DualShock 4. Moving over to the adaptive triggers, it looks like there is a spiral motor. When the motor rotates, it increases/decreases the tension on the DualSense trigger. TronFix says that the adaptive triggers have a modular design which should help with repairability.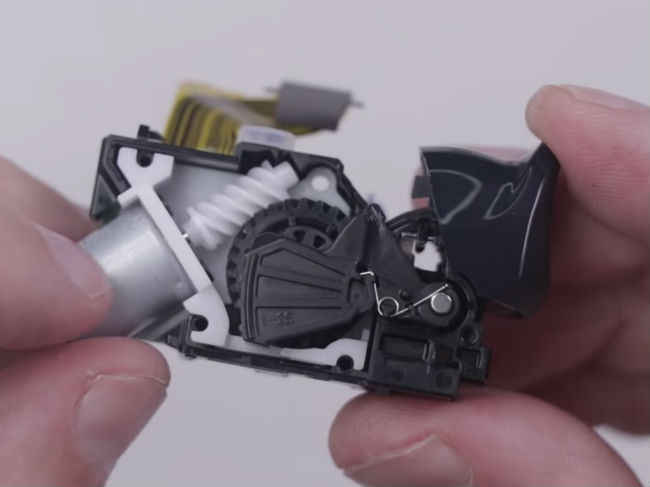 One thing to note is that the controller has a lot of rubber dampers, on the motherboard, on the triggers and more to help control the amount and spread of vibration to a different part of the controller and more importantly, to the motherboard.
YouTuber Austin Evans also got his hands on the DualSense controller and shows it working on an Android smartphone to play Xbox games via xCloud. He also breaks the controller while trying to take it apart. You can check out his video here.
Image courtesy: TronicsFix