As the clock struck 00:00 hrs on September 20, Indian fans got their hands on Epic Games final installment of the Gears series – Gears of War 3 at Game4u store, Mega Mall, Oshiwara, Mumbai. Gamers eagerly lined up outside the store that was decked up with Gears of War 3 merchandise to get a first look of the game. Some customers reached the store over an before the launch to be first in line for the midnight release of "Gears of War 3" a sci-fi military shooter game for XBOX 360. The first customer to purchase the game as soon as the store opened at 00:00 hrs was presented with a "First to Own" certificate by Mr. Jayont R. Sharma, Chairman and CEO, Milestone Interactive Group along with exclusive Gears of War 3 merchandise.
[RELATED_ARTICLE]
Additionally, all customers that attended the midnight launch were given Gears of War 3 freebies such as game DLCs, key chains, mugs, t-shirts and posters.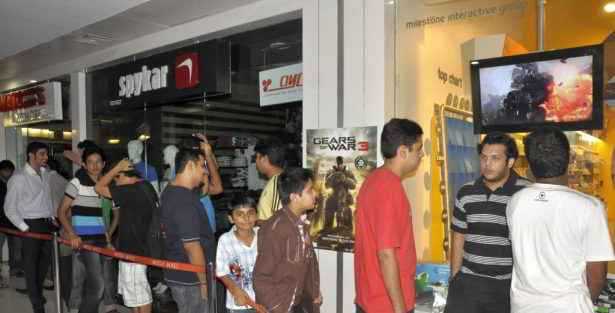 Speaking on the Gears of War 3 mid-night launch at the Game4u store, Mr. Sharma said, "The Gears of War franchise has a huge appeal amongst Indian gamers. It gained popularity when the first version was released five years ago. We are excited to deliver the third installment to the ardent fans of the franchise in India via this mid-night launch".
You can find more information on Game4u on Facebook (http://www.facebook.com/game4u), Twitter (@Game4uNinja) and the official blog (http://blog.game4u.com)