Vostro 3501
Popular tech to stay connected anywhere. Save more on exciting Dell PCs.
Click here to know more
Advertisements
Sony has announced two new speakers and the highlight of these speakers is 360-degree reality audio. The speakers have the model numbers SRS-RA5000 and the SRS-RA3000 and will be available internationally starting February 2021. There is no information on whether these speakers will come to India.
360-degree audio is something Sony showed off back at CES 2020 and the recently released PS5 (review) also comes with 3D audio that gives gamers a more immersive 3D audio experience when gaming with headphones.
Starting off with the more expensive SRS-RA5000, the speaker will be priced at approximately £500 (Rs 50,000 approx. directly converted) and available from February 2021. The speaker has seven drivers - three up-firing drivers, three front-facing drivers and an internal woofer. The positioning and direction of the speakers are designed to give the listers a complete 360-degree audio experience.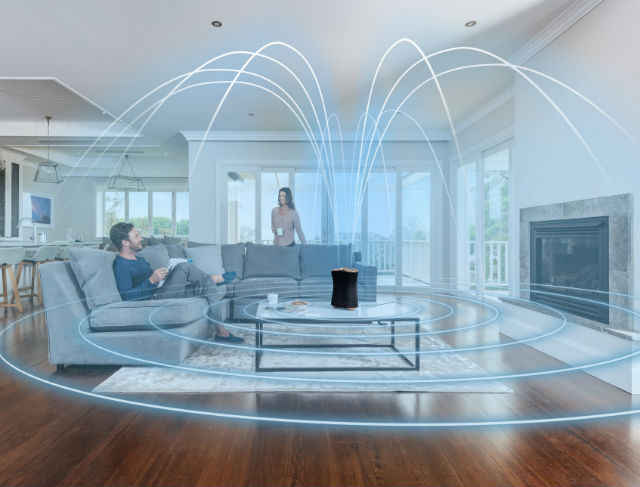 According to Sony, "The RA5000 features a trio of up-firing speakers that spread music vertically, while the three middle sited speakers spread sound horizontally. The speaker unit incorporates high-magnetism neodymium magnets and a mica reinforced cellular diaphragm that gives strength to the speaker whilst maintaining a compact size. These are complemented by a subwoofer which helps to flood the room with rich, deep bass. The RA5000 retains expressiveness from bass range notes to high range notes".
Next, we have the SRS-RA3000 which will be priced at approximately £280 (Rs 28,000 approx. directly converted) and available from February 2021. This lower-priced speaker of two comes with a triple-driver layout - two tweeters and a single woofer. The tweeters aim to project sound to give the lister a 360-degree audio experience. There are also two passive radiators on the SRS-RA3000. These will help offer a better low-end response from the speaker.
Sony says that the RA5000 and RA3000 "both feature Sound Calibration that offers optimal sound performance wherever they are used. Simply hold the Immersive Audio Enhancement button on the RA5000 and it will conduct a detailed sound calibration adjustment for optimum audio performance for the room it is placed in. The RA3000 provides effortless auto adjustment which takes place in the background while you are enjoying your favourite tracks. To activate the RA3000's automatic recalibration, simply turn the speaker on wherever it is placed in your house and the speaker will recalibrate itself to the new position".
Calibrating a speaker to a room isn't anything new. We have seen speakers and soundbars offer room calibration to best judge the acoustic layout of the room and deliver the best possible sound. How this works to offer 360-degree sound is something we will know when we experience the speakers.
Both speakers are compatible with Google Assistant-enabled devices and come with Chromecast built-in. They will also work with Amazon Alexa giving you the flexibility of your assistant of choice. The speakers can also connect to compatible Sony Bravia TVs in case you want to use them to watch movies or TV shows. For connectivity, the speakers have Wi-Fi, Bluetooth and NFC.