Nothing Ear 2 has launched in India at ₹9,999 which is close to the price of the OnePlus Buds Pro 2 and Oppo Enco X2. The new arrival brings a familiar design and a flock of new features. Let's compare it with the competition to find the better specced TWS earbuds.
Nothing Ear 2 vs OnePlus Buds Pro 2 vs Oppo Enco X2
1. Design
All three buds have a medium-length stem and in-ear design.
Nothing Ear 2 has got a transparent body, much like its predecessor. The buds are also smaller and lighter. The charging case is said to be built out of stronger and more shock-resistant material. You are also getting IP54 dust and water resistance on the buds.
OnePlus Buds Pro 2 comes with an IP55 rating for the buds and an IPX4 rating for the case. The buds weigh 4.9 grams and the case is 47.3 grams.
Enco X2 buds weigh 4.7g and the case measures 47g on the weighing scale. You get IP54 ingress protection on the buds.
2. Sound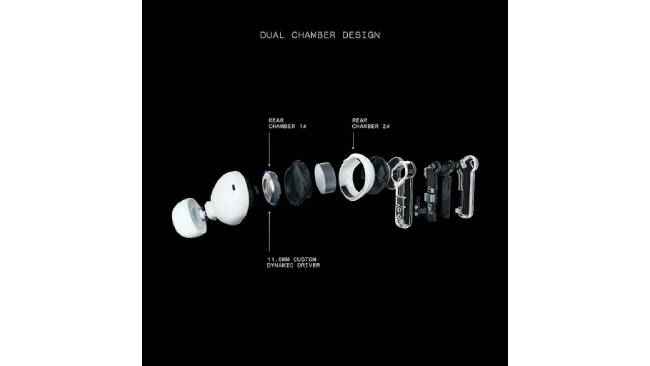 Nothing Ear 2 sports a dual chamber design and has an 11.6mm custom dynamic driver inside. You get to set a personal sound profile.
In comparison, OnePlus Buds Pro 2 houses an 11mm woofer and a 6mm tweeter setup. Enco X2 also has an 11mm dynamic driver and a 6mm planar diaphragm driver.
3. Noise Cancellation
Nothing offers active noise cancellation of up to 40 dB and you can fine-tune this further between 3 ANC modes that change automatically.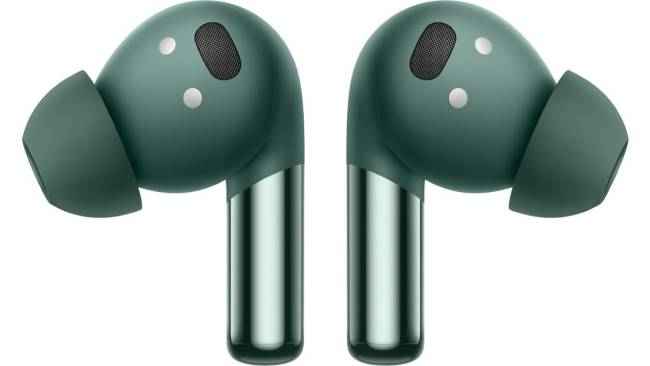 The pair of OnePlus buds, on the other hand, is capable of eliminating noise up to 48dB using the Smart Adaptive Noise Cancellation feature. Enco X2 can fend off only 38-decibel levels of noise but offers different noise cancellation modes like Smart Noise Cancellation, Max Noise Cancellation, Moderate Noise Cancellation, and Mild Noise Cancellation.
4. Battery Life
Nothing Ear 2 claims 6 hours of runtime from the buds and a total of 36 hours from the charging case. The company says 10 minutes of charging can fill in 8 hours of juice. The case has got a USB-C port for plugging in the charger. It also supports Qi wireless charging.
With ANC on, the OnePlus Buds Pro 2 also assures 6 hours of battery life and along with the juice from the case, the battery life can go up to 25 hours.
Enco X2 is slightly behind the two in battery longevity as it claims only 5.5 Hrs of playback. However we use the charge from the case, the total playback can go up to 22 hours.
5. Other Features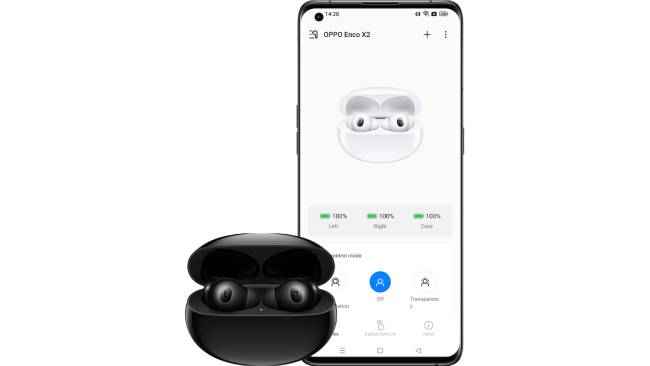 Nothing Ear 2 experience is aided by a Dual-Device connection and Low latency mode for gamers.
OnePlus offers its Buds Pro 2 users Google Fast Pair connectivity, LHDC codec support, up to 54ms lower latency during gaming sessions, Neck Health, OnePlus Audio ID 2.0, and Zen Mode Air.
Last but not least, the Enco X2 gives its users LHDC 4.0 codec, bone conduction microphone technology, and more.
In a different article, we have covered how it compares to the Nothing Ear 1 as it comes with a significant price jump.
Nothing Ear 2 vs OnePlus Buds Pro 2 vs Oppo Enco X2 Price
Nothing Ear 2 is priced at ₹9,999 in India. OnePlus Buds Pro 2 retails for the same price. Enco Buds X2 is available at ₹10999, which is ₹1000 more than the other two.