Sony's keynote at CES 2016 saw a new vinyl LP turntable, a lossless audio-capable walkman, new televisions and a 4K streaming service to justify your new 4K television.
Sony has just delivered its keynote at the Consumer Electronics Show (CES) 2016. Of all the major announcements, Sony's stance on better audio will particularly please audiophiles. The Japanese tech giant announced the PS-HX500 Hi-Res Vinyl Turntable. While it functions like most other compatriot vinyl players around, what Sony claims to be the difference-maker is its ability to play Hi-Res audio, either in Sony's proprietary DSD format, or 24-bit WAV files. The HX500 converts analog signal to digital files, which can also be edited via an app synced with the device.
Also launched at CES 2016 is the Sony Walkman A26 – a lossless audio player following up to 2014's Walkman A17. Unlike last year's premium Walkman, the Android-powered Sony ZX2, the Sony Walkman A26 features a more functional interface, support for Bluetooth audio streaming and NFC connectivity, and FLAC, AIFF, Apple Lossless, WAV, MP3 and AAC formats. It has 32GB of storage, along with a microSD slot to expand storage by upto 128GB.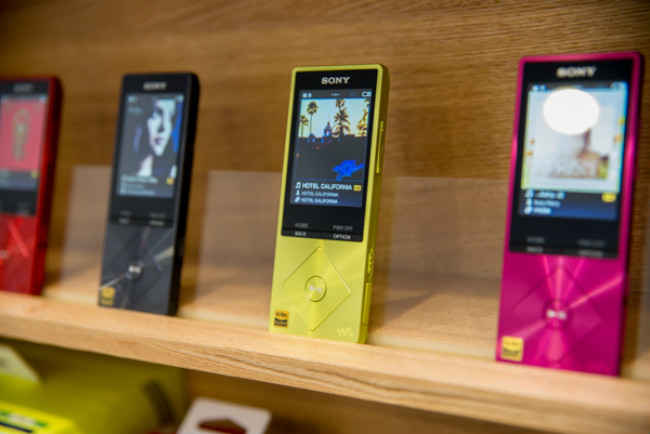 Sony Walkman A26 – a dash of colour, with high fidelity audio
To add to its portfolio of hi-res audio products, Sony has launched a lineup of H.ear headphones and speakers. The Sony H.ear Go has been described by Sony as the world's smallest hi-res audio speaker. There are two new pairs of wireless headphones – the on-ear H.ear On, and behind-the-neck H.ear In. The new pair of headphones have digital noise cancellation technology, alongside Sony's DSEE technology, which allows audiophiles to listen to mp3 tracks in upgraded CD-quality. The digital noise cancellation technology has a component which Sony is calling "Automatic AI", which will detect the ambient noise around to adjust its noise cancellation degree. All of these – the Walkman A26 and the H.ear lineup – come in a variety of colours to appeal to the style-conscious. The HX500 vinyl turntable, however, sticks to an elegant black finish, and it does exude a sense of class on photographs.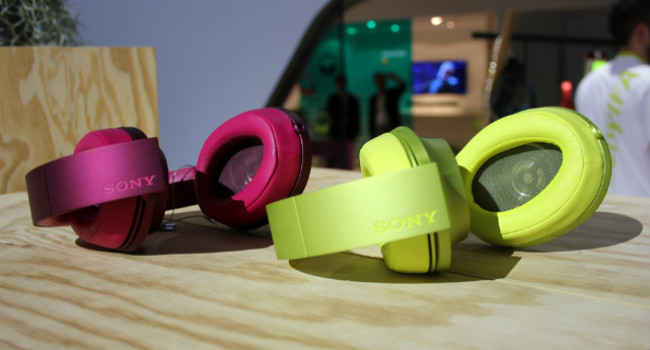 The H.ear On pair of hi-res wireless headphones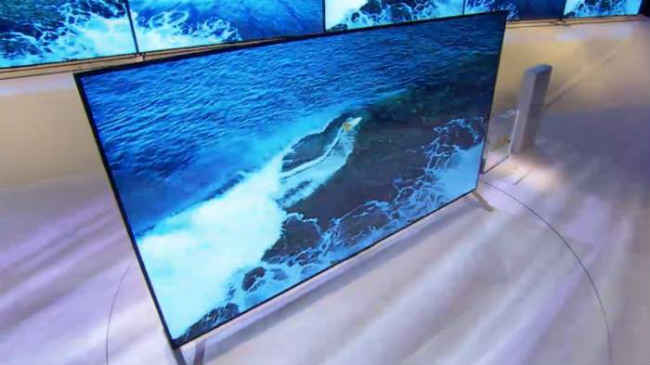 Sony's ultra-slim 4K HDR TVs at CES 2016
Moving over to televisions, Sony has played along to the HDR (High Dynamic Range) theme at CES 2016, unveiling three new ultra-thin 4K HDR Android TVs at its conference. The televisions are Sony BRAVIA XBR-930D (55" and 65" variants), XBR-940D (55", 65" and 75" variants) and XBR-850D (55", 65", 75" and 85" variants). Sony is incorporating its Slim Backlight Drive technology in its new televisions to facilitate better distribution of the backlit LEDs, thereby giving a more balanced light output. To complement the 4K televisions, Sony is also launching its own 4K HDR content service – Ultra. Launching first in the United States, Ultra will allow 4K TV owners to buy, stream or preview ultra high resolution content licensed under Sony Pictures.
Sony's foray into the Internet of Things (IoT) began with its television remote control, which Sony has stated can be used to control more than 270,000 devices. There are a wider range of products that Sony has unveiled at CES 2016, more of which we will follow up on, soon. As for its main focus, Sony's highlight has been in high content quality, with both audio and television.