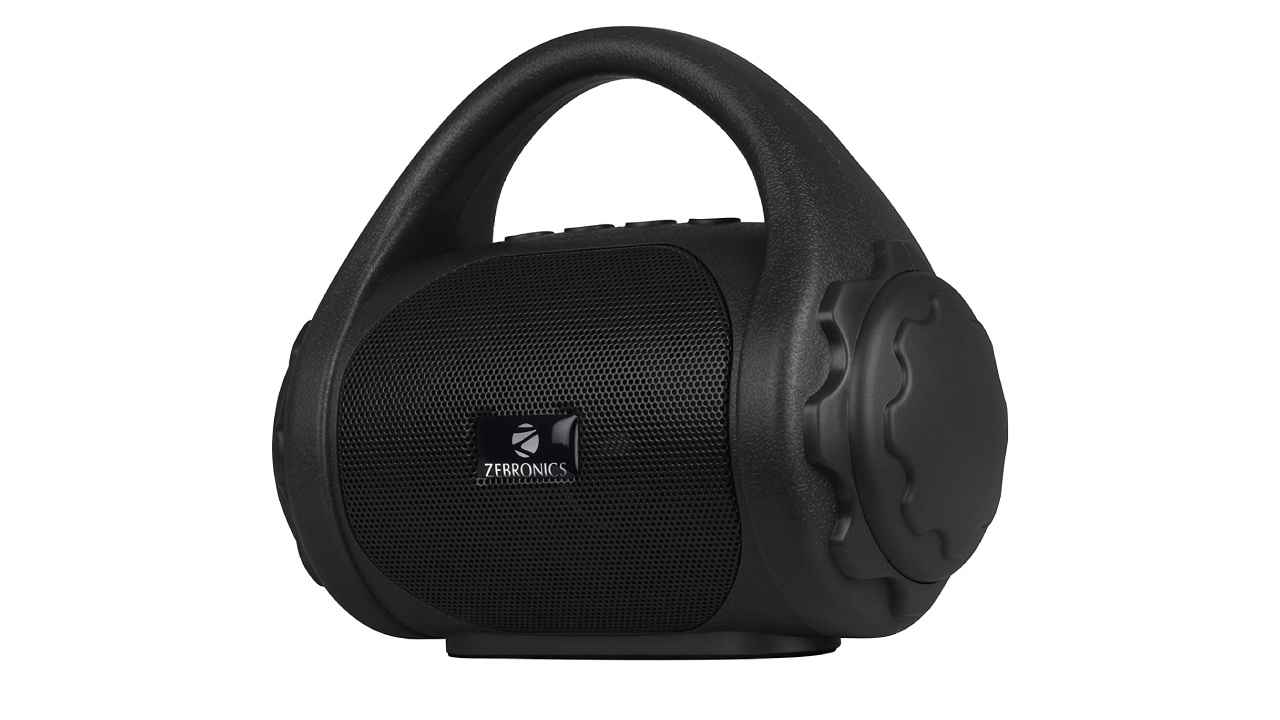 One may argue that the age of listening to the radio is long past us, but radio is a significant source of entertainment for many. FM Radio lovers often have to go to lengths just to listen to what they want, but with the help of these Bluetooth speakers, you can rekindle your love for FM Radio. Most Bluetooth speakers don't come with FM functionality owing to the very niche category of people who want such a speaker. However, there are a set of Bluetooth speakers which give you the best of both worlds – wireless connectivity to your devices and built-in FM Radio. Here are some Bluetooth speakers with built-in FM Radio that you can get on Amazon.
Portronics SoundDrum Wireless POR-547 Bluetooth 4.2 Stereo Speaker with FM
This is a highly portable Bluetooth speaker with built-in FM functionality. Despite its small size, it manages to pack in a sound output of 10W, which is quite impressive and good enough for everyday usage within the house. To access the FM functionality, all you need to do is press a button, tune in to your favourite channel – it's that simple. As for other connectivity options, you get Bluetooth 4.2, which lets you connect multiple devices at once and switch between them on the fly, a 3.5mm audio jack and a USB-A input. These input options allow you to store and play your music from whichever source you are comfortable with.
Zebronics Zeb-County Bluetooth Speaker with Built-in FM Radio
The Zebronics Zeb-country is a good value for money speaker which also packs a built-in FM Radio. It is quite compact and sports a unique design, which sets it apart from the other speakers in the price range. It has a set of buttons on the top along with a carry handle. The buttons allow for easy playback controls, while the handle helps with portability. It features a host of wireless and wired source options – Bluetooth connectivity, a built-in FM radio, an audio jack and USB functionality. Incidentally, there is also a microSD card slot for up to 32GB of more audio content. Not only that, it has a call function too, so that you can pick up and make calls without reaching out to your phone. To enhance the convenience factor, it comes with a battery backup of 10 hours.
Amkette Pocket Blast Bluetooth Speaker with FM
A pocketable speaker like this one makes for functionality in terms of portability and usability. You can expect good FM radio quality due to the in-built antenna, which allows it to receive FM frequencies. On account of the 6 watts sound output, you can expect clarity while listening to either the FM or your playlists via Bluetooth connectivity. At the top, aside from the protruding antenna, there are a set of buttons not only for audio playback but also for channel and song selection in the form of a number pad. This makes switching to your favourite FM stations or playlists a breeze. Apart from these two wireless modes, there is also an option to use a USB, AUX or microSD card for audio playback.
Zoook Rocker Boombox Atom Portable Wireless Bluetooth Speaker Cum Radio FM
Here's a Bluetooth speaker with built-in FM that is big, has a good set of features, loud and clear volume to ensure that you're getting the best FM and music experience in the price range. It is highly portable – if you always want your music with you, this Bluetooth speaker will help you out. A long extendable antenna enhances the signal from the source, giving you clearer audio quality while listening to the FM. Apart from that, it also features Bluetooth 5.0 for easy wireless connection to your mobile devices. It also has bass radiators which help deliver more rich and dynamic bass. It also packs in the TWS feature, which lets you use the speakers in a stereo setup if you have two of them.