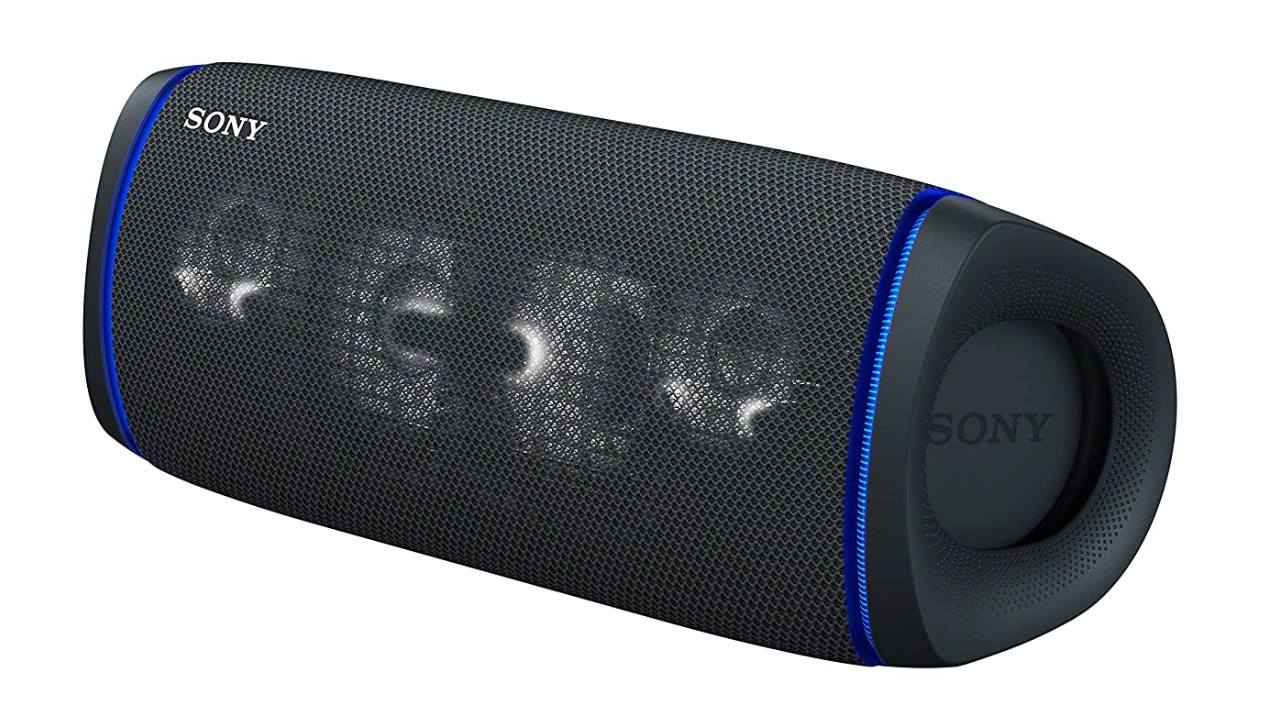 A good speaker often adds to the overall content consumption experience. Bluetooth speakers are incredible in this regard as they are incredibly versatile and can be used for a number of purposes, all while being connected to devices wirelessly. Some speakers can be connected to other Bluetooth speakers without using cables and wires to deliver a truly stereo audio experience. A stereo speaker offers proper channel separation and thus enhances the overall experience. This is especially true for songs that use many instruments – in which case you can clearly distinguish each of them. So, here are some Bluetooth speakers that can be paired for stereo output.
Sony SRS-XB43 Wireless Extra Bass Bluetooth Speaker with 24 Hours Battery Life
The Sony SRS-XB43 is a great wireless Bluetooth speaker in itself but becomes better when paired with another one of its kind. The speaker has an inbuilt subwoofer and an extra bass mode, both of which combine to give you impressive audio quality, especially when it comes to bass-heavy music. Movies, TV shows and games are all enhanced with this speaker. Incidentally, it is quite portable as well, even though it has a better sound output than many speakers of its size. On top of that, it has a claimed battery life of 24 hours, which is great for travelling. The Sony SRS-XB family speakers can be paired with one another to create a daisy chain of speakers.
JBL Flip 5 by Harman Bluetooth Speaker with Upto 12 Hours Playtime
The JBL Flip 5 is one of the most impressive all-round speakers on the market. It packs impressive sound output, good battery life and an easy to carry, compact and portable body. The speakers work exceptionally well to listen to music and provide significant movie audio – sound effects, directional audio, surround sound, and dialogue clarity. Indeed, these speakers are better than your average laptop or mobile phone speakers. Another great feature is its IPX7 water resistance, making it ideal for pool parties and rainy days. There's also a PartyBoost mode, which lets you pair multiple JBL speakers to make music louder and more immersive.
SoundLink Revolve II Portable Bluetooth Speaker
Bose speakers are well known for their impressive sound quality. This one definitely delivers in that regard – it is a great speaker on its own and does not need to rely on other speakers to enhance sound quality. The speakers themselves promise rich sound quality, dynamic bass, and high-quality audio reproduction no matter the content – music, movies or games. It is a 360-degree speaker, which delivers impressive sound in all directions, making it one of the best Bluetooth speakers for versatile use. While the speaker is enough to fill up rooms with ample audio, the sound experience is taken to the next level if you pair it with another Bose SoundLink speaker. Together, the two (or more) will provide you with excellent stereo sound, which goes well with modern content.
MI Portable Bluetooth Speaker (Black) 16W Speaker
In the market for a Bluetooth speaker which is portable, has a long battery life and offers good value for money? Then this is the option for you. It has a stylish design that is modern and quite impressive, with simple controls and good sound output. Since the speaker is quite affordable, it would be wise to pick up two of these simultaneously and use them in a stereo configuration. This will enable you to enjoy your content in all its audio-packed prowess. It also supports Dual EQ modes, a 16-watt output, 13 hours of audio playback and voice assistant control. Together, all these features combine to make a great speaker that is an exceptional value for money. Furthermore, it also packs in IPX7 water resistance, making it more than just a fair-weather friend.