HIGHLIGHTS

​YouTube is killing its messaging feature on September 18.

Users will still be able to share videos by other conventional means.
YouTube has announced that it is removing the direct messaging feature from the platform on September 18. To be frank, YouTube messaging isn't Google's popular way to chat but it helped people share videos without having to leave the platform. While the company hasn't exactly revealed why it is killing the feature, it is speculated that the decision is taken keeping in mind its unpopularity as compared to other ways of communication.
"Two years ago, we launched a feature to enable you to share videos via direct messages on YouTube. Since then, we've also focused on public conversations with updates to comments, posts, and stories. We're constantly reevaluating our priorities and have decided to discontinue YouTube's native direct messaging feature while we focus on improving public conversations. Some parts of this feature may go away before this date, such as sharing a video as a message," YouTube said in a support page.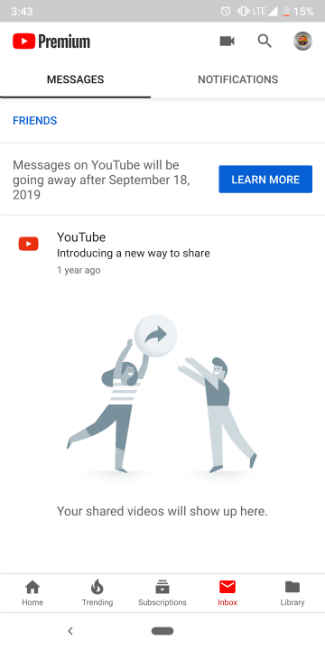 Even though the ability to direct message on YouTube will no longer be available after September 18, users can still share YouTube videos by going to the video watch page on any device, click "Share" and select the "social network icon" from which you want to share a video. On PC you can copy and paste the URL of the video to share with friends.
This is one of the changes that YouTube has brought in the recent months. Earlier this month, the video platform raised the limit of downloading videos in resolutions to Full HD quality, that is, 1080p. Earlier this was limited to only HD, that is, 720p. It should be noted that the limit has been extended to the YouTube Premium subscribers. In June this year, YouTube introduced three changes to the app to give more control to its users so that they can choose what content appears on their homepage and in 'Up Next' suggestions on the video streaming app.