Highlights:
WhatsApp launches tip line to fight misinformation during elections.
The tip line will work in Hindi, English, Telugu, Bengali and Malayalam.
Users can add +91-9643-000-888 on WhatsApp to verify messages.
In a bid to fight misinformation and Fake News on the platform, WhatsApp has launched a new tip line in collaboration with PROTO, an India-based media skilling startup. The tip line number +91-9643-000-888 can be added by WhatsApp users and can be used to verify text messages, videos and photos circulating on the platform with regards to the 2019 Lok Sabha elections.
The election period is a crucial time in a country and political parties circulate propaganda through various means on popular messaging services like WhatsApp. Users may receive false news and forwarded messages that are intended to harm campaigns or malign contenders. To make it easier for WhatsApp users to sift through misinformation, the platform has partnered with PROTO for a new tip line. PROTO will use texts, images and videos reported by users on the tip line to create a database of rumors and study misinformation during elections for Checkpoint - a research project commissioned and technically assisted by WhatsApp.
"When a WhatsApp user shares a suspicious message with the tipline, PROTO's verification center will seek to respond and inform the user if the claim made in message shared is verified or not. The response will indicate if information is classified as true, false, misleading, disputed or out of scope and include any other related information that is available," WhatsApp writes in a blog post.
The WhatsApp election tip line service will cover four regional languages including Hindi, Telugu, Bengali and Malayalam, other than English. "PROTO will also encourage grassroots organizations to submit rumors circulating across different regions in India during the election period," said the Facebook-owned platform.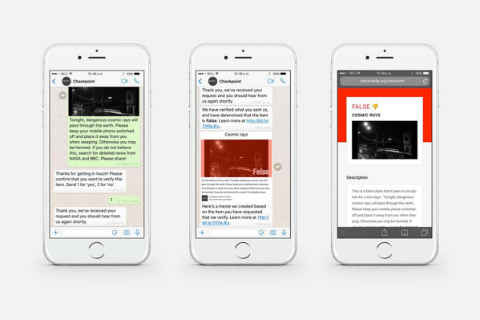 Other partners making this tip line possible include - Dig Deeper Media and Meedan. The organisations have previously worked on misinformation-related projects around the world, and will help PROTO develop the verification and research frameworks for India. "Meedan has developed the technology to support the verification of rumors and will maintain the database of rumors that have been processed. To do so, they have expanded their Check platform (developed for recent elections in Mexico and France) and integrated it with the WhatsApp Business API, to receive and respond to messages at scale," said the company.
After the completeion of the process, PROTO will submit learnings to the International Center for Journalists to help other organizations learn from the design and operations of this project.
WhatsApp has been under intense scrutiny in India for being a source of fake news and false claims. The platform has been facing the ire of the government since last year, when a bunch of fake messages circulating on the platform inspired mob lynchings across the country.
Following the incident, the platform took several steps to fight misinformation. The Forwarded Label was introduced on WhatsApp soon after and the company also announced a research award to learn more about how fake news spreads in India. The company even introduced suspicious link detection to help users detect sent and received suspicious links in WhatsApp.