Nimbuzz messaging app rolls out new update, allows users to search and share content within the app.
Nimbuzz has teamed up with technology provider Sprylogic to add new "search and share" functionality to its app. The new update lets users exchange videos, restaurants, movies, and other kinds of content without leaving the app with a simple "swipe and share" gesture.
The new Nimbuzz update offers simple enhancements that are integrated seamlessly into the app. Sprylogics technology provider of local mobile search and messaging solutions for consumers and businesses, helps aggregates content on a wide range of topics including video, restaurants, movies, coupons, events and much more that enables users to discover, view, share movies, restaurants, etc without leaving the messaging or mobile app.
"We are very excited to introduce these new capabilities to our loyal users, as we continue to innovate with new services that enrich and deepen the chat messaging experience," says Joby Babu, Chief of Operations, Nimbuzz. "This partnership with Sprylogics is lined-up with our goal to bring the best communications experience on mobile for our global users."
"We are delighted to partner with Nimbuzz who is a global innovator in mobile messaging communications," says Marvin Igelman, CEO of Sprylogics. "It validates our strategy to partner with innovative mobile Apps and bring seamless integrated mobile search and share functionality along with the potential to monetize these actions."
Nimbuzz cross platform messaging app has more than 150 million users of which 25 million users are from India. According to a recent report by the company gets more than 210,000 new registrations per day. The app is used in more than 200 countries worldwide and is available across all major platforms. Nimbuzz has recently launched new voice calling plans at Re 1 per minute which makes it much cheaper than any other local carriers.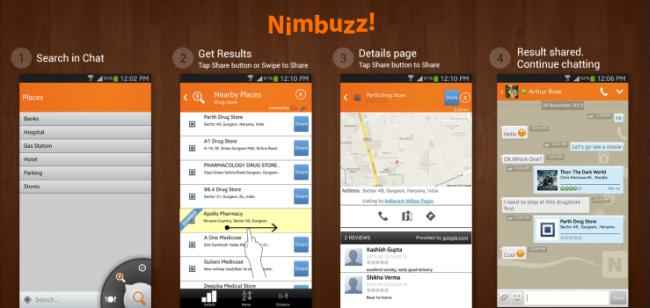 Source: WSJ