Make 2021 your best year with IBM Developer
Make 2021 the year where you truly shine, grow, build & Code. Get support and motivation from the IBM Developer community. #IBMDeveloper #CodePatterns
Click here to know more
Advertisements
Say hello to Microsoft AppComparison – Microsoft's latest move to push its Windows 10 Mobile operating system and convince people that shifting to Windows phones from Android is a good option. Launched on Google Play Store, Microsoft AppComparison scans through your list of installed apps, and provides Windows counterparts for them. Unfortunately, instead of being convincing, what AppComparison shows up with is the lack of applications in the Windows ecosystem.
Being an iOS user myself, I've never faced a lack of applications on my (now) two-generations-old iPhone 5s. Installing the app on a spare Nexus 6, here's what I found: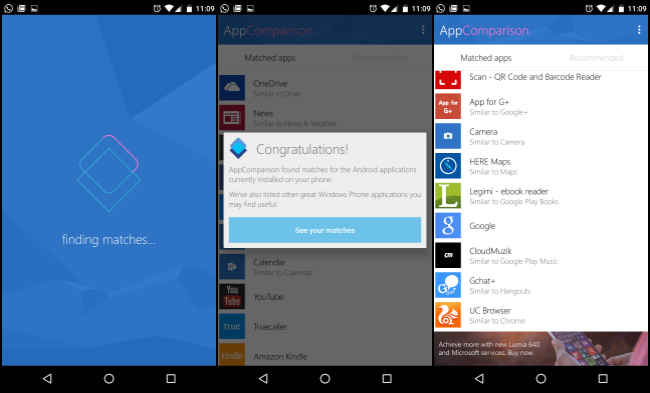 Windows app experience: 1: Anticipation... 2: Yes! 3: What?
Microsoft AppComparison shows up OneDrive as the alternative to my Google Drive, CloudMuzik as the alternative to Google Play Music, Gchat+ for Hangouts and UC Browser for Chrome. While YouTube is there, what the app for Windows does is provide a link for its mobile site – defeating the purpose of an application.
Moreover, if you have been using Google applications for work, and you would want to switch to Windows Mobile, Microsoft's idea of providing you a solution is to make you use its own apps and services. Hence, to switch to Windows Mobile, you will need to shift gigabytes of data from your Google storage to OneDrive, which in actuality is more of a problem than a solution.
In short, Microsoft (although it would definitely deny this) does not have the support of developers the way Android and iOS has. AppComparison seems more like a feeble attempt from Microsoft to convince the mass that Windows Mobile has apps for every possible service that you might want to use. One instance where Windows is far behind Android in terms of apps is that Instagram, the popular image-sharing platform, is in Beta. Most applications that are launched in recent times do not release versions for Windows. Take for instance the Bose SoundTouch line of speakers – if you buy the wireless speakers and wish to pair them with each other using your cellphone, you have to use an Android or iOS device to do so.
With all of these gaping aspects missing, would you still want to shift to Windows Mobile? Personally, I see little reason to. UC Browser, at best, may serve as an alternate browser, but it is not Chrome.