Qubo Smart Security WiFi Camer with Face Mask Detection
India's most versatile weatherproof outdoor camera that protects your outdoors 24x7 and provides crystal-clear video streaming day and night through the qubo mobile app.
Click here to know more
Advertisements
Google announces its search app for iOS and Android can now speak out answers in French, German and Japanese, opening up the app to a wide range of users.
The new feature works the same way in other languages as it does in English. To use the feature, users can just tap on the microphone button and speak. You can ask the questions in your native tongue whether its French, German, English or Japanese and Google voice search will answer the question the in the same language the person uses. So if you ask a question in French, Google search will answer in the same language.
The update is for both Android and iOS device and requires that users download the latest version of the app. According to Google's recent blog post the search giant is also planning to add support for more languages across the globe soon.
Google rolled out an update for search for Android this week to include information not only for the web but will include results from third party apps as well as apps on Google Play in search results. Google states that users don't have to use the Google search app also and the app listings will show up automatically in Chrome and Android browsers. The app listings will appear in two types, Open in app and Google Play Buttons.
The 'Open in App' results will feature relevant apps that are already on your smartphone. Users have to be signed in their Google Account so Google Search can know which apps are already installed. Currently the feature gives support to only 13 apps. The Google Play buttons results will take you to the app sections in the Google Play store so you can download the app to your smartphone.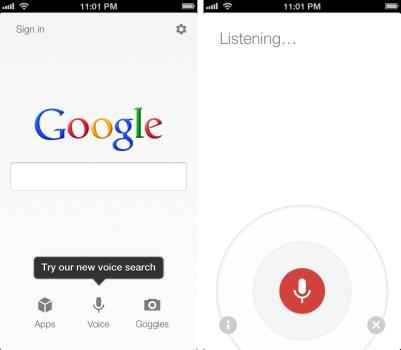 Source: Inside Search