Highlights:
Gmail Material Design rolled out to all Android users.
The red accents are now gone and the inbox now wears an all white design.
The position of navigation drawer and avatar have also been changed.
Google has been streamlining the UI of all its apps and services by introducing the Material Design across all platforms. In January, the company had announced that it has started to release its all white redesign for Gmail for Android, and reportedly, the roll out is now complete. With this update, Gmail for Android now joins other apps like Google Photos, Google Messages and Google Contacts that have already got the white paint job in previous months.
"Today, we're kicking off the year with a new look for Gmail on mobile, too. As part of the new design, you can quickly view attachments—like photos—without opening or scrolling through the conversation. It's also easier to switch between personal and work accounts, so you can access all of your emails without breaking a sweat. And just like on the web, you'll get big, red warnings to alert you when something looks phish-y," Google had said in a blogpost.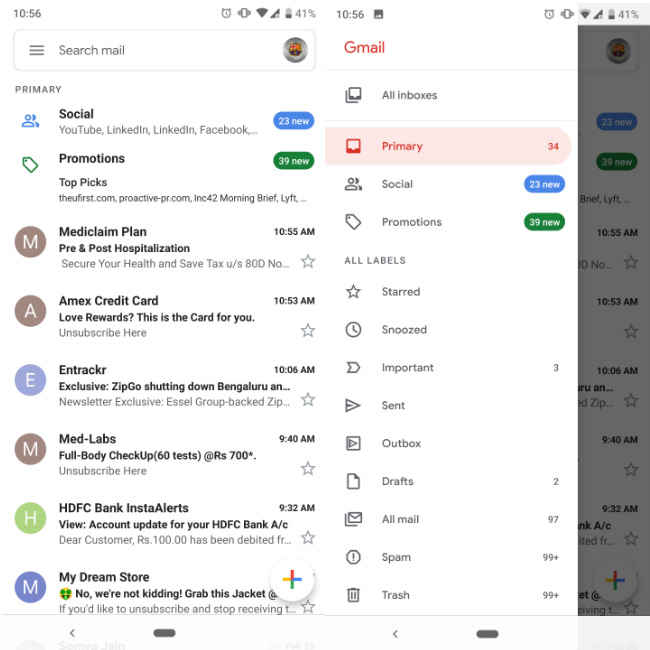 The update to Gmail for Android essentially brings features from the web app to the mobile app. This includes the machine learning-based Smart Compose feature on Gmail. Users can now reply to messages quicker with suggested responses generated by Smart Reply, and also follow up on emails with reminders in the inbox as well. Some of these features were previewed at the Google Cloud Next conference in San Francisco last year.
After the update, we can notice that Gmail's thick red accents are gone and there is a search bar on the top of the screen. The search bar has the navigation drawer on the left corner and a profile avatar at the right. You can tap the avatar to switch between multiple accounts, add other accounts and manage them. At the bottom-right corner is a new multi-colored Floating Action Button (FAB) to compose an email.
Just like it is in the web version, the new inbox in Gmail for Android also lists images, files, and other attachments for quick access. The overall interface and animations are smoother than before, and the interface has brought a cooler tone to the colours that are not harsh on the eyes. The company had also said that the redesign will also be rolled out to Gmail for iOS. We will update you once there is an official confirmation on the same.
Related Read: