When it comes to safety and security, one can never do enough. Most of us don't waste any opportunity to maximize the security cover of our property and belongings even if it's by a small degree. Nothing beats the peace of mind and reassurance gained from the knowledge that all is well and there's nothing to worry about the safety of your most prized possession. If fear and anxiety about the safety of your business premise gives you sleepless nights at home or the well-being of your flat or house haunts you at work, it's time to put the internet to work for you and monitor places via video feeds in real-time.
Give video surveillance over the web a try
The technology and its application isn't new – it's more than a few years old, actually – but it's been increasingly adopted at a personal level in India given the increased penetration of Internet in the country, rising broadband speeds, accessibility and availability of hardware and software, and increased public awareness.
In a nutshell, you determine the location you want to secure by installing this video surveillance system and access the video feed over your PC or smartphone at a remote location. Taking into account the number of entry and exit points and location of valuables inside the location you want to secure, decide upon the number of IP cameras you need – every entrance and exit point should be monitored, as a rule. The location should have an internet connection (wired or wireless) or a 3G dongle for the cameras to connect and be online to broadcast signal out and into your PC or smartphone over the web.
After installing the required compatible software on your PC, you can start monitoring remotely. Camera feeds can be viewed over an internet browser, in certain cases. Some of these IP cameras can be configured to take snapshots after a time delay, others can be setup to detect motion and only then start recording or broadcasting, so yeah there are some interesting deployment models out there for you to try and test.
The cheap way
You are worried about a new housekeeper or maid or babysitter that you hired recently to take care of your loved ones while you're at work. Setting up a remote video surveillance system to keep a discreet but watchful eye on your home is a great way to monitor their activities.
If you want to try things out at first and don't want to spend much, we suggest giving iCam a try. For all practical and test purposes, you don't even need to buy separate IP cameras, because iCam works flawlessly with your laptop or monitor's webcam and puts them to work for recording video and image feed. And yes, the software lets you remotely monitor the feed on an iOS or Android device – iPhone, iPod touch, iPad, any Android smartphone or tablet works very well with the iCam app (which is downloadable through Google Play Store or iTunes).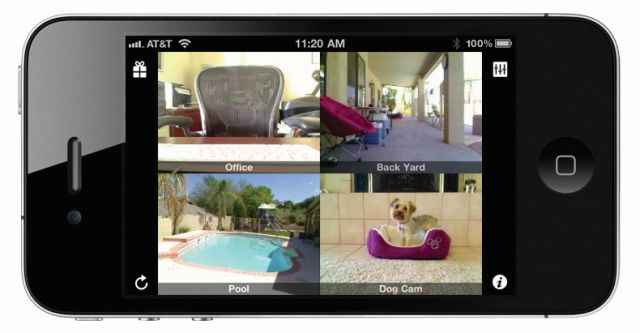 iCam's command centre view with multiple cameras in a grid
The setup is very simple and before doing anything else, ensure your laptop or desktop PC is online and connected to the Internet. On the laptop or PC with the built-in or connected webcam, designated for monitoring, install the iCamSource software. You don't need to register, just assign a username and password and start the application. The iCamSource should be up and running after these steps. To check whether you can view the live video feed, download and install the iCam app on your iPhone or Android device. After downloading the iCam app, login by entering the same username and password you designated during the iCamSource setup, and voila! You should now be able to see a live feed of your home or office conveniently on to your smartphone screen. Isn't that great?
Click on your phone's screen to zoom into the default thumbnail view of the broadcasting webcam – once zoomed in, the app not only detects video but also audio transmitted from the source. It also alerts you whenever it detects motion. Such a neat and convenient way to monitor your household when you're away, and for just US $5 – that's all it costs. The only downside of this app is that it doesn't let you record and save video, it can only send snapshots for a fixed time. For more details, visit
http://skjm.com/icam
Did you know that you can use Google+ Hangouts for basic surveillance of your house while you're in office? That's right, one of the relatively unknown (but ingenius) application of Google's very own social network is to turn its feature into a surveillance camera. How do you achieve that? Quite simple, actually.
Keep a laptop (with a working webcam and on the internet) connected to the power source and in the room you want to keep an eye on. Create a second Google+ account and login to the laptop. Add the alternate Google+ account in its own circle and start a hangout with that circle. Voila! Not quite from a James Bond flick, but this isn't a bad basic surveillance tip, come on.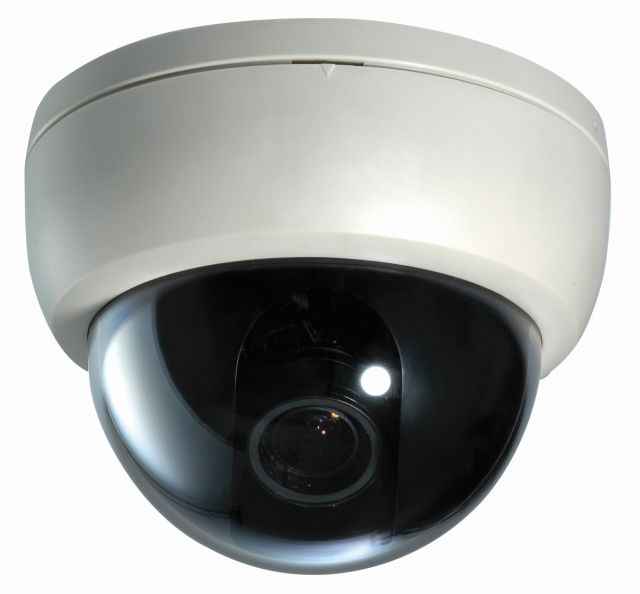 Dome cameras hang upside down
Professional surveillance options at your disposal
If you want to do more than just a simple, peer-to-peer surveillance setup like iCam or Google+ Hangouts, there are a few services out there that let you do a bit more. Obviously, such surveillance methods don't come for free, but you get a lot more out of them – for e.g. record and save video either on a local PC or on the cloud, connect multiple surveillance cameras, access live streaming video feed through a web browser, and receive mobile alerts.
GotoCamera is one such surveillance service, similar to iCam in terms of configuration and deployment (very simple) but offering a few extra features for a price.
The initial setup process of GotoCamera is almost similar to that of iCam – download the software after you register for an account, install the tool, select cameras and you're good to go. GotoCamera lets you select the quality of video you want to record – 640 x 480 resolution is fine in most cases, share cameras with other family members, even earmark recording schedules during the time slots when you're away from your home or office. Live feed of activity is accessible through a browser window, whenever you feel like checking on things. GotoCamera has a free basic version, but its paid version is the real deal which offers live video streams from up to four cameras, record and save video to local computer and 1 GB of online video storage. All this for just over US $3 per month with tech support.
Choosing cameras
If you are concerned about the security of your house or business place, and want to keep a remote eye on those surrounding, it's a good idea to invest in a simple USB-connected webcam – just pick up any camera that fits your budget from Logitech, Creative or Microsoft. Choose a video management system (like iCam or GotoCamera) and you're good to go. There isn't a whole lot to choose from between webcams available at the budget end of the market. Also remember that one shouldn't expect the moon from such low-priced web-camera purchases. It won't and shouldn't have all the latest and greatest features, otherwise how do you explain the budget tag attached to them?
Additionally, if you need more sophisticated cameras with additional features, consider buying dome cameras, IR cameras or IP cameras. Dome cameras can be found most commonly in banks, railway stations and other public places where you need flexibility of direction. Dome cameras are also very easily camouflaged, generally hanging upside down affixed to the ceiling and resembling a half-exposed dark light bulb. IR cameras, as their name suggests, can shoot in near dark or extremely low-light enviroments and are useful for recording night-time surveillance footage.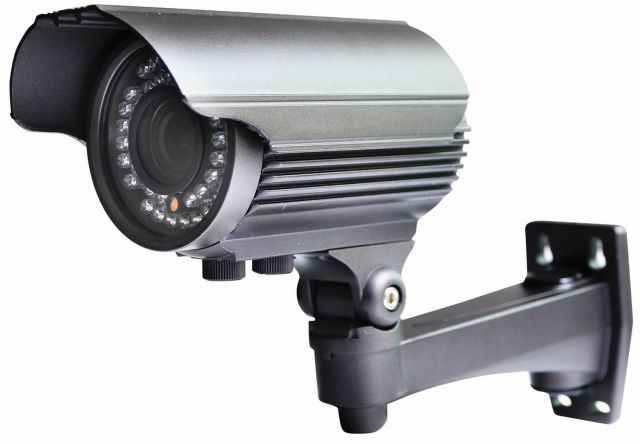 An IR camera
IP cameras are just highly-evolved webcams which are strictly used for surveillance purpose only. In fact, both Dome and IR cameras can be technically dubbed as a subset of IP cameras.
TP-Link, Zicom, Sony and Logitech are some of the names that offer these specialized surveillance cameras, if you're contemplating to buy one for yourself.