How to Book Indian Railways Ticket On IRCTC
The Indian Railway Catering and Tourism Corporation (IRCTC) allows an easy and hassle-free way for Irctc Ticket Booking online. You can simply log on to the website irctc.co.in for Train Ticket Booking.
1.First Log in to your IRCTC account through your registered user ID and password.
2.Next The 'Book your ticket' page appears.
3.Enter the 'From and To city' options and select the date of journey and preferred class for travel.
4.You can also choose 'Flexible with Date' as an option if your date of travel is not confirmed.
5.To find the list of trains, you have to go to the 'Find trains' option.
6.On The next page, a list of trains will be displayed for your selected route.
7.You can choose your route and timings, and click on the train name.
8.Once you select one train from the list, just click on the type of seat class.
9.You can check the availability and fare, and the fare displayed will be for one passenger.
10.To book the tickets on the selected train, just click on 'Book now.
11.Once you go to the passenger reservation page. Just Check the train name, class and date of journey, station names, displayed on the left side of the page.
12.Next enter the details of all the passengers, including their age, gender, berth preference, and food preference.
13.Select a different boarding station, click on 'Change Boarding Station'
14.After providing the correct details, click on 'Continue Booking'. To make any changes, you can click on 'Replan Booking'.
15.The passenger ticket details, as well as the total fare and the availability of berths are displayed. Then click on 'Continue Booking' to start the payment process.
16.Users can pay using credit cards, net banking, payment wallets and multiple payment services etc. Choose your preferred mode of payment and your booking will be confirmed after successful payment.
17.You will receive the reservation message on your mobile for confirmation.
How To Book Meal on IRCTC website
You can easily book a meal while travelling on Indian railways via the IRCTC website. IRCTC also helps in assisting passengers if there is any query related to food order placement, payment modes and tracking of the order. Irctc Meal Booking includes some of the popular food chains like Domino's, Behrouz Biryani, Haldiram's, Saravana Bhava, Biryani Blues, Faasos, and Comesum, among others.
1. First, you have to log on to IRCTC's catering website https://www.ecatering.irctc.co.in/
2. Next, Enter your ten-digit PNR number on the site.
3. Then you can select the food from a list of cafes, outlets and quick service restaurants.
4. Next, simply place the order and select the mode of payment.
5. You have an option to choose to pay for your order online or through cash on delivery.
6. Lastly, your food order will be delivered to your seat/berth.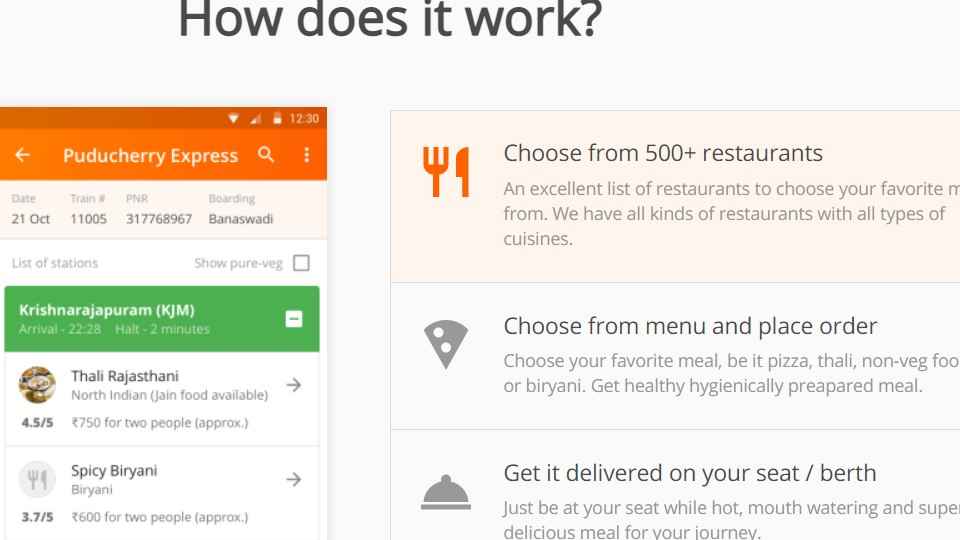 How To Book Meal on IRCTC App
You can also book a meal from the IRCTC App. You can download the IRCTC- Food on Track app from the Google play store and Apple app store. IRCTC's eCatering 'Food on Track' app offers a quick and hassle-free online food delivery service on Indian railways. The service is available at all the major railway stations and passengers can choose from a variety of options. Here are the steps you need to follow for food delivery at your seat while travelling on Indian railways.
1. First Download the app 'Food on Track' from Play Store or App Store.
2. Next, enter your 10-digit PNR number and the app will retrieve details like train name, station, name and passenger details.
3. Once the details are retrieved, a list of Irctc Food Order partners will serve on your route.
4. Next, you have to select the station where you wish to get your food delivered.
5. Then choose your favourites from the list of available restaurants.
6. Next, wait for your meal to be served right at your seat.
7. You have to make the Payment via cash as well as online.