The release of Android 4.0 code named "Ice Cream Sandwich" has been a tremendous leap for the Google mobile platform tying up the tablet and smart phone OSes into one system. Here are a few tips to get the best out of this amazing platform.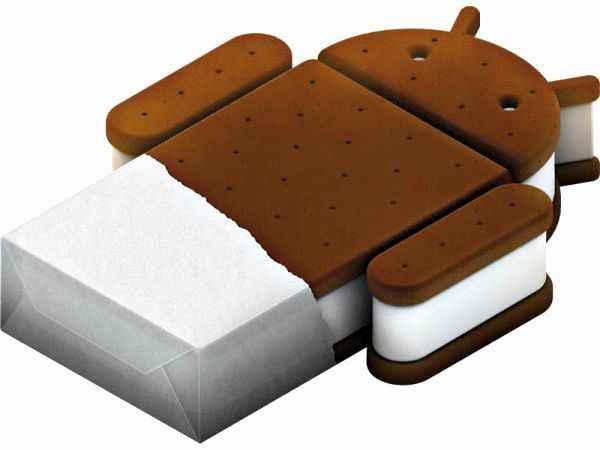 The revolutionary Android 4.0 "Ice Cream Sandwich"
Taking a screenshot has never been simpler
Astonishingly, the simple screenshot feature had been left out of the earlier versions of Android below 2.3. You had to use other third-party apps to be able to take a snapshot of your screen. But now, simply pressing the Volume Down and Power Button together lets you take a screenshot which is directly saved to your gallery.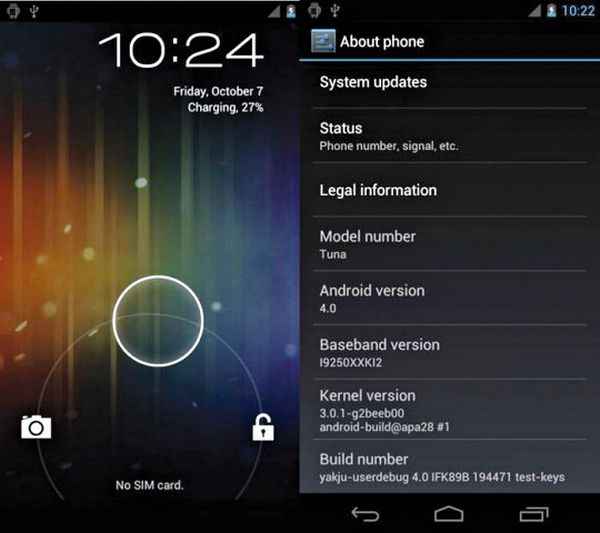 Taking a screenshot on Android 4.0
Uninstalling apps from the app drawer
Ice Cream Sandwich lets you remove apps from your system directly from the app drawer. Simply press and hold the app icon and move it to the uninstall tab which is at the top of your screen. Nice and easy.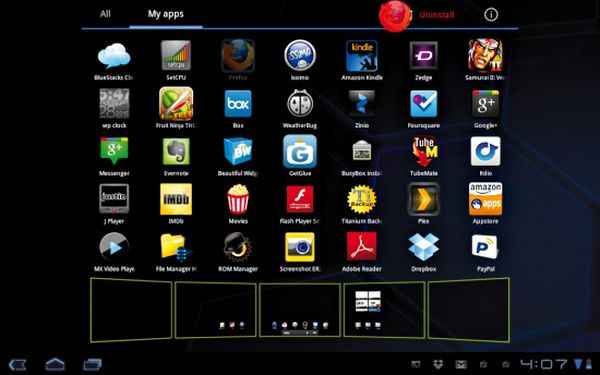 The Uninstall tab displayed in the app drawer
Simply swipe the screen to call and text
This is a simple and basic trick from older versions of Android, but may not be obvious to new users. Even a few experienced users might have missed it. On the text message thread or contacts or logs and groups you can now simply swipe your finger over a contact towards the left to send a text or to the right to call that particular contact. Again, very convenient.
Facial Recognition and Phone Unlock
One of the most advertised new features of the Android 4.0 platform is the Facial recognition technology which can now be used for unlocking your phone. In the latest upgrades of the OS, there are additional features to make the recognition simpler and faster. Simply go to Settings > Security > Improve face matching. If you do this for a few times you can have improved speed and accuracy. Another tip would be to have different angles for the shots of your head for greater accuracy.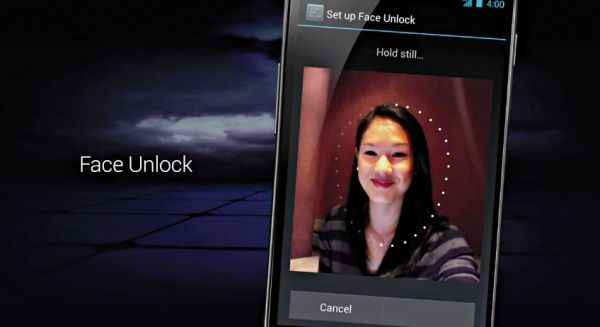 Face Unlock feature in the new Android 4.0
Getting locked out
In case you use the pattern lock feature on the Android, it's easy to get locked out of your phone due to consecutive pattern errors. And chances are that you forget this pattern. Most Android users already know this but it's worth a mention; if you forget your pattern code and try a wrong pattern for more than five times, your phone will get locked. A button – "forgot pattern" will then appear on the screen, and pressing that will let you enter your Google login information to get back into your phone. So be sure to assign your Google login info to your phone.
Removing shortcuts to apps on the homescreen
A lot of the users find the Android Market feature of putting an app shortcut on the homescreen after it's downloaded very annoying.
To turn it off open the Market Application and go to Settings and uncheck the option for Auto-add Shortcuts.
Close apps by swiping across the screen
A new and innovative feature in Ice Cream Sandwich is the ability to close apps that are still running in the background directly. Pressing the multi-task button on your phone shows you the currently running apps in the form of a list. You can close them by using the "x" on the screen, but in case you didn't know you can also do it by literally throwing out the app from the screen by swiping over it. You can also do this with notifications; just swipe away once you've read a notification, and it's gone from your screen.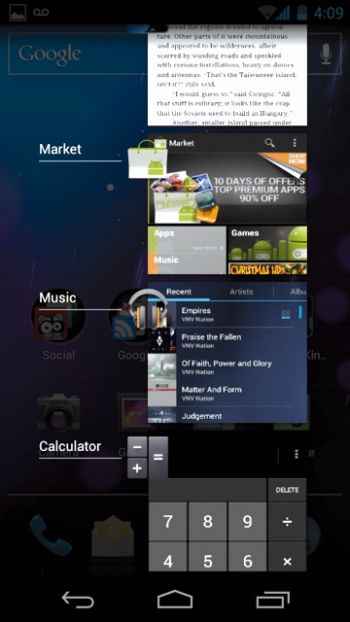 The currently running apps screen looks like this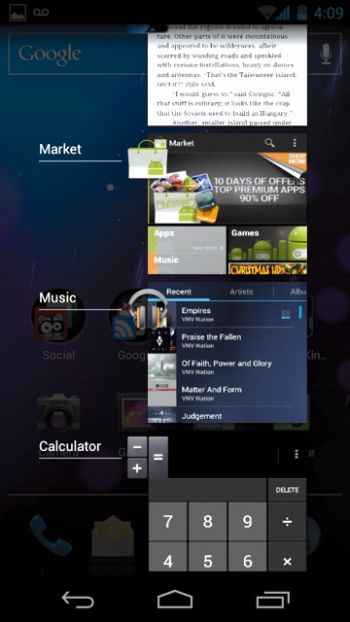 Put your Wi-Fi on auto and save battery
Wi-Fi usage literally sucks out the battery from your mobile device. Even other features such as Bluetooth and GPS are partners in crime. Android 4.0 comes with a handy feature for turning these battery eaters off whenever the phone is sleeping and lets you save battery when you're not using your phone. Enable this feature from Settings > WiFi > Advanced.
More functionalities
Rotating your device will not reorient the screen by itself but tapping the screen after doing that lets you flip it to re-adjust. While browsing the internet on the default Android browser, simply holding the back button lets you see the history and bookmarks you've saved. Zooming into and out of maps is not like it used to be. Double-tapping on the map with one finger lets you zoom in to a map and a two-finger single tap lets you zoom out of it.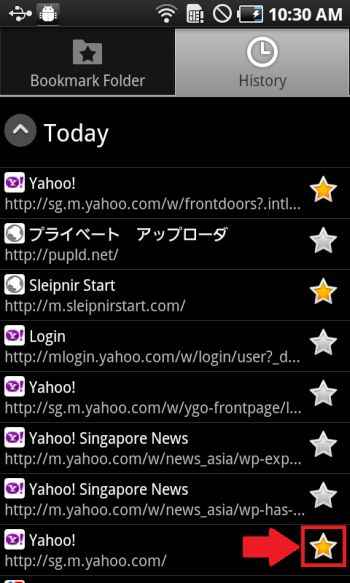 The web app online on http://www.photoshop.com/tools/expresseditor