Fitness trackers are all quite similar. The basic ones offer step tracking and calories burnt, while paying a bit more will get you one with heart rate tracking, or maybe even a built in GPS. Beyond that, you may get a colour display or more notifications, but nothing much else in terms of fitness tracking.
The TomTom Touch brings something new to the table — body composition analysis. The device measures the percentage of muscle and fat in your body. The information can be used to track your fitness journey. However, at Rs.13,999, the Tom Tom Touch is not exactly cheap. In fact, body composition analysis trackers themselves are usually cheaper than this, as cheap as Rs. 2000 even. Nevertheless, let's see if the Tom Tom Touch can live up to its pricing.
Build and Design
The TomTom Touch sports a bracelet-style design that is common amongst fitness trackers. It has two parts, the latex-free rubber strap and the central module. The device is secured by looping one end of the strap into the other and fastening it by two prongs. The setup feels quite secure, and it didn't come loose during everyday use.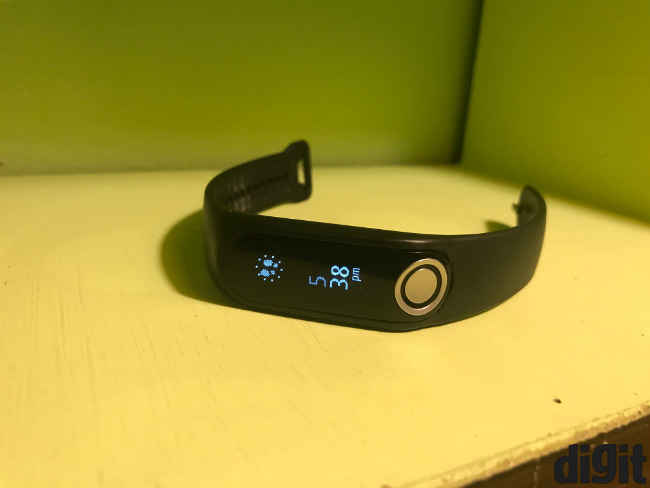 The module can be separated from the main body, allowing the user to swap straps. Removing the module gives access to the microUSB port, which is used to charge the device or connect it to a computer. There are no physical buttons on the TomTom Touch, except for a large metallic disk that acts a capacitive button to wake the device and is also used to measure body fat percentage. At the bottom is the heart rate sensor, and the bottom half of the body fat percentage tracker.
While the device is quite thin and lightweight, I personally do not like the looks. The metallic disk is large and looks out of place. Also, it should be noted that during the first few days of wearing the Touch, I developed a rash, but that problem alleviated after the third day. It is possible that the issue popped up because I am not used to wearing watches. Tom Tom says the latex free band is hypoallergenic. Another thing to note is that while the TomTom Touch can withstand a few splashes of water, it isn't waterproof. So you cannot go swimming while wearing it.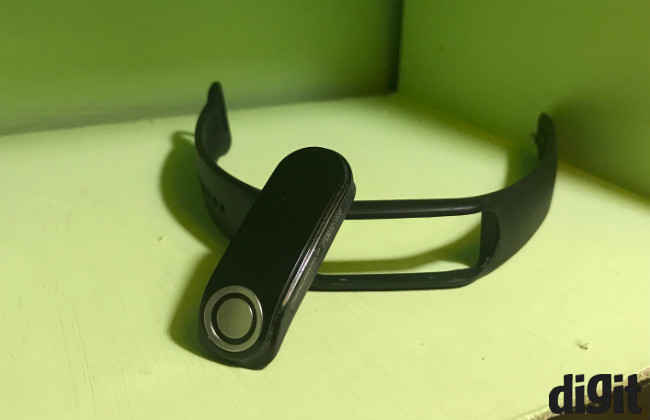 Display and UI
The TomTom Touch sports a tiny monochrome OLED display, which is touch enabled. You can swipe through different screens to access different functions and check out the metrics. However, the screen does not wake up automatically and you'll have to manually wake the display by touching the button. While this may not seem like such a big deal, it gets quite bothersome, especially if you are holding something in your other hand and just want to see the time. Also, while the time on the home screen is shown vertically, metrics are placed horizontally. So, if you wear it on your right hand, the digits will be facing away from you and backwards.
The home screen shows you the time, as well as a circle that fills up as you get closer to your step target. It's a nice way to quickly know how close you are to reaching your target.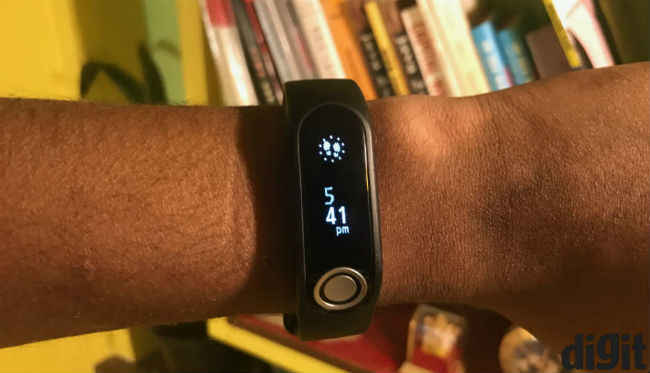 Swiping up lets you see metrics such as step counter, calories, distance traveled, sleep tracking and more. It should be noted that the device does not have a GPS chip and gauges distance based on steps taken. It can also be worn when you're sleeping, to track your sleep automatically. Since it is quite light, I did not have any problems wearing it to sleep.
Swiping down lets you access the Tom Tom Touch's functions. The first screen lets you turn on sports tracking, which turns on the heart rate monitor and the tracker starts monitoring your heart rate, continuously. You'll have to manually turn the function off. Unlike the Samsung Gear Fit 2, the TomTom Touch can't detect your activities automatically either and there have been times when I forgot to turn tracking on or shut it off. It cannot detect what activity you are doing either, but the app has provisions to feed it manually.
Swiping down one more time shows you the screen where you can calculate body composition analysis. I shall get to this in the section below. Swiping down once more lets you check your heart rate.
The wearable notifies you of any incoming calls or messages. However, besides a vibration alert and an icon, you don't get other information, like the name/number of the person calling/messaging. Further, the TomTom Sports app needs an active Internet connection to sync with your phone, even though the tracker itself connects via Bluetooth. The app also needs to run in the background, so, if (like me) you are in the habit of closing all apps, you may miss out on some notifications. It should also be noted that the TomTom Touch only notifies you of incoming calls and SMSs, but not WhatsApp messages, Facebook Messenger or other third party apps. Also, reading the display in bright sunlight is pretty hard.
Body composition analysis
The TomTom Touch uses a method called Bioelectrical Impedance Analysis (BIA) to determine your muscle and fat percentage. To use this, you swipe to the body fat percentage screen, and hold the aforementioned capacitive button for about 10 seconds, till the screen shows a checkmark. The tracker sends a mild current through your body (don't worry, you won't feel it). The device then measures the time taken by the current to flow through your body, which it uses to measure body fat percentage, combining with information about your height, weight and gender, fed into the TomTom Sports app.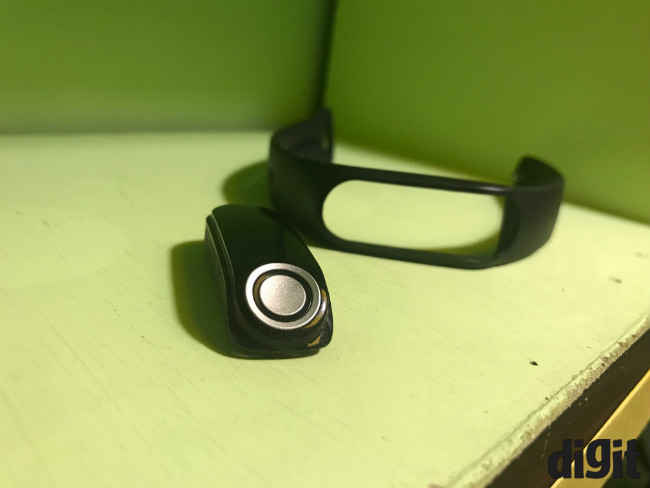 TomTom suggests that you make you be hydrated before using this feature, and that you aren't touching any other part of your body during testing. Quite frustratingly, you don't get to see the results of the measurement on the wearable. You'll have to use the TomTom Sports app for that.
As an average user, I personally did not see any major use of this feature, even though it is an interesting metric to keep track of. While I was very proud to see a small increase in muscle and a decrease in fat, the feeling wasn't that different from when I cross a goal I set for myself.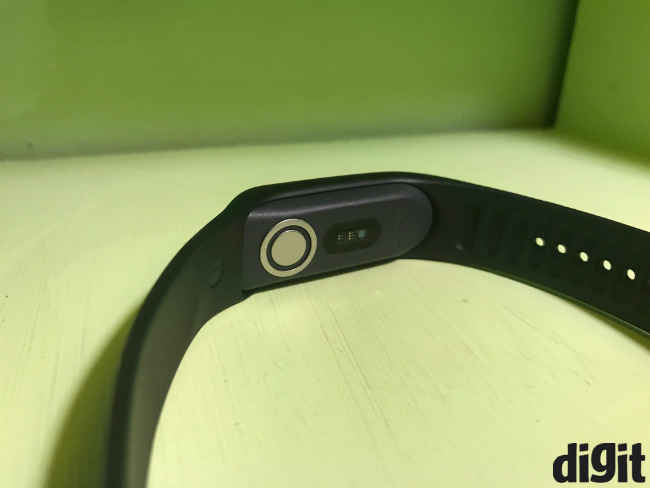 I feel such a measurement is best suited for people looking for a certain build, such as bodybuilders, who need to monitor their fat percentage. Having said that, it should be noted that the TomTom Touch focuses on the upper body, so it isn't completely accurate. Body builders apparently aim for about 8% body fat while training.
TomTom Sports app
The TomTom Sports app is where all the information collected by the tracker can be viewed. Syncing to the wearable takes about 15-20 seconds. Information on the home screen is shown in the form of cards, that can be tapped for more information. These include activity tracking, time slept, steps taken, body composition, and resting heart rate. While information on the main screen is sorted by time (showing the latest info first), it can be confusing, since there's no set order to it. The step counter can sometimes appear right on the top, while at other times you'll have to swipe down for it. The same is true for cards showing exercise etc.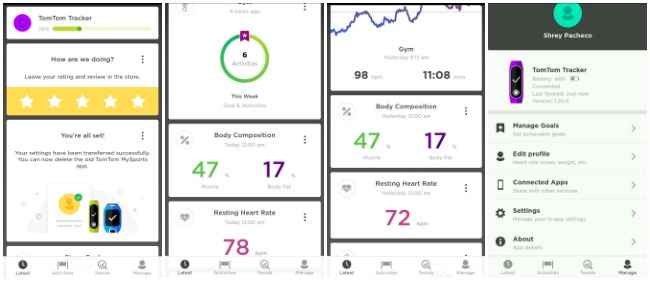 There's an activities tab, to track all your workout or running sessions, or any of the handful of other activities the app offers. Tapping on a session shows you more information, including a graph for heart rate, active time, calories burnt, average heart rate, steps taken, and average heart rate. The Trends section on the Tom Tom Sports app shows you graphs.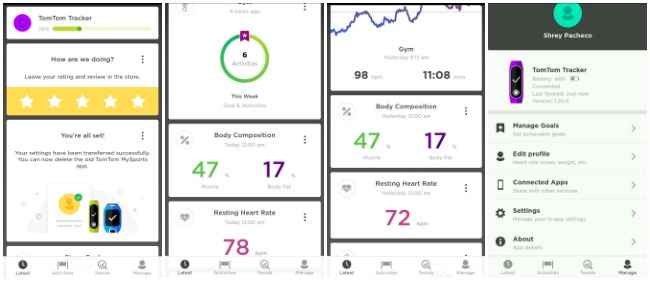 It's frustrating that the app needs Internet to sync with the tracker, meaning you won't be able to sync with bad connectivity,. Further, when viewing details of any specific activity, there would be a prompt at the bottom asking me to visit TomTom's website to get more information on each activity. This peeved me a bit as clicking on this prompt redirects you to Tom Tom's website, which shows the same information as on the app. If there was more information, Tom Tom could have added it to the app in the first place.
Battery
The TomTom Touch offers battery life of about four days between charging, which is pretty decent. The wearable does not have a battery level indicator, which only appears when it is low on charge, or when it is charging. To see the battery level, users will have to open the app. The thing I liked about the wearable was the fact that it uses a standard micro-USB cable to charge or connect with a PC. This meant that I had one less cable to carry when travelling.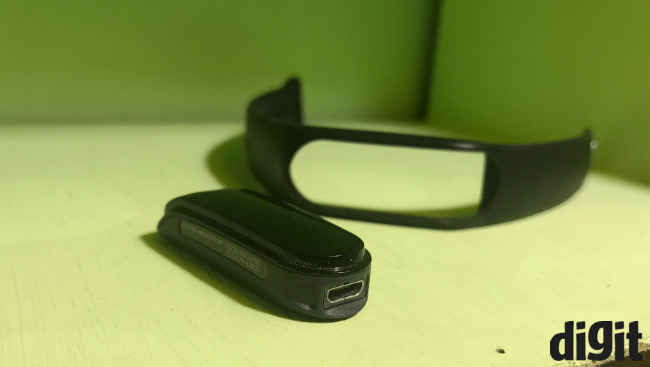 Bottomline
The TomTom Touch is a good fitness tracker and its body composition feature is a neat way of tracking your exercises and fitness levels. However, its overdependence on the app is quite annoying and the fact that it costs Rs. 13,999 means you can get much better trackers than this. I would recommend the Samsung Gear Fit 2 over this, which is available at less than 10k right now, and can do most things better than this one. It can track exercise automatically, doesn't depend on the app much and is completely waterproof.