I have never been a fitness freak. While, I do enjoy an occasional swim, or some football, the gym never managed to entice me like it did most of my friends. In fact, A normal day for me consists of either sitting down for about 10 hours on my desk or standing still in the Delhi Metro for about 3 hours. The only exercise I get (if you can call it that) is walking to and from the Metro stations. But, I do get the appeal that a fitness freak might get from logging his daily regimen.
I also never got the point of smartwatches either (maybe because, as a former Windows Phone user, I didn't have much of a choice). I think the fact that you can change watch faces is more of a novelty and don't get me started on how silly I think talking to your wrist in public is. All I want is the ability to see the time from my wearable, possibly even get notifications.
With the Gear Fit 2, Samsung is aiming for the middle ground. A fitness device that can do more than just track activities. It surely sounds appealing to me. But at Rs. 13,990, is it worth buying over cheaper fitness trackers?
Design and build
The Samsung Gear Fit 2(₹ 15000 at flipkart) is a well built device with rubber straps and a metal frame around the display. The design of the wearable is such that the main body blends into the strap, making it look more like a bracelet rather than a watch. I personally liked this subtle, understated design of the Gear Fit 2, but it may not be everyone's cup of tea.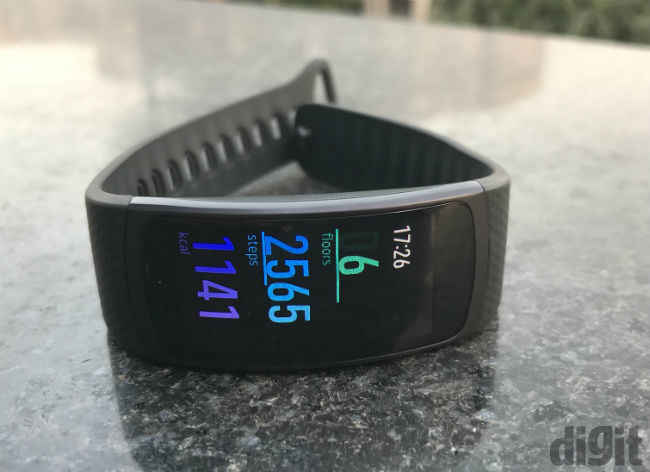 There are two buttons located on the side. The one on top is slightly bigger and is used to go back, the one below that is used to access the main menu. The rest of the navigation is done via tapping or swiping. The bottom of the device has the sensors, like the heartbeat monitor.
The device we got had the large strap and I was pleasantly surprised to know that even the large strap could accommodate my rather small wrist (just barely though). One end of the strap loops into the other and is fastened via a single prong. This setup is quite secure and never once did I feel that it was in danger of falling off.
I came across no problems while wearing the Gear Fit 2. It is quite light and at times I even forgot that I was wearing it. You can also wear it while sleeping without much discomfort. Sweat didn't seem to be a problem either. In fact, the device has an IP68 rating and worked fine when placed in a bowl of water for about an hour.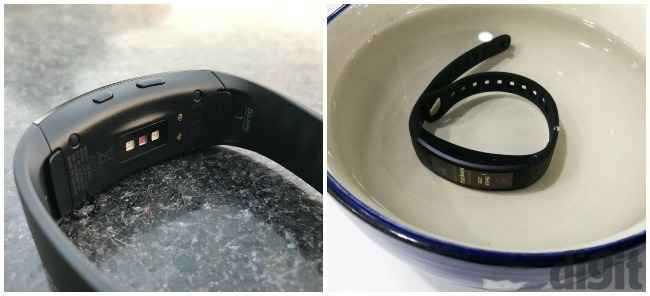 Display and UI
The Gear Fit 2 sports a 1.5-inch curved AMOLED display, neatly wraps around the wrist. The display is pretty crisp and colourful and I had no trouble reading the text. In bright sunlight, legibility was fine. Like its elder brother, the Gear S2, this one also runs on Tizen OS. It's smooth and fast, and I didn't encounter any lag or freezing.
Your first look at the display should be enough to let you know that the device is intended to be a fitness tracker first and then a smartwatch. By default, you are shown the time alongside statistics for the floors climbed, steps taken and calories burnt. You can, however, choose other watch faces or download new ones that make the time more prominent.
As mentioned earlier, swiping is the main method of navigating around the watch. Swipe left from the main watch to access the notification screen. Swiping right will take you through the various specific screens, such as the step counter, exercise, floors, heart rate and so on. You can also add or remove these screens. Swiping from the top gives you the option to adjust brightness, access the music player (which I'll talk about in a bit) and turn on the 'Do Not Disturb' mode. It will also indicate if the Gear Fit 2 is connected to a device as well as the battery level.
Overall, the UI was pretty intuitive and transitions are fluid. However, I found the automatic screen on feature, which activates the display when you turn your wrist, to take a second or two to turn on. The wait was just too noticeable and I never got used to it. To pair the device with a phone, you'll need to download the Gear Fit 2 app. Once connected, you will start receiving notifications and you'll be able to download more watch faces, arrange the app layout, and choose the notifications you want. New apps for the Gear Fit 2 are downloaded via Samsung's own Galaxy App store.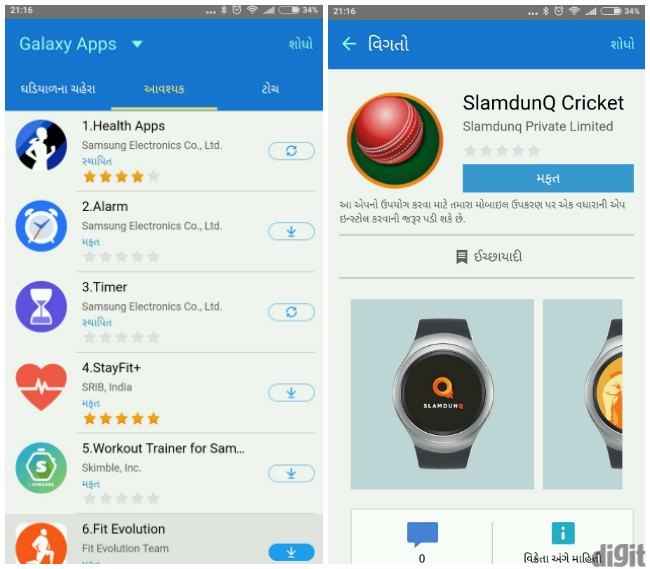 Notifications for WhatsApp, or Gmail take a few seconds to pop up on the wearable, and you also get the option of replying to them. However, since you cannot type on the Gear Fit 2, you have a few set responses that you can send. However, you can also create more responses via the Gear Fit 2 app. To create a message, open the app and select Settings, then Quick Messages. Then tap on the Quick responses option and select the large 'plus' symbol on the bottom right corner to add a short messages. These messages can be up to 20 characters long. Personally, I hardly ever used the device to reply and usually used the feature only to read any incoming messages. That's because most of the time, a simple yes or no was not enough me and the custom responses were also too short. However, there is an option to show the message on the phone, so when you unlock you phone, the message is immediately shown to you. Further, any incomming calls are also displayed on the device. However, you cannot answer calls, only disconnect them.
It should also be noted that the Gear Fit 2 app needs to stay open in the background for you to stay connected. If you have a habit of closing all background tasks (like me), then you'll have to reconnect the device to the phone each time.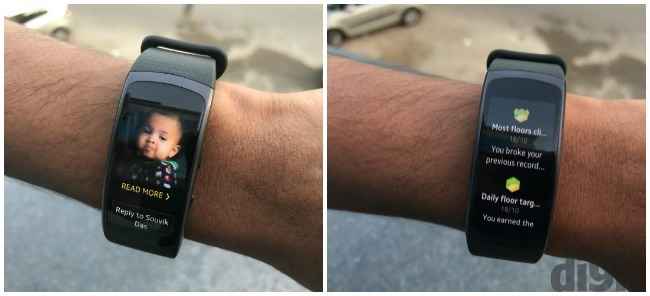 Activity tracking & app
One of the big features of the Gear Fit 2 is that you do not need to have a phone connected all the time. The device will track and record data on itself and then transfer it when you connect it to you device. It comes with a bunch of activities already built in, like crunches, walking etc. You get a short countdown timer before it starts recording. You can also share the activity on Facebook if you want.
Another feature that adds to the emphasis of being a standalone gadget is its ability to play music. The Gear Fit 2 has 4GB of storage, and you can send music to the device from your phone via the Gear Fit app. A Bluetooth headset can be connected to the Gear Fit 2 to listen to stored music.
The step counter, heart rate sensor and GPS seem to work fine. For example, when walking, the device was able to tell me the distance I walked, my average speed, heart rate, as well as the route I covered. All this is displayed on the wearable itself, which is pretty neat as I didn't have to check my phone to get some quick stats. It was also able to record my crunches pretty accurately as well. Further, before starting exercises, like squats or crunches, you get a little demo of exactly what you are supposed to do, which was quite handy for those who need help or are starting to excercise without going to the gym. However, there were some issues with the floor counter. Sometimes, it would not register me climbing up a floor, while at other times, it would randomly add floors. The Gear Fit 2 will also track your automatically track you sleep if you wear it while sleeping.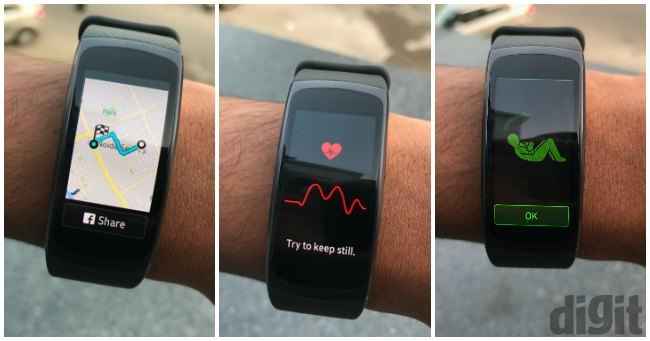 The Gear Fit 2 also gives you a medal when you've reached your daily target or have broken a previous record. This gave me a sense of achievement and did encourage me to try and beat my own records.
Downloading Samsung's S Heath app on your phone definitely adds to the experience. The app will sync with the Gear Fit 2 and you'll be able to access logs of all your exercises in greater detail.
I was also able to fool the Gear Fit 2. I turned on the walking activity when I boarded the Delhi Metro and it tracked my "walk" for for about an hour and 20 minutes, after which it stopped as the metro went underground. It told me that I walked for almost 2km, with a maximum speed of just under 63km/hr. Samsung might want to consider releasing an update that stops tracking if it detects unnatural movement.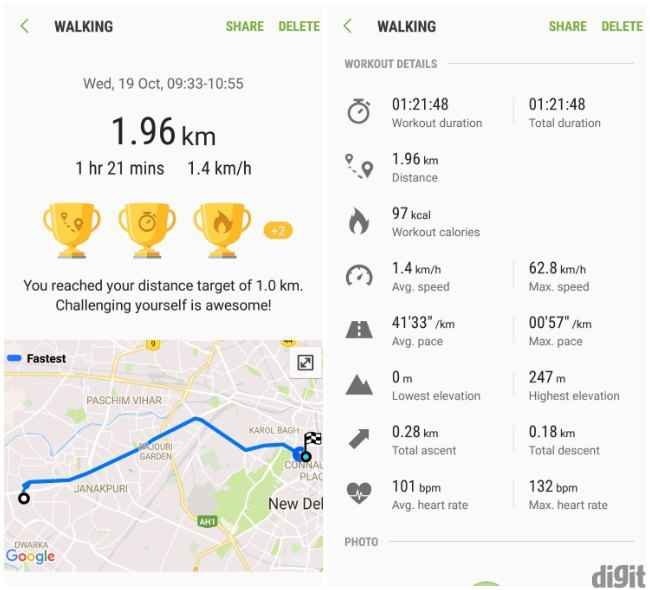 Battery
The battery life of the Samsung Gear Fit 2 is pretty impressive, considering its features. The device sports a 200mAh battery and I was able to get about two days from it. It comes with a proprietary charger that docks with the wearable via magnetic connectors. I was able to top up the Gear Fit 2 after about an hour of charging.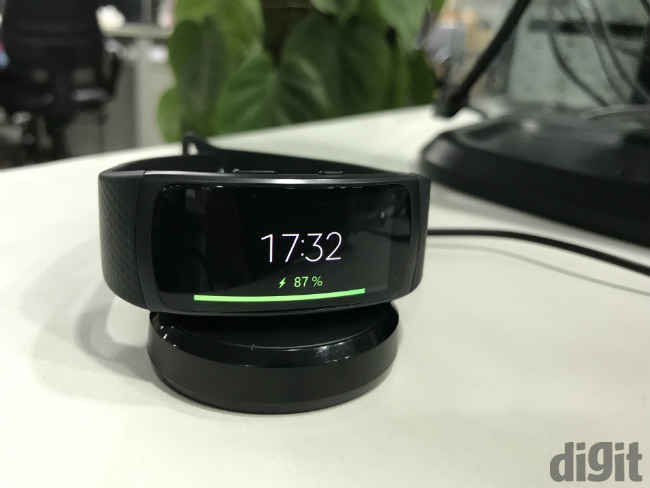 Bottomline
The Samsung Gear Fit 2 is a good device for those who are looking for a fitness tracker that can do more than just track activities. Its large screen and vibrant AMOLED display makes it stand out from most other activity trackers, which sport monochrome displays. The UI is pretty intuitive and is smooth to use. At Rs. 13,990, there are a lot of cheaper fitness trackers you can purchase, but you won't get the additional features like notifications that you get with the Gear Fit 2. The only other fitness tracker that offers similar functionality is the Fitbit Blaze, However, that's more expensive than the Gear Fit 2. If you are in the market for a good fitness tracker than can not only give you details about your workout, but also notifications like a smartwatch, then the Gear Fit 2 is certainly worth a look.