Oppo has decided to take a head-first plunge into the smart wearable category by launching not one, but two devices. This includes the Oppo Watch smartwatch and the Oppo Band Style fitness tracker. As you may have guessed from the title of this review, we'll be looking at the latter. Priced at Rs 2,399, the Oppo Band Style is up against the very competent Mi Band 5. Does the new boy have what it takes to upset an established market leader? Let's find out.
Oppo Band Style: Design
The design is where the Oppo Band Style really throws down the gauntlet. The wearable sports a beautiful strap that encloses the central module inside a metal frame. It really makes the device look quite premium and different from pretty much all other fitness trackers in this price range.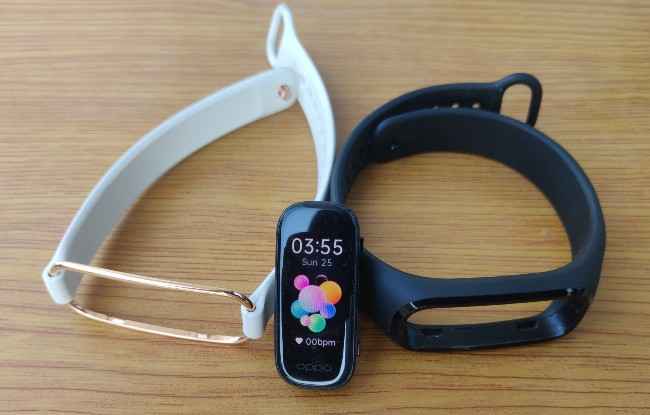 However, the colour of the strap we got with our review unit wasn't really a match with my taste. It seems like Oppo understood that not everyone may like the extra dash of bling. So the device comes with a standard Silicon strap in the box itself. This makes it look just like pretty much all other wearable devices in the market and I was fine with that. I appreciate the fact that Oppo was thoughtful enough to cater to multiple tastes. Regardless of the strap you choose, you'll get a tight and snug fit. When wearing it, I never once thought that the strap would come undone on its own.
The wearable is also water-resistant up to 50-meters. However, due to the current COVID situation, I was unable to take it to a swimming pool. I did, however, dunk it in a bucket of water and it seemed to be fine.
As for the device itself, the key unit is a small, detachable central module with no buttons. It features a rounded design that tapers towards the bottom, where we find the optical sensors for heart rate and SpO2 monitoring.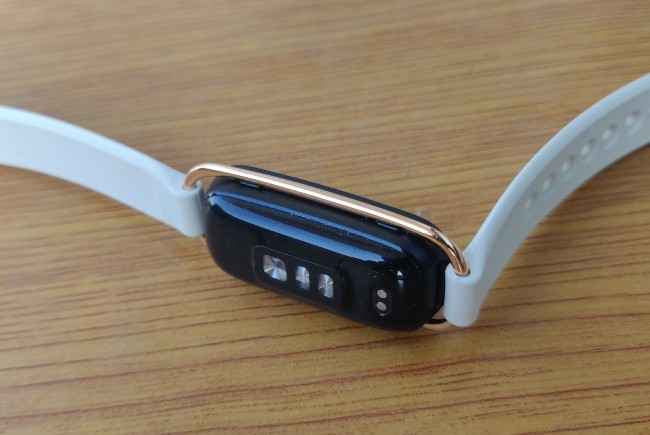 The only major concern I have with the design is that it wasn't exactly the most comfortable to wear. But it's hard to point out where the problem was. I have tested devices that were thicker than this, and larger than this. I think it's down to the curved shape of the module. The curved shape means that there is a smaller area that's in contact with your skin. This, combined with the fact that fitness trackers need to be secured well in order to give accurate reading means that the device can dig into the wrist ever so slightly. It's not painful, but it's just enough for you to realise that there is a wearable device strapped to your wrist.
Oppo Band Style: Display and notification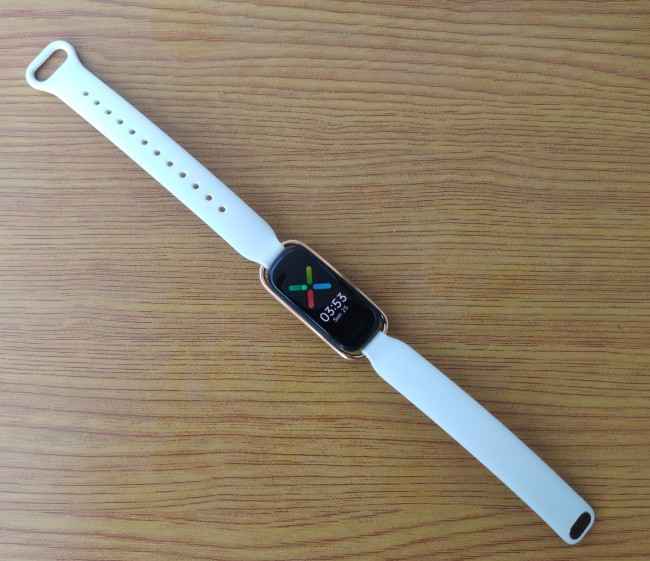 The Oppo Band Style comes with a vibrant AMOLED display that looks great. Touch response and also right up there with nary any lag. As mentioned earlier, the device does not feature any buttons. So everything is controlled via taps and swipes, which is slowly becoming par for the course as far as fitness bands are concerned. You also get a bunch of pre-loaded watch faces, with the option to download more via the HeyTap app.
Swiping up or down from the home screen lets you access the various features of the watch while swiping right on any menu takes you a step back. Swiping left or right on the home menu lets you switch between the various watch faces.
I found the navigation on the Oppo Band Style could do with a little bit of tweaking. For starters, I don't see the point of giving me the option of swapping watch faces right on the home screen. I personally don't like changing my watch face every day. Every now and then I would accidentally swipe the screen without realising and be greeted with a new watch face when I look down on the watch. I guess I'm a stickler for consistency.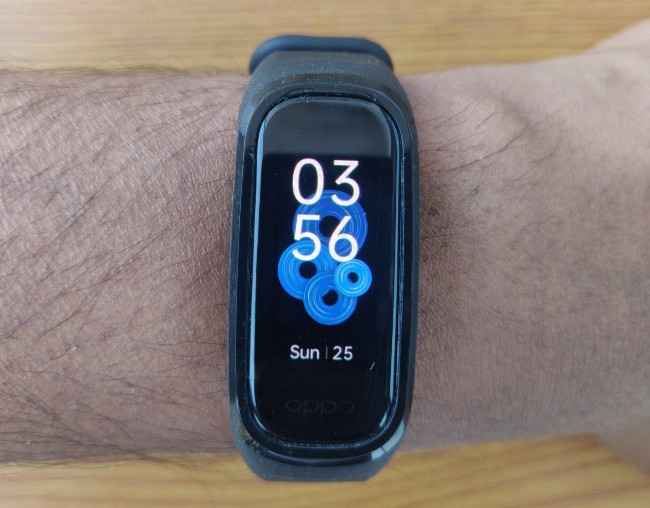 Notifications were another problem I had. While the band does offer notifications from pretty much all your primary apps like Instagram, WhatsApp and Gmail. However, the way it notifies you is a bit jarring. Suppose I have three unread WhatsApp messages and I get a fourth message. The band will vibrate for all the three previous notifications before getting through to the latest notification. You cannot access the previous notifications at this point. To see those, you'll have to head over to the Messages section. Unfortunately, you won't be able to take any further actions with these notifications besides reading them. I understand that this is a budget tracker, but it would have been nice to have generic canned responses like 'Yes', 'No', 'OK' or even some custom responses.
Oppo Band Style: Performance
The Oppo Band Style offers a host of activity tracking options. This includes everything from running, cycling, cricket, badminton, swimming pool and more. For running and cycling, the band offers route tracking via your phone's GPS. This means that you'll have to carry your smartphone with you when you go out for running, walks or cycling. The connection takes about 30 seconds and will notify you when the GPS has locked on.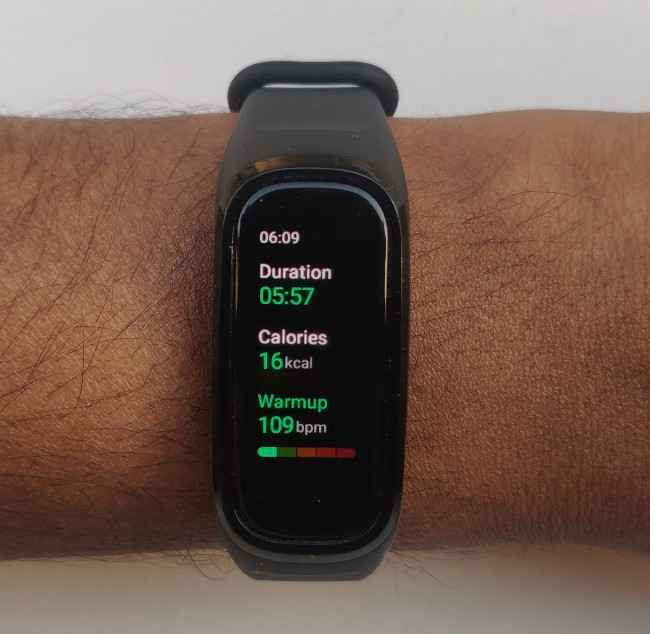 Due to the current COVID situation, I wasn't really able to put the device through its paces. I did, however, use it to track a few of my walks during my commute as well as track a seven-minute workout session. You can read more about that in the HeyTap app section below.
The watch also offers heart rate, sleep and SpO2 tracking. The accuracy for all three seems to be pretty spot-on. My SpO2 levels showed to be between 95%-100%, which is pretty much on point for a healthy person. It should be noted that continuous heart rate tracking and SpO2 tracking will have to be manually turned on.
Activities are turned on via the watch and users are given instructions on how to go about it. For SpO2 and heart rate, the wearable will give instructions on how to go about it. When sports activities are active, the wearable will show you the duration of the activity is on, calories burned and the current fat burn level. The wearable directs people to the HeyTap app for added information.
Oppo Band Style: HeyTap app
The HeyTap app is a pretty straightforward app. Opening the app gives information divided into cards. This includes a card for basic information like steps taken, workouts done, calories, and activity. Other cards include Heart Rate, Sleep, SpO2 and Work out logs. Tapping on each of the cards gives you detailed information about that particular card. Right at the bottom is a Fitness button that lets you turn on tracking for walks or runs. It should be noted that this seems to be a standalone feature and doesn't need the Oppo Band Style in order to work.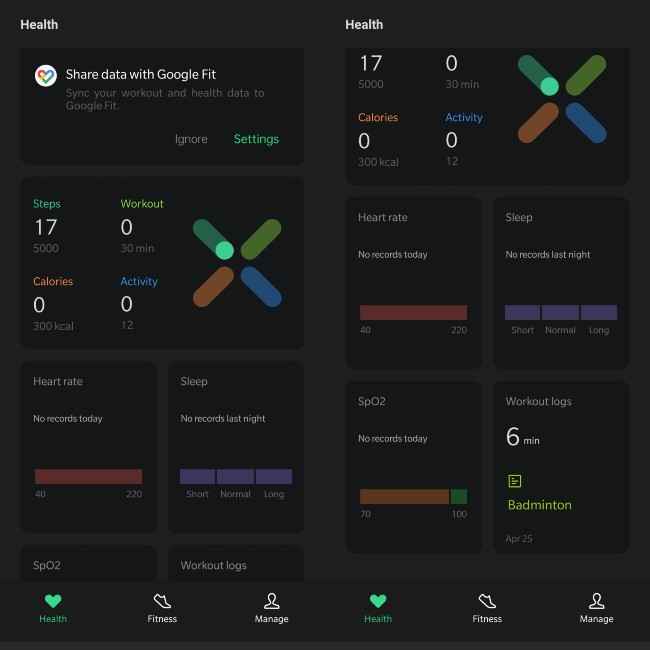 My issue here is that the workout information presented to the user is pretty basic. Walking or running shows you the calories burned, distance covered, heart rate and cadence. Further, some of the information, such as calories burned is quite hard to make out as it's hidden due to the choice of colour used in the background. When tracking activities like Freestyle workout, you get even less information. This includes calories burned and heart rate. That's it.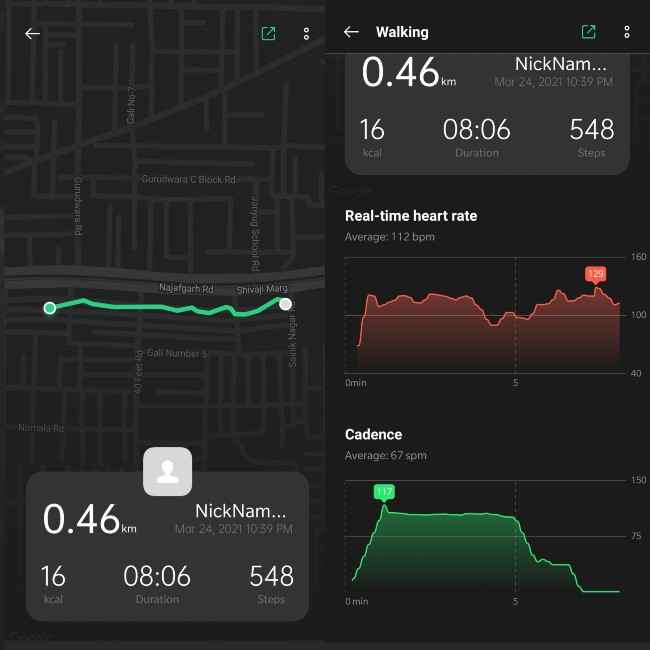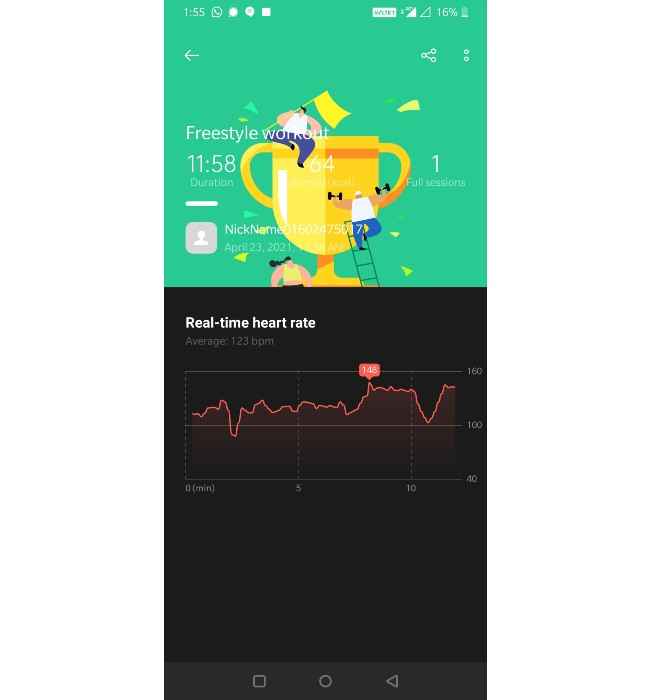 Ideally, the app should give more information. This could include things such as the time you were in the 'fat burn' zone, time in aerobic/anaerobic zones, or even how strenuous the workout was. Anything. Maybe this will be improved via an update in the future. But right now, the app is just way too bare-bones to be useful to fitness enthusiasts.
Interestingly, the app offers very extensive detail when it comes to sleep tracking. It will give you a rating on your sleep and give you tips on how to improve your sleep rating. It will also break down your sleep into stages like deep sleep, light sleep, awake town, interruptions, and more. It also gives each state a rating and recommendations to improve those. It boggles my mind that the Oppo Band Style might just be a better 'inactivity' tracker than an 'activity tracker'.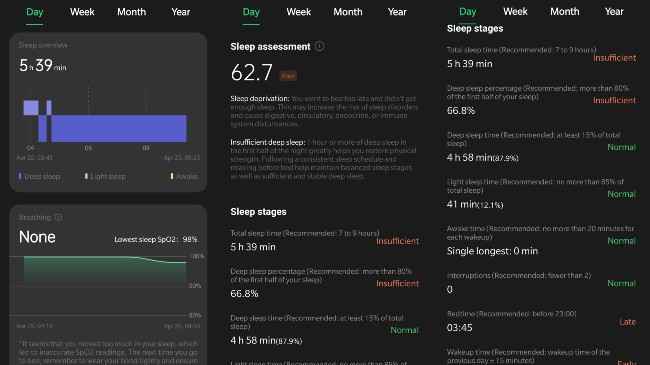 Oppo Band Style: Battery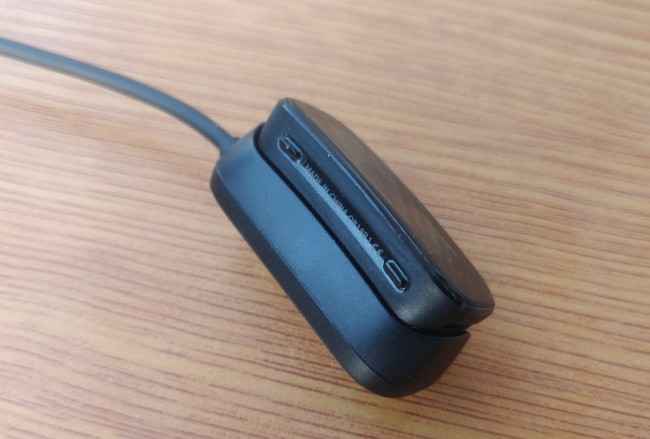 On its website, Oppo says that the Band Style can offer 12-days of use. During my testing, the wearable managed to match that to the day. Even with continuous heart rate and SpO2 tracking turned on. It should also be noted that the display brightness was at 40%. To charge the Oppo Band Style, you get a little cradle that you plonk the central module into. Do keep in mind that the cradle is not magnetic and you'll have to snap the module in place. But the fit is quite tight with little to no chance of coming off.
Oppo Band Style: Verdict
The Oppo Band Style is definitely one of, if not the prettiest budget wearable out there in the market. It also offers an excellent display and a good battery life too. However, the love it or hate it UI and the barebones activity tracking abilities stop me from recommending it outright over its primary rival, the Mi Band 5.
If you want a basic tracker that can tell you the time and show you notifications, then the Oppo Band Style can be a good option. It can also be considered by those who want to keep an eye on their basic health. However, if you are a fitness enthusiast looking for a good activity tracker, the Oppo Band Style may not be the right option for you.