The ongoing Fab Grab Fest is the biggest sales festival for Samsung products in India and will continue from May 1 to May 8, 2022. There are several lucrative deals up for grabs on Samsung products across diverse categories including smartphones, tablets, laptops, TVs, wearables, home appliances, and more.
Samsung currently has the leading market share for Smartwatches and wireless earbuds in India, and the ongoing Fab Grab Fest should further consolidate its lead. That's because the Samsung Galaxy Watch4 and Galaxy Buds Pro are among the hottest deals you can avail of in the ongoing sales. The Galaxy Watch4 (Buy Now) which has an MRP of ₹ 29,999 is available at a never-seen-before price of just ₹ 14,999 - a discount of 50 per cent! On the other hand, the Galaxy Buds Pro earbuds (Buy Now) with an MRP of ₹ 15,990 are an absolute steal for an irresistible sale price of just ₹ 6,990!
As part of the Fab Grab Fest, the brand streamed Samsung Live at 1 PM on May 6 and shared exciting offers on the Galaxy Watch4 and Galaxy Buds Pro! If you wish to buy these devices, don't forget to visit the official Samsung website and grab the Galaxy Watch4 and Galaxy Buds Pro at their best prices.
Go ahead and nab the Galaxy Watch4 and Galaxy Buds Pro at their best prices ever!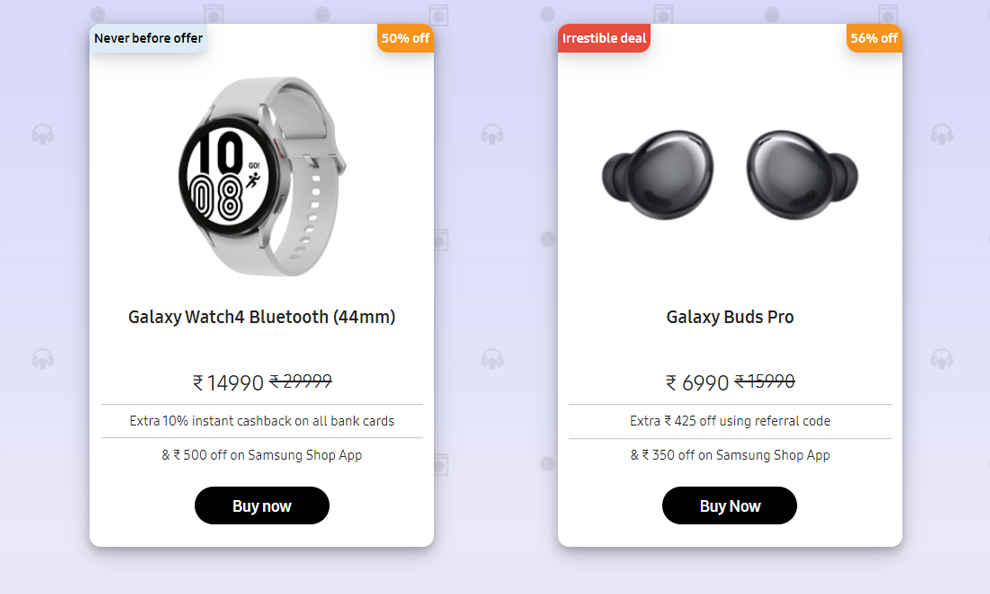 The Samsung Galaxy Watch4 has a simple and elegant design and the toughness of the Armor Aluminum metal frame. It is a perfect accessory for anyone who needs to keep a tab on his or her health and fitness. This is the first smartwatch to include the Samsung BioActive Sensor that captures your body composition in real-time. Within 15 seconds you can know your body fat percentage, skeletal muscle, fat mass, body water, and BMI and have a fair assessment of your overall health.
The Galaxy Watch4 can measure blood oxygen levels, track over 90 exercises and can show advanced insights for runners and cyclists. Users can also compete with friends in a fun competition through a live message board.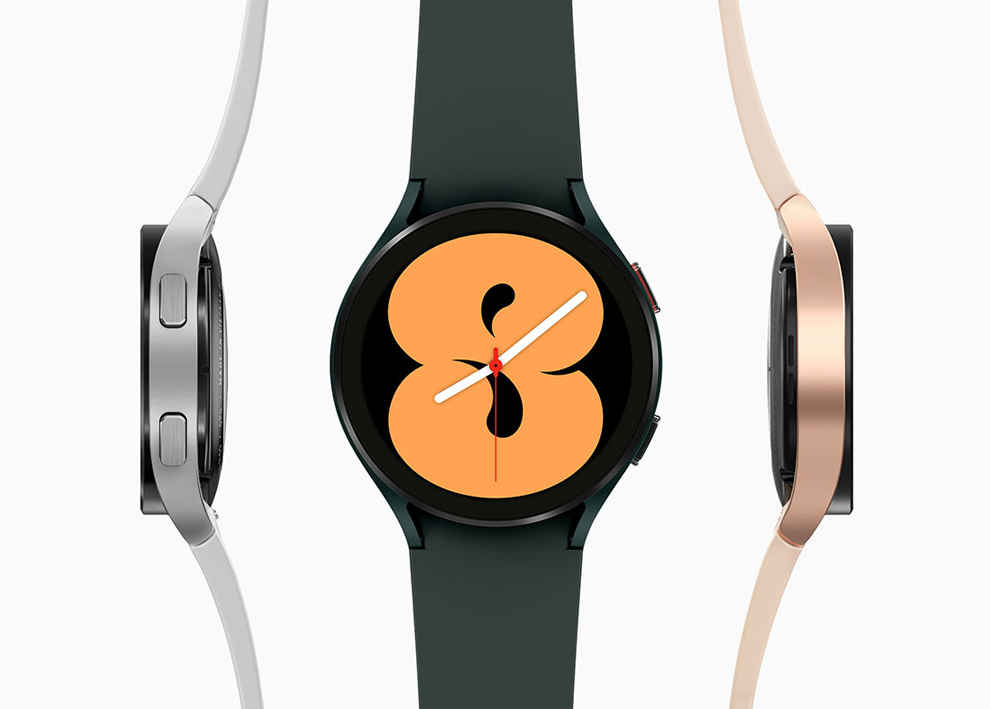 Another exciting feature of the watch is its holistic sleep analysis. It can deftly analyze and record different sleep stages and can also log your blood oxygen levels and snoring patterns! Sleep Coaching will help you inculcate healthy sleep habits and generate a sleep score to keep you motivated.
Galaxy Watch4 is the first generation of Samsung smartwatches to feature Wear OS, powered by Samsung. This enables seamless access to more apps via Google Play including Google Maps and YouTube Music.
The Fab Grab Fest offers the perfect opportunity to grab the Galaxy Watch4 at an amazing price of ₹14,999. Consumers can further avail of an extra 10% cashback on all bank cards and an extra ₹ 500 for first purchases made on Samsung Shop App.
Let's now get to the ultra-stylish and modern Galaxy Buds Pro. These wireless earbuds flaunt 2-way speakers tuned by AKG design and offer immersive 360 audio. These earbuds employ an 11-millimetre woofer for impactful bass and a 6.5-millimetre tweeter for crisp treble and minimum distortion.
Their intelligent ANC filters out up to 99% of background noise. Users have the option to seamlessly switch between noise-cancelling and fully adjustable ambient sound. The capable 3-mic system further makes them excellent for attending calls.
The auto-switch feature on the Galaxy Buds Pro offers unmatched convenience. For instance, if you are watching a movie on your Galaxy Tablet and get a call on your Galaxy Smartphone, Galaxy Buds Pro can automatically switch the audio from your tablet to your phone, and seamlessly connect back to your tablet when the call ends.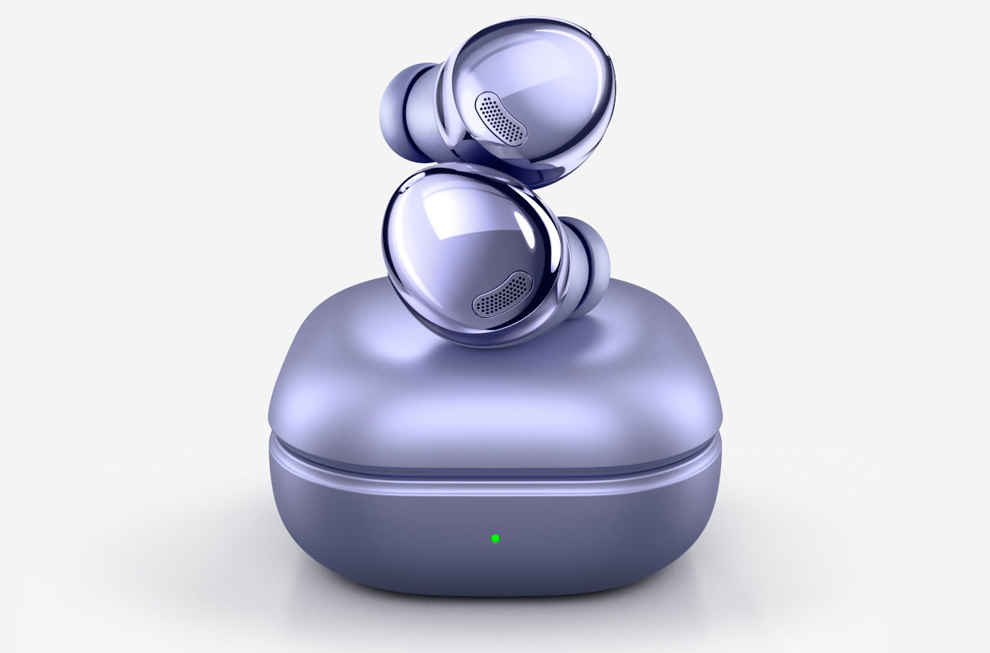 The buds are IPX7 water-resistant, deliver great battery backup, and offer a secure yet comfortable fit. When fully charged, you get up to 8 hours of playback, with additional 20 hours of reserve power available in the wireless charging case.
All said and done, the Galaxy Buds Pro at ₹ 6,990 is a deal that you surely can't afford to miss! You can further get an extra ₹ 450 off using a referral code and another ₹ 350 off for the first purchase made on Samsung Shop App.
Samsung Fab Grab Fest brings the best deals on Samsung Products!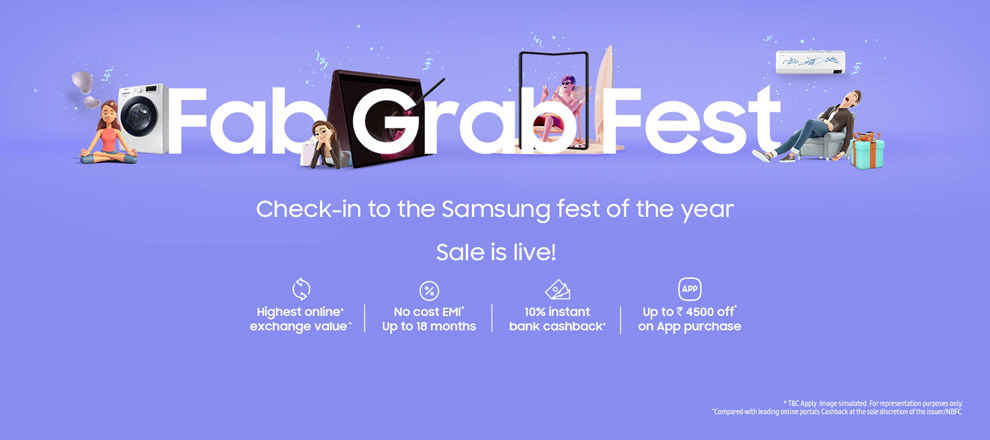 Apart from the Galaxy Watch4 and Galaxy Buds Pro, the Fab Grab Fest brings several exciting deals that you can benefit from.
If you have been looking to upgrade your smartphone, the Galaxy S20 FE 5G is available at a very exciting price of ₹ 34,999. With features like a powerful Snapdragon chipset, 120Hz AMOLED display, and a wonderful day and night photography experience, this is a great deal for the sale price.
The recently launched Samsung Galaxy M53 5G (6GB RAM) that has an MRP of INR 32,999 will be available for a competitive price of ₹ 26,499. This is the first Samsung mid-range phone to include a 108 MP camera. It further offers an appealing super AMOLED+ display with 120Hz refresh rate support, a powerful performance, and a fabulous battery life.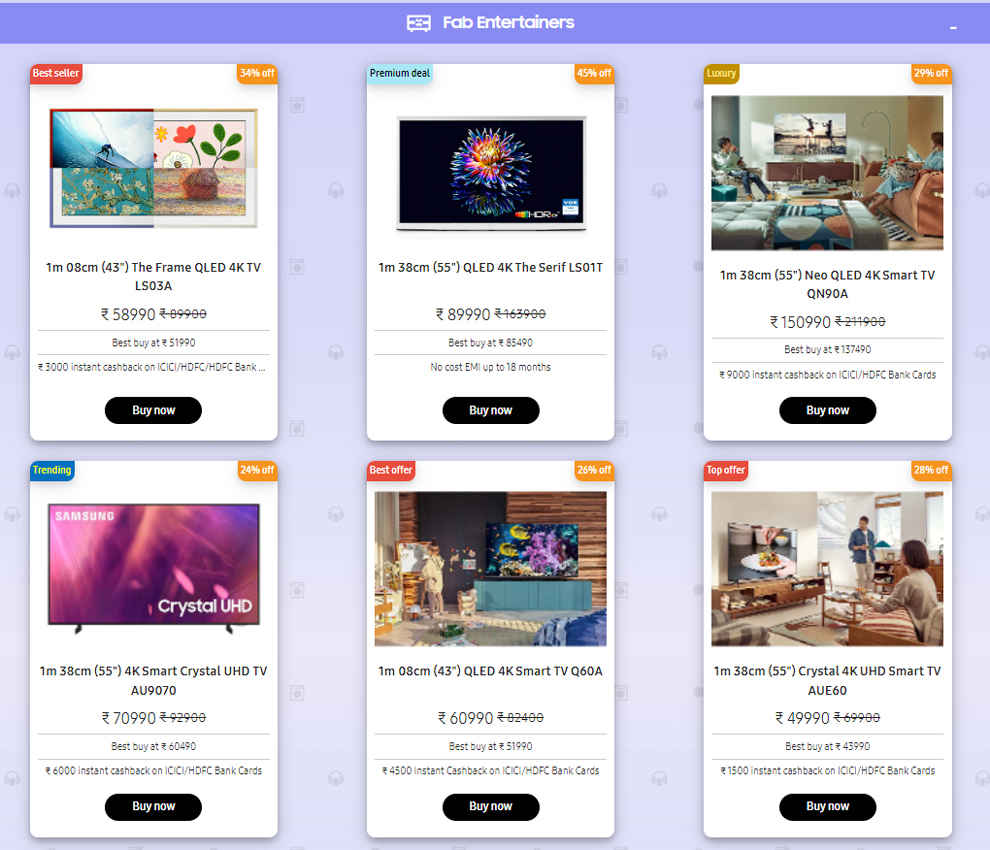 Several popular Samsung TVs including 4K Smart TVs, QLED TVs, and the Neo QLED TVs are available at jaw-dropping prices. The Serif (55-inch) with an MRP of 163,900 is available for INR 89,990 and the Frame QLED 4K TV with an MRP of ₹ 89,900 will be available for ₹ 58,990. There are amazing deals on Samsung's 4K Smart Crystal UHD TVs as well. The 4K Smart Crystal UHD TV AU9070 with an MRP of ₹ 92,900 can be grabbed for the best buy price of just ₹ 60,490!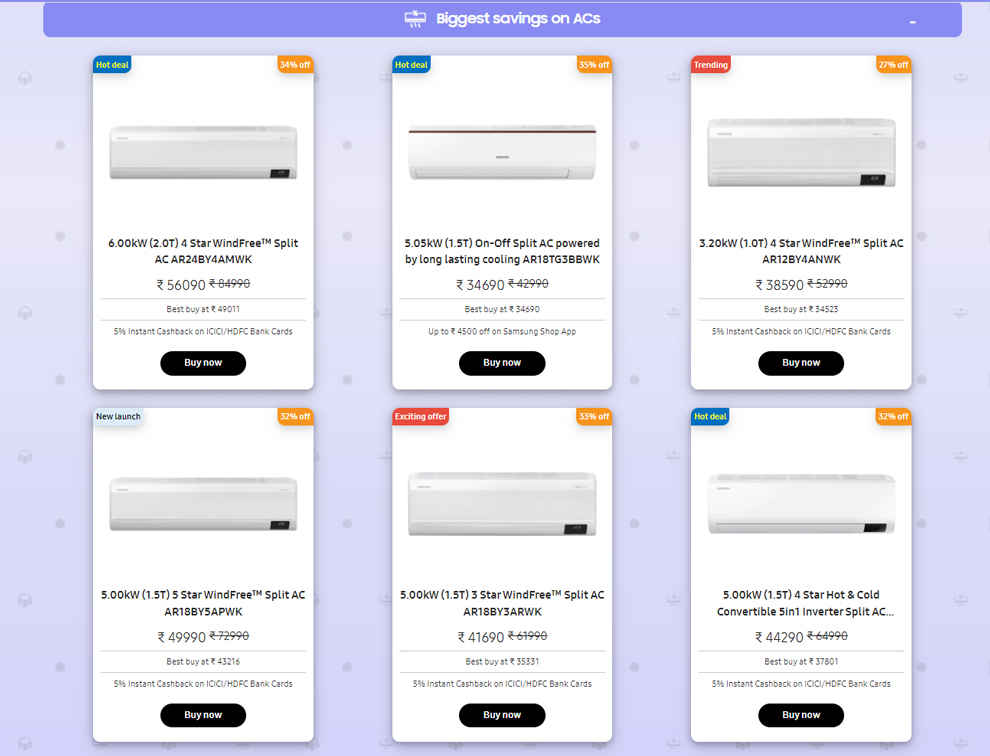 There are several cool deals on Air Conditioners including Samsung's WindFree ACs. The 1.5T WindFree Split AC (5-star) comes with innovative features like a PM 1.0 air filter, freeze wash, and AI cooling. The AC will be available for an offer price of ₹ 49,990 as against an MRP of INR 72,990. The 2T WindFree Split AC (4-star) with an MRP of ₹ 84,990 is available for just ₹ 56,090.
Jump in and save BIG
This is the perfect opportunity to get the best deals on your favourite Samsung products. To benefit from these amazing offers and discover many more, head to the Samsung Fab Grab Fest website and pick up your favourite products while the stocks last.