The Mobile World Congress, as the name suggests, hosts the best of mobile technology that will be seen through this year. We have seen the regular array of phone launches by numerous manufacturers, most of which are directed towards the value-conscious smartphone buyers of today. The bigger innovators, though, have gone ahead to present a show of technological advancement within the saturated mobile space. Alongside, a few relatively obscure manufacturers have presented devices that have the potential to raise interest, or lay the groundwork for future devices to follow. Here, we talk about the innovations that the likes of LG and Sony have presented, along with Cat's S60 smartphone with thermal imaging camera.
LG G5: Modularity and accessories
LG's G5 smartphone, like we stated upon its launch, is one of the best illustrations of technology surrounding a smartphone of late. The LG G5 is possibly the first mainstream modular smartphone in a way, with a removable battery slot at the bottom doubling up as a slot for add-ons to improve photography, audio, and other such aspects. There is a tiny button near the bottom edge of the smartphone, which you can tap to release the lower edge and the battery concealed within.
It is here that the magic begins. You have an entire range of accessories under the LG Friends ecosystem, including a camera control and battery pack, an external audio DAC, VR goggles, a 360-degree camera and a round-shaped robot fit with lasers, cameras, mics and speakers, called the LG Rolling Bot. While the camera pack and the external audio DAC connect via the battery slot, the 360 VR connects via the USB-C port, while the rest sync wirelessly with your device. With the camera attachment, you get additional battery stamina, taking the entire battery stamina up to 4000mAh. You also get separate video recording button, a shutter button with half-release and a scroll to control the zoom on the camera.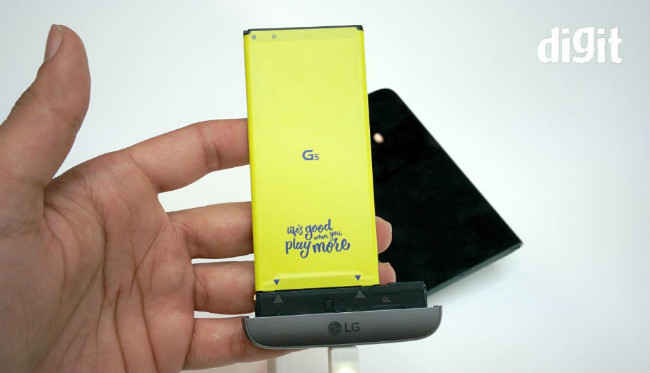 The HiFi Plus is an attachable DAC amp that can supports 32-bit audio and DSD playback. If you love your audio on-the-go, the HiFi Plus with B&O Play upgrades most of your tracks to better output quality, adding sense to the modular nature of the LG G5. Among its other accessories, LG has given focus to 360-degree videos and VR, making the LG G5 future-ready in a sense. The smartphone itself is powered by the Qualcomm Snapdragon 820 chipset, along with 4GB of RAM and 32GB of internal storage, along with a memory card slot for expanding storage. Another notable feature is its dual-camera setup. The two cameras work separately, and while the standard camera has a 16MP sensor with standard angle of view, the wide-angle camera has an 8MP sensor with 135-degree angle of view.
LG has packed in as much as one can think of, along with post-purchasing customisability as per choice. It will almost certainly not come for cheap, but then again, what does?
LG G5 first look

Posted by Digit on Monday, 22 February 2016
Samsung Galaxy S7: Game Launcher integration
While many may state that this year's Galaxy S7 and S7 Edge are not as radically different as the Galaxy S6 lineup was when launched, what Samsung has essentially done is to optimise its internal processes, to give a more controlled gaming experience. The Samsung Galaxy S7 and S7 Edge houses a Game Launcher app, which gives you a number of settings to fiddle with to optimise your gaming experience. For instance, if you have a very high resolution display (QHD ones, for instance), your phone's GPU usually needs to perform harder to give you optimal frame rates while gaming. As we have previously done with PC gaming, you can now adjust your screen resolution down to what you require while playing the game. You can also adjust the power settings to use the least amount of battery, and the Game Launcher app comes with a floating settings head that gives you options to turn off alerts while gaming, take screenshots and record in-game footage too, a first-time for mobile gaming. The in-game recording mode activates the front camera and you get a picture-in-picture view, so that you can give live commentary over your gaming footage via the front camera.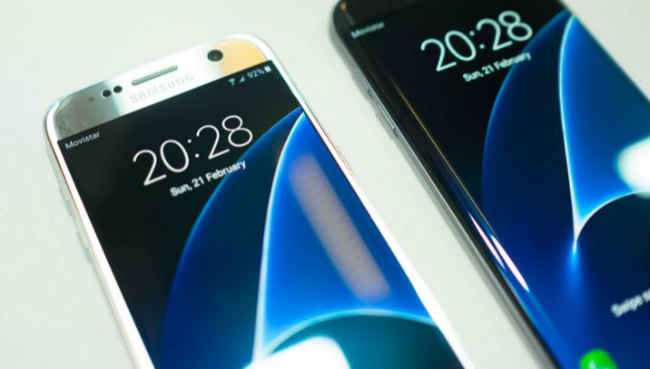 Essentially, the Game Launcher gives you similar rights as Samsung's Game Tuner introduced previously for devices like the Samsung Galaxy S6 and above. Only this time, you get a more cohesive package to fine tune your phone's gaming performance.
Sony Xperia X: Predictive Hybrid Autofocus
While Sony's primary focus at MWC 2016 seemed to be on premium design and smart connected accessories, there was also an elaboration of the predictive hybrid autofocus mechanism that Sony is using on its Xperia X lineup. The Sony Xperia X has an intelligent focussing mechanism that uses 3D subject tracking to predict where your subject in focus will move next and prepare the camera to shift its focus, thereby completely removing the aspect of blurry photos as you shoot rapidly or shoot burst images. Demonstrations at MWC 2016 seemed promising, and although it is yet to be tested in real world conditions, the way the algorithms work seem quite promising.
Cat S60: Thermal imaging on smartphone
While Cat is an absolutely unknown brand in front of LG, Samsung and Sony, it has made a reasonably large amount of noise. The Cat S60 claims to be the world's "most waterproof" smartphone, and houses a thermal imaging camera from FLIR capable of detecting heat, measuring surface temperature and even work through haze and smoke. The Cat S60 can be used to detect heat anomalies, look through the dark, and even survive under 5 metres of water for one hour. Add to that, Cat claims that the smartphone will survive a fall from a height of 1.8 metres on direct concrete and is dustproof. Its waterproofing also makes it usable as an underwater camera.
Sounds a bit extreme for a smartphone, but it is certainly a first for mobile phones, and may find a very defined niche for those who will need such features.
CAT S60 Smartphone with thermal imaging #mwc2016

Posted by Digit on Tuesday, 23 February 2016