Android 10 introduced us to multiple new features including new gestures, dark theme, better privacy controls, and more. While these were the major new features I noticed some subtle changes, some low-key changes that Google introduced to the system with Android 10. These changes may be low-profile, but they make a huge impact on an Android 10 phone in day-to-day life. Hence, here are some of the subtle changes that I noticed in my time with the new OS.
Night Sight is now a primary camera mode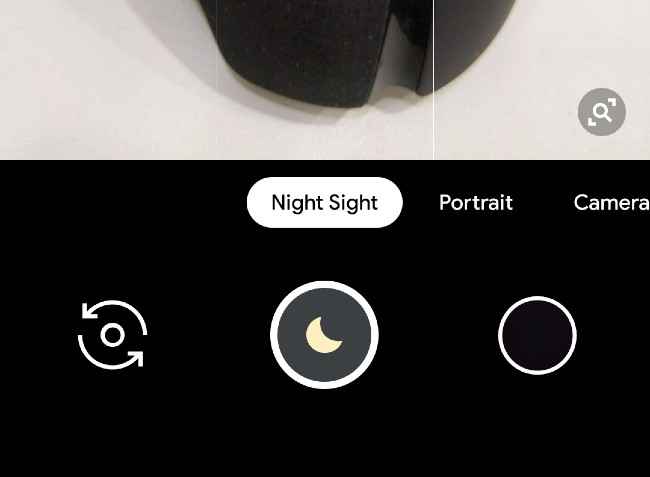 Night Sight is now quicker to access. Previously, Google placed the Night Sight mode in the "more" section of the camera app. However, with Android 10, the company has added Night Sight as one of the primary camera modes in the Google Camera app. This enables you to toggle between normal mode and Night Sight quickly. It comes in handy while you are trying to take a picture in a low-light environment, and saves a few taps.
Android 10 location permissions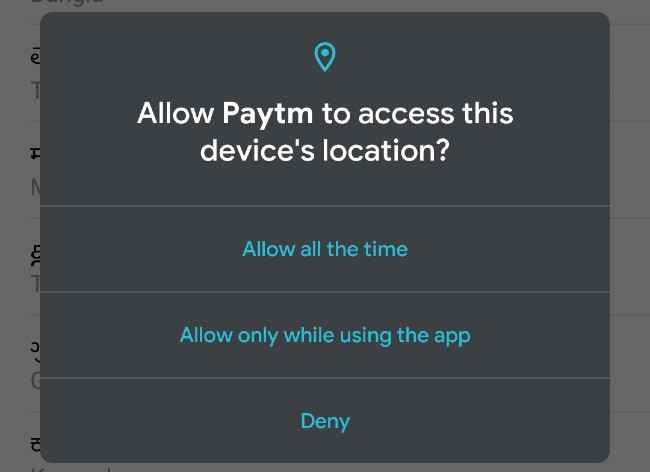 Unless you toggle the location settings every time before and after using an app like Uber or Google Maps, it's most likely that you have given apps your location permanently. With Android 10 location permissions, the system allows apps to access your location while the app is open, but block the location permission when it is closed. Moreover, with other permissions, you are limited to allowing or denying, but with location permissions, you can limit usage to only in the foreground.
It can be done by choosing "Allow only while the app is in use" option, and you can limit apps from recording your location in the background. Moreover, if an app gathers your location in the background, the system will warn you about it in the notification menu.
The location-sharing preferences can be shared through a new Location section in the Settings menu.
Battery saver based on routine
Android 10 uses machine learning to know when you typically charge your phone during the day. With Android 10, if the system determines your battery will die before reaching its normal charging time, it will turn on the Battery Saver automatically.
You can enable it by going to Settings > Battery > Battery Saver > Set a schedule > Based on your routine.
Music controls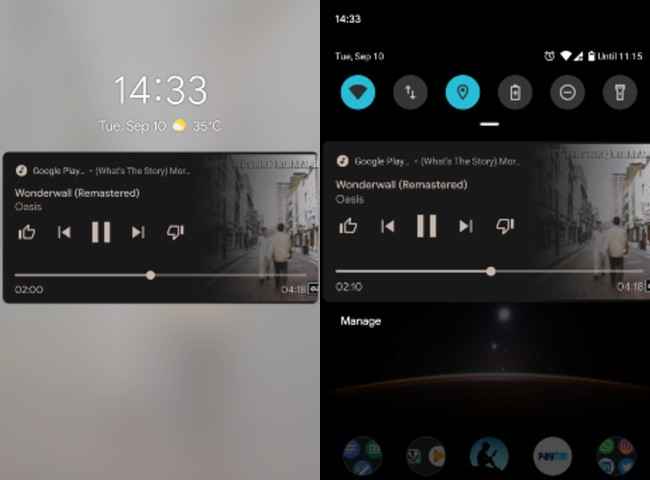 If you are anything like me, you are going to love this new addition to the usual playback controls. When listening to music, I can think of multiple times when I've wanted to listen to a specific section of a song and I had to unlock my phone, open the Play Music app and rewind to the exact point I wanted to listen to. With Android 10 you'll be able to do all that from your lock screen.
Android 10 introduces a seek bar below the usual music controls to enable you to scroll through a song to your favourite section. It is also accessible from the lock screen, which saves a lot of time.
Wi-Fi Sharing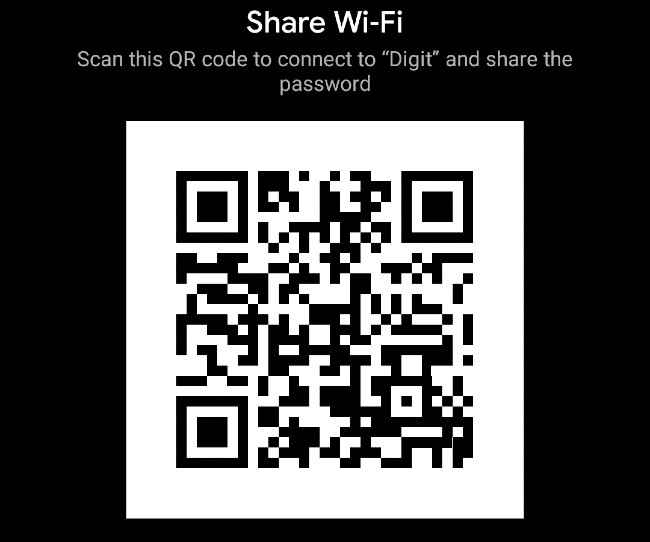 I used this feature first in MIUI on the Redmi Note 7. Wi-Fi sharing allows you to share your password using a QR code. These codes can be scanned by Android as well as iPhone users. It enables you to instantly connect to the Wi-Fi network without requiring to enter the password.
It came in handy when I changed my phone and I had to connect to the old Wi-Fi network whose password I had forgotten. I simply scanned the QR code from the Pixel 3A XL (running Android 10) and my new phone was connected to the Wi-Fi network in the blink of an eye.
Pause notifications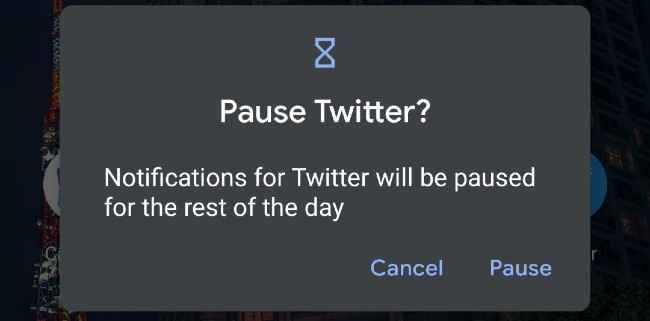 Android 10 has added a new option for apps in the Recents menu. The new update offers three options to choose from: App info, Split screen and Pause app. While the first two are self-explanatory, the third option, Pause app can be used to pause notifications from a specific app for the rest of the day.
The feature is useful as you can pause notifications from specific apps if you find them distracting. Focus Mode also lets you pause notifications from apps you find most distracting via the settings menu. Moreover, if you try accessing an app that is in Focus Mode, you'll be notified.
Smart Reply and Suggested Actions from notifications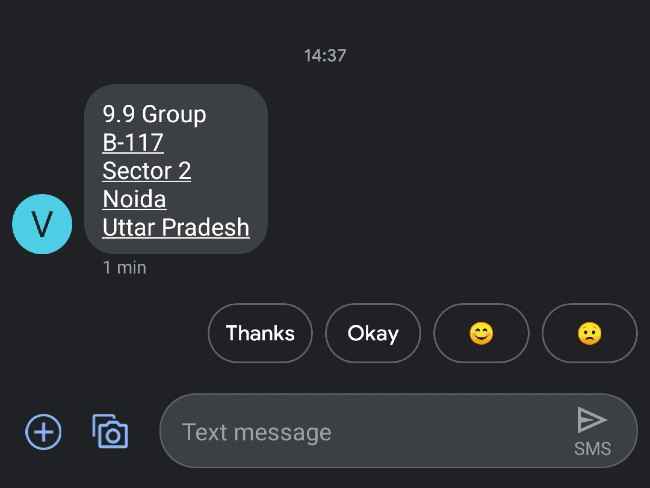 Google first introduced the Smart Reply feature for Gmail in 2017. It leverages machine learning abilities to determine an appropriate response based on alert you receive on your phone. Android 10 allows you to reply directly from the notification panel and suggests some reply options as well.
Apps provide suggestions for quick replies as well, for example, if there's an address in a text message, the system will show an option to open it in maps. If you click on that option, the system will take you to maps and search for the given address.

Silent notifications
Android 10 has introduced new options for handling notifications. You can now select from "Alerting" and "Silent" options for different notifications. By default, a notification is marked as "Alerting" in Android 10. However, if you select "Silent" for an app, the notification will appear in a labelled section below the default notifications. The silent notifications appear in the notification list, but they don't trigger any sound nor do they appear on the lock screen.
You can toggle between the two options for an app notification by simply holding it in the notification panel for a while.
System-wide icon change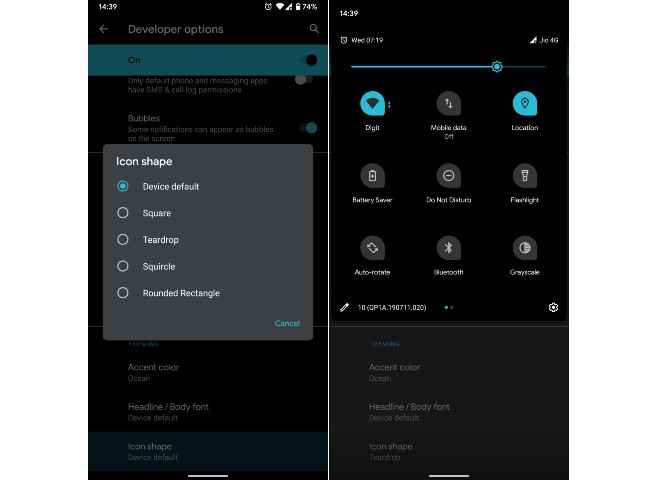 First, this feature will only be enabled for users who have Developer Options turned on in their devices.
For years Android has allowed you to change the shape of icons using a third-party launcher. To recall, Pixel launcher added support for new icon shapes with the Adaptive Icon feature. However, it was limited to the icons on the home screen and app drawer.
Now, Android 10 enables you tp change the icon shape system-wide, which includes icons in the notification bar, settings menu, and more. The new change also supports the Share menu. Currently, there are five icon shapes available in the Developer options: Default (circle), Square, Teardrop, Squircle, and Rounded Rectangles.
"Time to Zero" battery indicator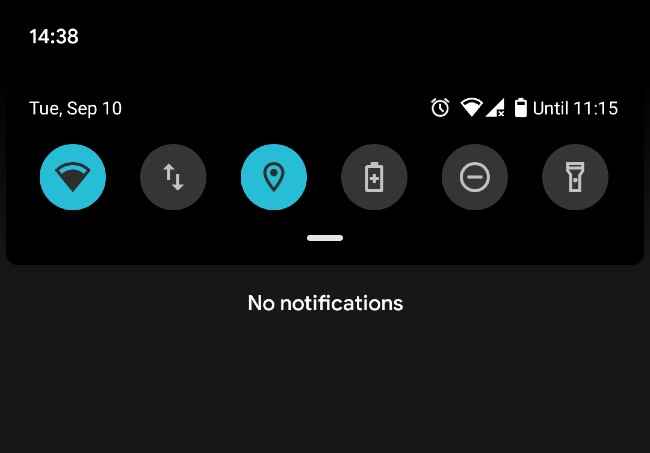 One of the more subtle, but useful improvements in Android 10 is the inclusion of your phone telling you how long the battery will last next to the battery icon on top of the screen. Now, when you swipe down, the amount of "time" left appears on the top right corner of the status bar. While X percent battery left doesn't tell you when exactly when your phone will die, the new inclusion will give you a better idea on when you'll need to charge your phone.
It takes the Adaptive Battery feature, introduced with Android 9 Pie, one step further. The feature optimises the system to match your phone usage. For example, if you open Instagram and spend 10 minutes on it first in the morning, the system places it in a higher app standby bucket, whereas an infrequently used app is placed in a lower bucket, limiting its background activity. The new feature uses all this data to determine and show you how long your phone is going to last.
We also penned an article on the top ten Android 10 features that you may have missed. You can read it here.