Chinese smartphone ODM, Topwise has scoped the Indian budget, mid smartphone segment and is all set to ditch homegrown brand Micromax, to enter the market with its own smartphone offerings. Topwise was originally Micromax India's ODM partner, but has now ceased to manufacture any devices for the latter. The company is targeting the Rs 6,000 to Rs 12,000 price segment, one that is currently crowded by the likes of Xiaomi, Samsung, Vivo, Oppo, Lenovo, and Motorola. Their strategy is to fill the gap in India's offline retail space, a trend that existing players are also adopting right now. India will be the second smartphone market for Topwise which entered the arena with its Comio brand back in 2015
"This (Rs 6,000 to Rs 12,000) is the biggest smartphone segment, and brands operating in this offline segment are very few. Earlier, this segment was held by Indian brands, which is somehow going down day by day and now their strength lies below Rs 6,000. Established Chinese brands are going upwards in the value chain. So somehow, very few brands have an offline presence in this price segment we are targeting," Sanjay Kalirona, CEO, Comio India explained in a select press briefing.
Comio will enter the Indian budget and mid-segment smartphone market with the launch of 3-4 phones, which will be available through Comio's 10,000 retail partner outlets. Topwise will initially launch these smartphones in the Northern and Western markets of India through 300 plus distributors, with plans of expansion to other areas sometime next year. "In the next one year, we will have our own R&D center as well as manufacturing factory in India," says Kalirona. He further tells Digit that the first batch of Comio smartphones will be imported from China and that Topwise will begin contract manufacturing in India starting September. The company also has plans to set up its own assembly unit in Noida or other surrounding areas in a year's time. "If numbers grow, we will bring all our manufacturing capabilities from China to India," says Kalirona.
Comio smartphones will launch with Android Nougat out-of-the-box with regular updates in tow. Topwise is a certified Google partner and has a Google MADA (Mobile Application Distribution Agreement) license at the back of which the company is promising timely Android updates, "As soon as Google pushes them out."
Comio S1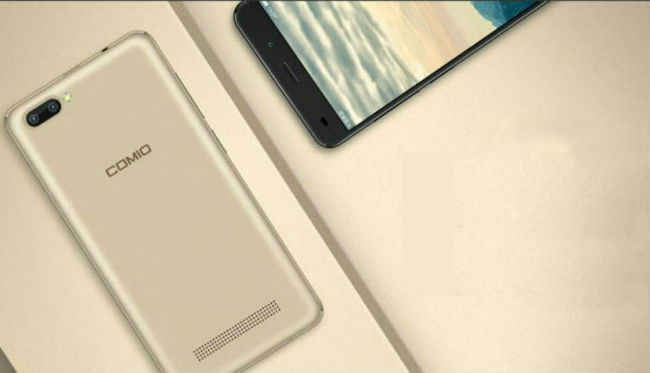 Comio A8 with similar dual rear camera setup as the Comio S1
At the briefing, we had a chance to get our hands on one of the smartphones from Comio's 2017 India portfolio. The Comio S1 sports a metal back, houses dual rear cameras and has a fingerprint sensor/home button at the front. There are two separate volume buttons and a third power button on the right side of the device. It looks pretty similar to the Comio A8 which was recently launched in China. The smartphone runs on a Quad-core 64 bit Mediatek chipset, with 2GB RAM and 32GB expandable storage. Comio tells us that Mediatek will remain the choice of SoC for its entire 2017 portfolio of smartphones in India. Confirming their Android promise, the Comio S1 comes with Nougat out-of-the-box, with a layer of Comio UI 2.1 on top. The smartphone also had the June 2017 Android security patch when we saw it in action. Powering the Comio S1 was a 2,700 mAh battery. As a USP, Comio will bundle two security apps with its smartphones - 360 Security and Anti Theft. While we didn't get too much time to spend with the device, the 360 Security app seemed like an overall security scan for the phone and would probably be used to alert users in case they download a malicious app, or if an app asks for suspicious permissions.
In the little time we spent with the Comio S1, it seemed to have a decent build quality, but the UI was lagging a lot, which is quite a disappointment given that we are in 2017 and other smartphones in the same price segment have managed to iron out such wrinkles. The camera app came with a host of familiar features such as beauty mode, filters and a bokeh effect. The smartphone's dual cameras did not impress and bokeh images looked like sad software generated blurs which were too intense for our liking. The camera was quite slow as well and took a tad longer than expected to focus and capture images. That said, the device we saw was not the final unit, so we can give Comio a benefit of doubt. Comio CEO told us that the S1 will be priced under Rs 10,000, but we don't know its exact price yet. One can expect Comio smartphones to launch with bundled free data offers and Kalirona confirmed that the company is in talks with telecom operators for the same.
Going forward, Topwise plans to invest close to Rs 500 Cr over a period of 1.5 years in India. Of this, Rs 250 Cr will be spent on marketing and brand building activities, Rs 150 Cr in R&D and close to Rs 100 Cr in distribution, after sales services. Comio plans to launch with 400 service touch points in August, and grow the same over time. The company says its devices will be refreshed every 1 - 1.5 years. Apart from smartphones, Topwise will also be bringing its Point of Sale (PoS) terminals to India next year.