Introducing its new ecosystem at the Huawei Developer Conference (HDC), Huawei provided information about the HarmonyOS 2.0 features. Users will be able to connect easily with other devices in the same ecosystem.
Wanting to serve its users with an Apple-like ecosystem, Huawei wants to work on accessibility and sustainability with HarmonyOS 2.0.
Huawei will make a beta version of the HarmonyOS 2.0 SDK available to developers from 10th September, though it'll initially only support smartwatches, car head units, and TVs. A smartphone version of the SDK will follow in December 2020.
HarmonyOS is a strategically important project for Huawei, as it could serve as a bulwark for the Chinese giant from doing business with American companies. Huawei is currently forced to ship its Android-based phones without Google services, crippling its app ecosystem and functionality for users outside China.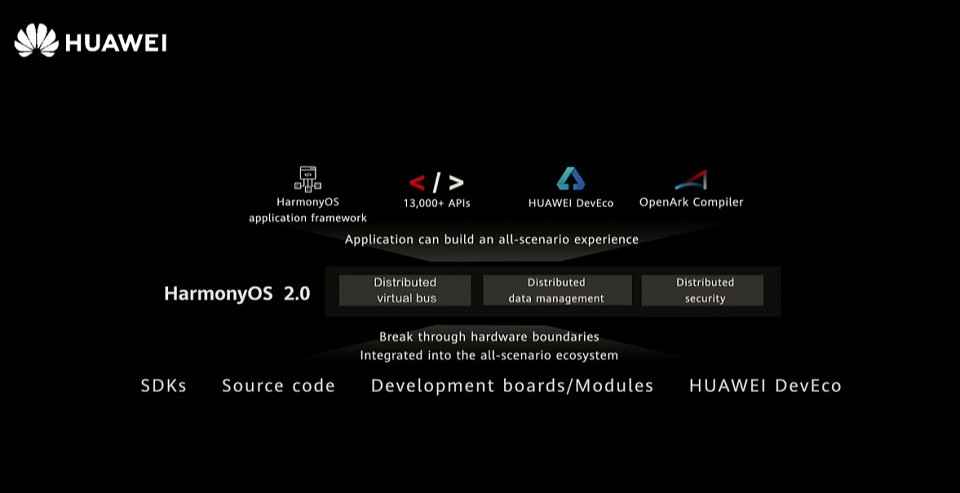 Harmony OS 2.0 Features:
The company has introduced a new Distributed Virtual Bus Pool technology which will enable new developers to jump right into the development of products and services for the new ecosystem.
The Distributed Virtual Bus Pools will provide a smooth and lag free experience to the devices in the ecosystem, with having key features such as :
Latency below 10ms
2.4Gb/s data transmission
less than 30 percent data loss
This will enable the devices to communicate with each other in a much smoother and faster manner with the capabilities such as mesh network in which all the devices are interconnected with each other and share the same network providing smooth and lag free cross audio and video experience.
The conference stressed more on the fact that inter-hardware data transfer along with distributed data management is one of the most prominent functions of HarmonyOS 2.0.
With the implementation of Samba protocol in Harmony suite, it has observed increased read and write speeds which is upto 4 times faster than previous method, and 1.2 times faster than in the iOS Core Spotlight system.

Security is also taken up as one of the major points in the keynote as Harmony suite provides an artificial intelligence based network security system, which will make it harder for malicious attackers to tap into the network.
Users will also be able to use their mobile phones as a game controller wirelessly in the new OS.
Huawei is looking to stay relevant in the mobile space without Android and what remains to be seen is how the development community along with consumers warm up to the new OS.