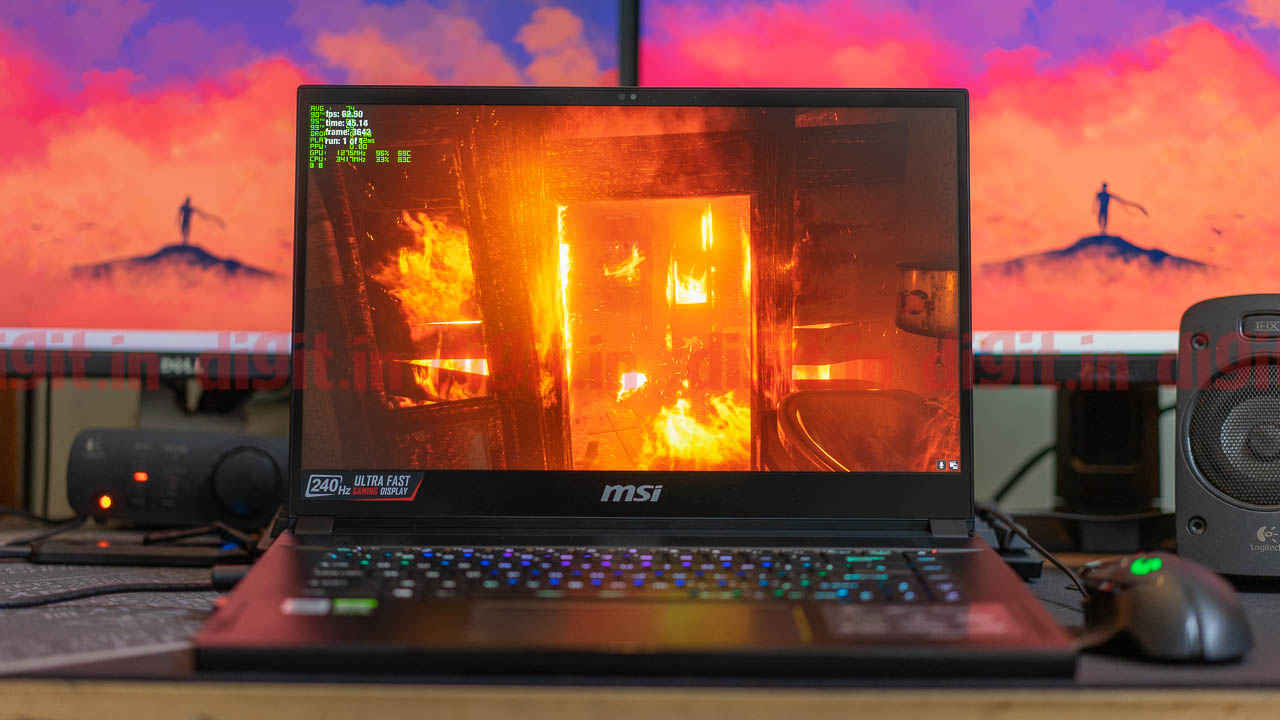 HIGHLIGHTS
Nvidia GeForce RTX 3080 Laptop GPU comes in 8GB and 16GB Variants.

Nvidia GeForce RTX 3080 can be configured with a TGP ranging from 80W to more than 150W.

Nvidia GeForce RTX 30-series GPUs to bring high resolution, high refresh rate gaming to the mainstream.
Nvidia unveiled the RTX 30-series for laptops barely a month ago, and we just got our first sample of what gamers can expect going into 2021. This generation of GPUs and even laptops for that matter is all about the high refresh-rate, 1440p experience. While that might sound exciting, 2021 isn't going to be an easy year to buy a gaming laptop. After test-driving the MSI GS66 Stealth powered by the Nvidia GeForce RTX 3080 Laptop GPU using a bunch of games and a whole lot of caffeine, here's everything you need to know.
Nvidia GeForce RTX 30-Series Laptop GPU – Some Basics
This year's GPU lineup, and consequently the laptop portfolio powered by them isn't going to be as straightforward as the previous years. You see, up until last year, it was clear if you were buying a laptop with the full power laptop GPU on-board, or one with the Max-Q design, which had a slightly lower TGP or Total Graphics Power, the total amount of power that the graphics chip can draw. Unfortunately with the 30-series laptop GPUs, it appears that OEMs may no longer need to disclose whether the GPU is Max-Q or not, instead, encouraging them to list the TGP of the chip in the spec-sheet instead. This will make it harder for gamers to buy a gaming laptop in 2021 because you could be picking up a machine with an RTX 3070, that could get outperformed by an RTX 3060, simply based on the way their TGPs are configured. Just to be clear, Max-Q isn't going away but is being rebranded as a combination of features, rather than a "lower-tier variant" of an existing GPU. Our experience with the new laptop that's powered by the Nvidia GeForce RTX 3080 is a prime example of this, so let us begin.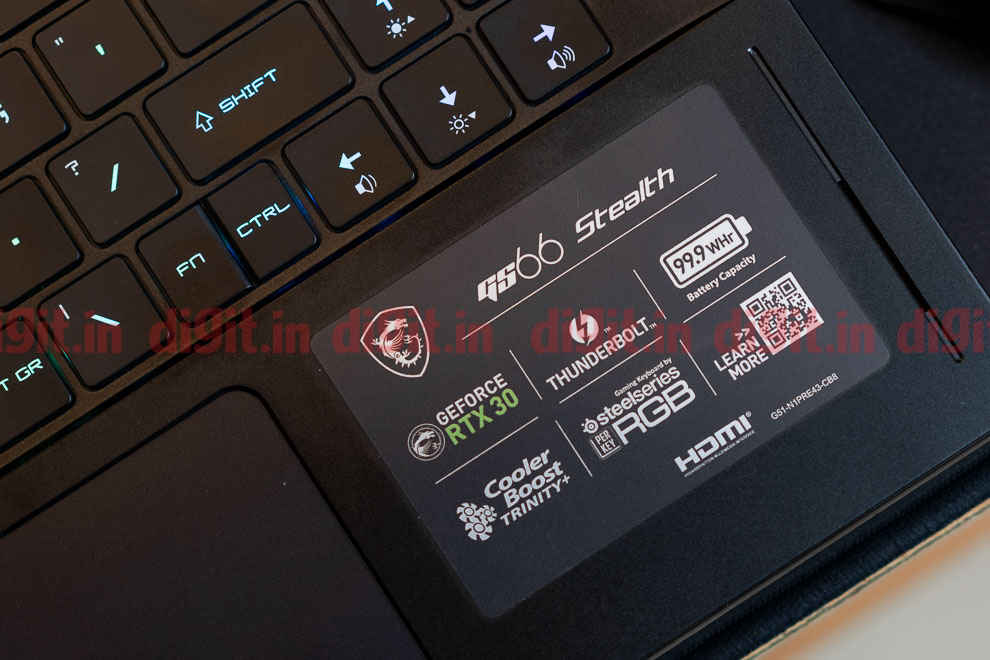 Nvidia GeForce RTX 3080 Laptop Performance
We're testing the current king of the laptop GPUs on an MSI GS66 Stealth. The specifications of the laptop are as follows.
Disclaimer: The MSI GS66 Stealth we are testing is running on a beta BIOS and has exhibited some stability issues, so performance could be slightly lower than expected.
Processor: Intel Core i7-10870H
GPU: Nvidia GeForce RTX 3080 (16GB VRAM | 95W TGP)
RAM: 16GB DDR4 @ 3200MHz, dual-channel
Display Resolution: 15-inch, 2560x1440p
Display Refresh Rate: 240Hz
Storage: 1TB WD SN730 NVMe SSD

At first glance, it's the 240Hz sticker that stands out and when you factor in the 1440p resolution, you see what the trend for the year is going to be like. I do feel that the 240Hz panels will be limited to a more high-end spec, but 1440p @ 144Hz should be more common. The new GPUs also utilize PCIe Gen4 lanes, allowing for faster interconnectedness. The Nvidia GeForce RTX 3080 for laptops is an interesting part as it's the only one in the lineup so far that comes with two different amounts of VRAM; 8GB and 16GB. Here are the average frame rates for some of the games we've been testing the MSI GS66 Stealth with. For good measure, we're also throwing in frame rates from a myriad of different laptops to provide some context. Do note, that this is NOT an apples-to-apples comparison, but a more holistic picture of various specs and the frame-rates you can get out of them. The MSI Creator 17 is here because it's powered by an RTX 2080 Super Max-Q and is one laptop we tested games in multiple resolutions. The MSI GS66 Stealth with the RTX 2070 Super is also in here, so give you an idea of the performance delta, despite the same chassis. We also threw in the Acer Predator Helios 700, which comes with an RTX 2080 Super with a 150W TGP, to show you just how much this number really matters. All testing was performed with Nvidia graphics version 461.23 and the laptop's profile set to Extreme Performance via the MSI Dragon Center.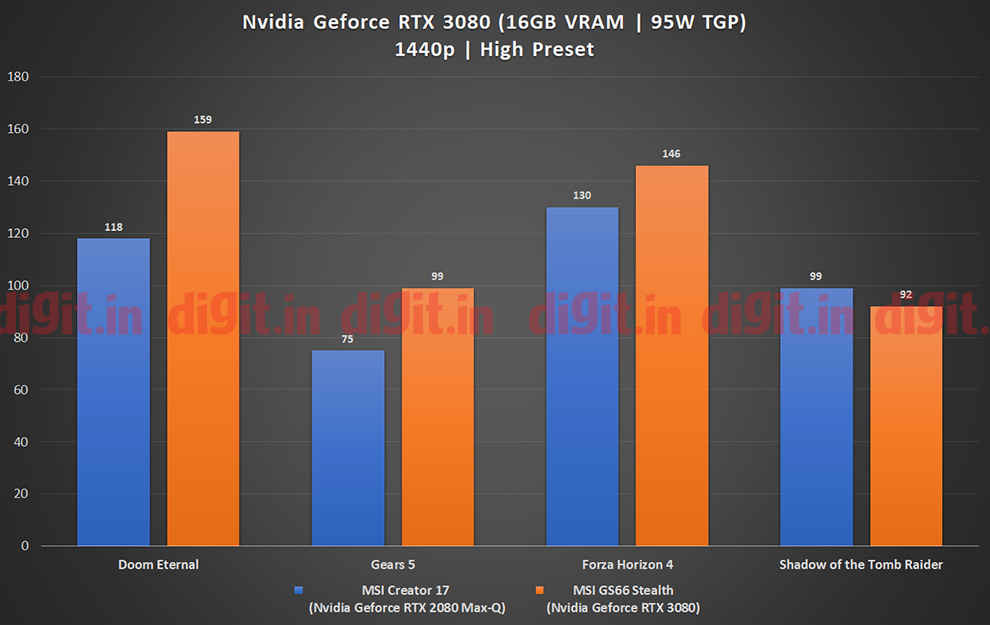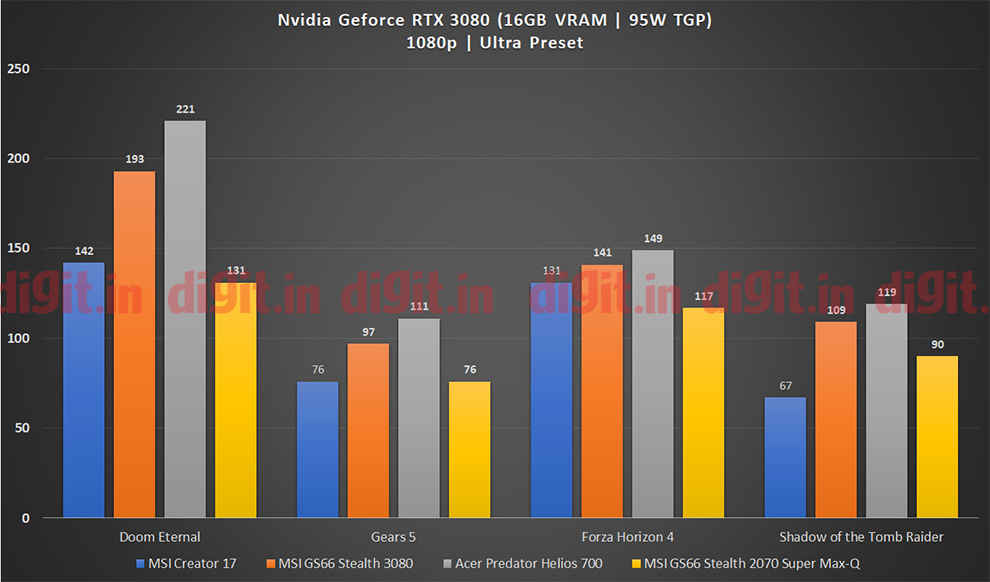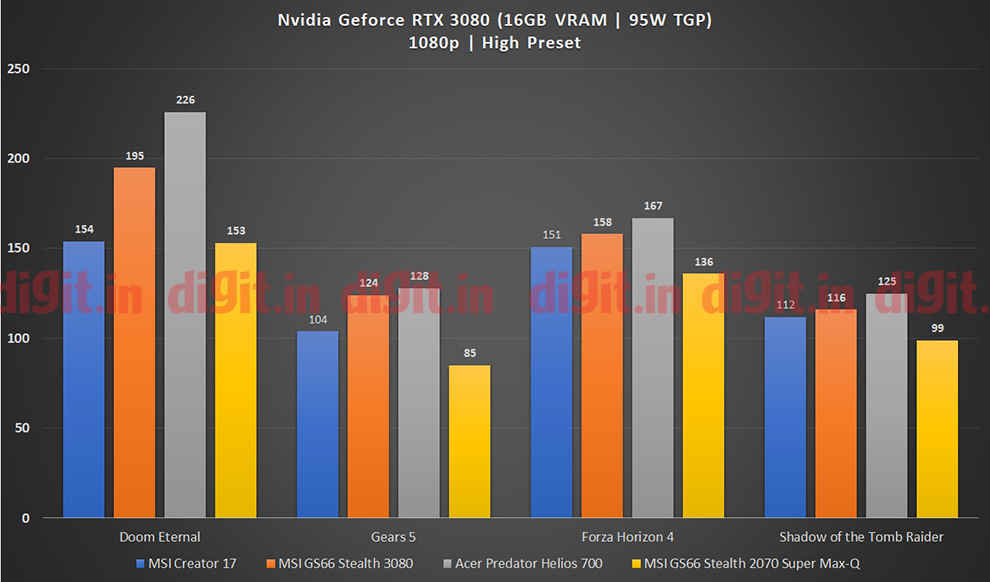 As we can see from the numbers above, when pitted against the Nvidia GeForce RTX 2070 Super Max-Q equipped MSI GS66 Stealth and even the MSI Creator 17, the Nvidia GeForce RTX 3080 comes out ahead across all resolutions and visual qualities. When compared against the Acer Predator Helios 700, the 3080-equipped MSI GS66 Stealth falls behind. Now before you cry foul, do note that this is the difference in performance we expected to see, given that the 2080-Super had a much higher TGP in comparison to the Nvidia GeForce RTX 3080. Despite a 95-watt TGP, we occasionally saw the dGPU pull in as much as 102W. Here are some graphs of power-draw by the dGPU in our gaming tests. What's interesting is that despite the compact chassis, neither the dGPU nor the Intel Core i7-10870H throttle. The GPU doesn't breach 74-degrees at any point while the CPU goes into the toasty 90s.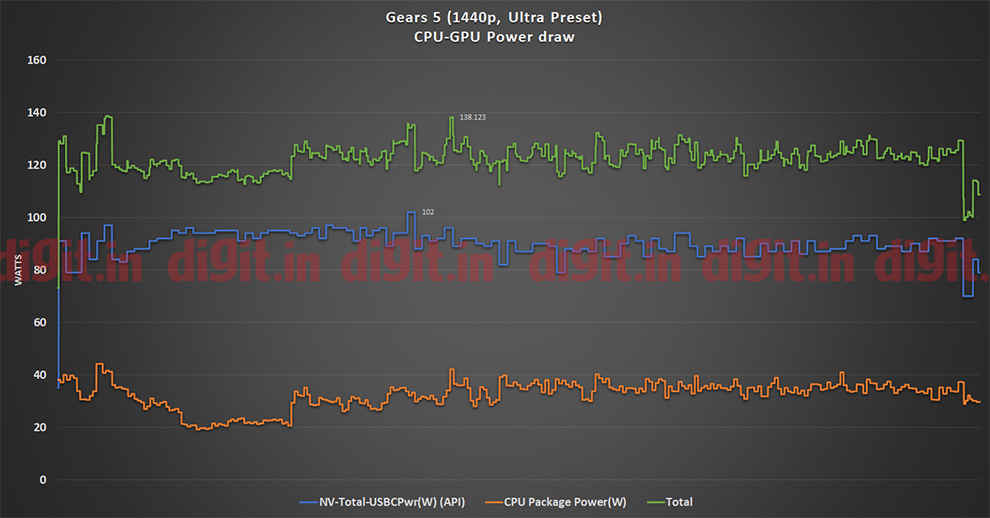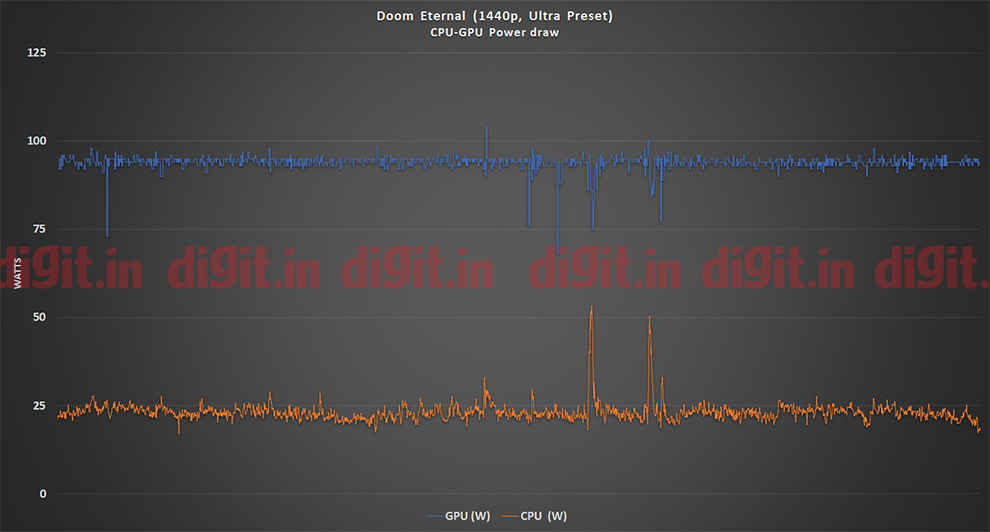 Given that we've had the laptop for a little over 24 hours, our testing has been limited to just a few games. We will be updating this with a larger selection of titles, with numbers for RTX performance as well. We will also be running our full suite of creative and 3D workload tests and publishing our findings in a separate article.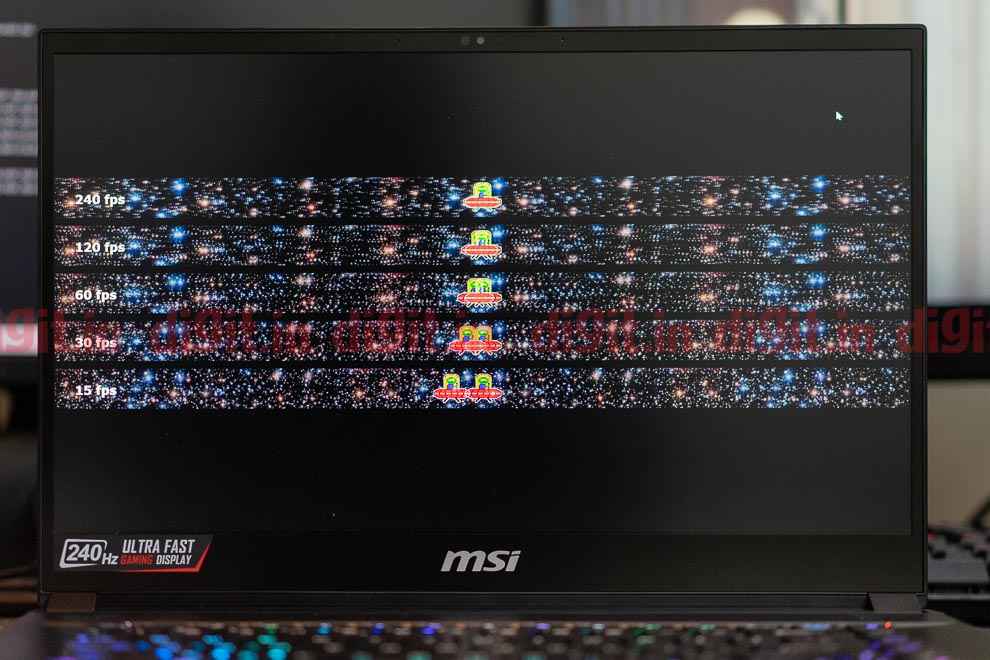 Nvidia GeForce RTX 3080 Closing Thoughts
As promising as the Nvidia GeForce RTX 30-series appear to be, the performance delivered by the Nvidia GeForce RTX 3080 onboard the MSI GS66 Stealth leaves us wanting more. When the performance is seen with respect to the MSI Creator 17 which has a RTX 2080 Super Max-Q with a simiar TGP, then the RTX 3080 onboard the MSI GS66 Stealth feels like a serious bump up. However, it would have been better had the sample machine housed a GPU with a higher TGP, so as to really show what the new chips are capable of. The MSI GS6 Stealth also finds itself equipped with one of the first 1440p, 240Hz panels which could have definitely benefited from a GPU with a higher TGP. Choosing the right laptop will definitely become more tricky, so we will try to ensure we address the TGP issue in all future reviews as well.