Lenovo Legion series of laptops is one of the best sellers on the mainstream market. These laptops are primarily known for delivering solid performance numbers onboard for a relatively cheaper price. The Lenovo Legion 5 is the one we are checking out right now and it is considered to be one of the best gaming notebooks in terms of value.
What I really like about Lenovo w.r.t to the Legion series is that they try to keep these machines up to date with the latest hardware. The approach is very similar to how Acer tries to keep its Nitro 5 laptop relevant irrespective of the current scenario.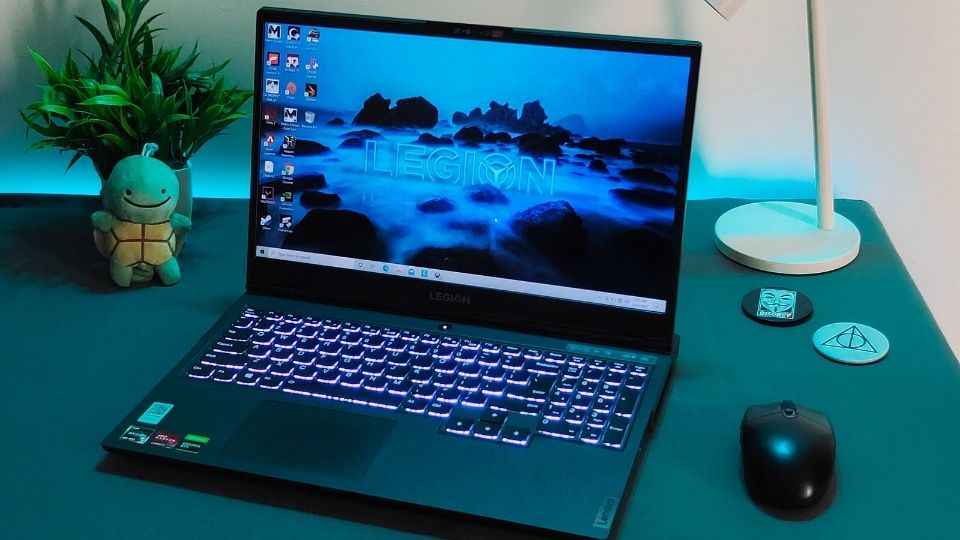 If you are looking to buy the Lenovo Legion 5 gaming laptop, then this performance review will hopefully answer some of your burning questions related to its gaming performance. So let's get started -
Note: It's worth pointing out that this isn't our full review of the laptop. What you are about to read is merely a performance review that only talks about the CPU and GPU performance for gaming, day-to-day tasks, and more. You can reach out to us in case you have any other queries related to the laptop.
Lenovo Legion 5 Specifications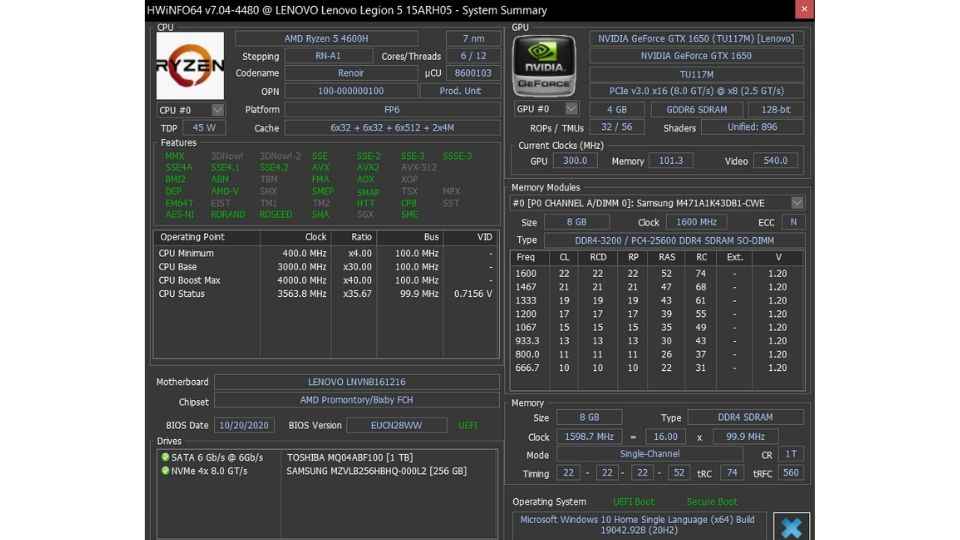 Processor: AMD Ryzen 5 4600H Processor (6 Cores / 12 Threads, 3.00 GHz, up to 4.00 GHz with Max Boost, 3 MB Cache L2 / 8 MB Cache L3)
Graphics: Nvidia GeForce GTX 1650 4GB GDDR6
RAM: 8 GB SO-DIMM DDR4 3200MHz
Storage: 1 TB 5400 HDD + 256 GB PCIe SSD
Display: 15.6" FHD (1920x1080) IPS 250nits Anti-glare, 120Hz, 45% NTSC, DC Dimmer
Lenovo Legion 5 Synthetic Benchmark Performance
The Lenovo Legion 5 that we received for testing is priced at just Rs 67,900 on Amazon. And at that price, you get some solid specifications. This is an AMD-powered unit, however, Lenovo also sells variants that are powered by Intel Core processors. Our test unit is powered by an AMD Ryzen 5 4600H which is a Hexa-core CPU with 12 threads.
Starting off with the Cinebench R23 test, the Lenovo Legion 5 managed to score 1157 and 7911 in single-core and multi-core tests respectively. The CPU has a base clock of 3.0GHz and it can hit a turbo frequency of 4.0Ghz. As you can see, the CPU was able to hit the turbo frequency without any issues throughout the Cinebench R23 test.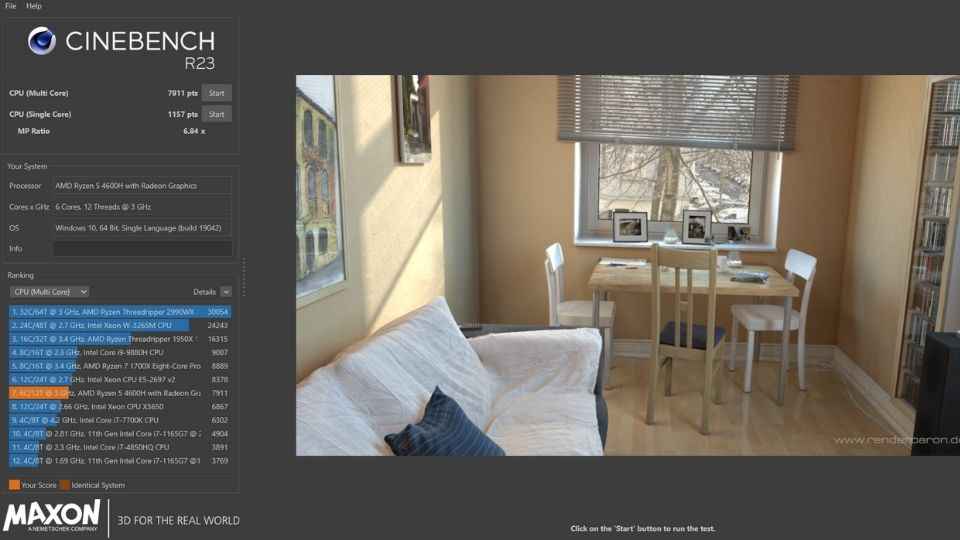 I ran the Cinebench R23 in a loop to find out whether the turbo frequency was maintained. The HWInfo report says the max clock speed of 3996MHz was achieved throughout the test, which is a good sign. Cinebench's single thread tests were also being worked at around the same clock speeds.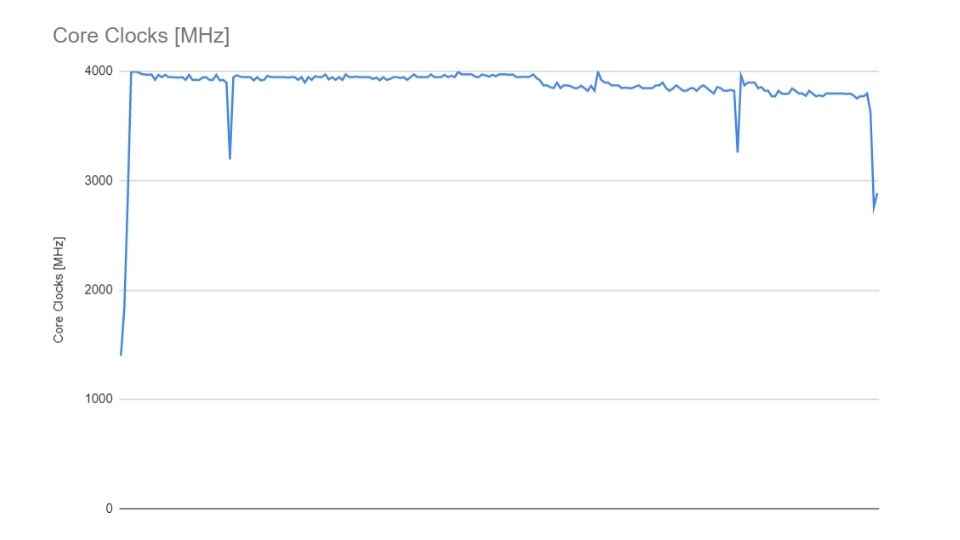 I noticed similar CPU behaviour across other CPU-centric stress tests like Cinebench R20, PCMark 10's Extended test, etc.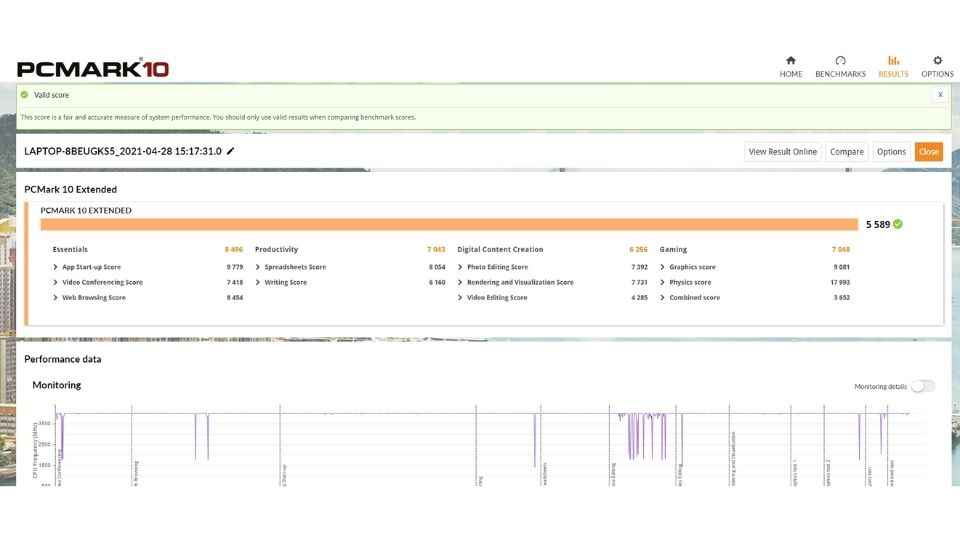 As for the CPU temperature, the Ryzen 5 4600H performed might well and remained relatively cool throughout the test. I was able to record a max CPU Core temperature of 88.2°C. This is a relatively lower number compared to the Intel Core i5-10300H that we tested earlier with the same set of tests. The Ryzen 5 4600H didn't show any signs of thermal throttling whatsoever either, which is great.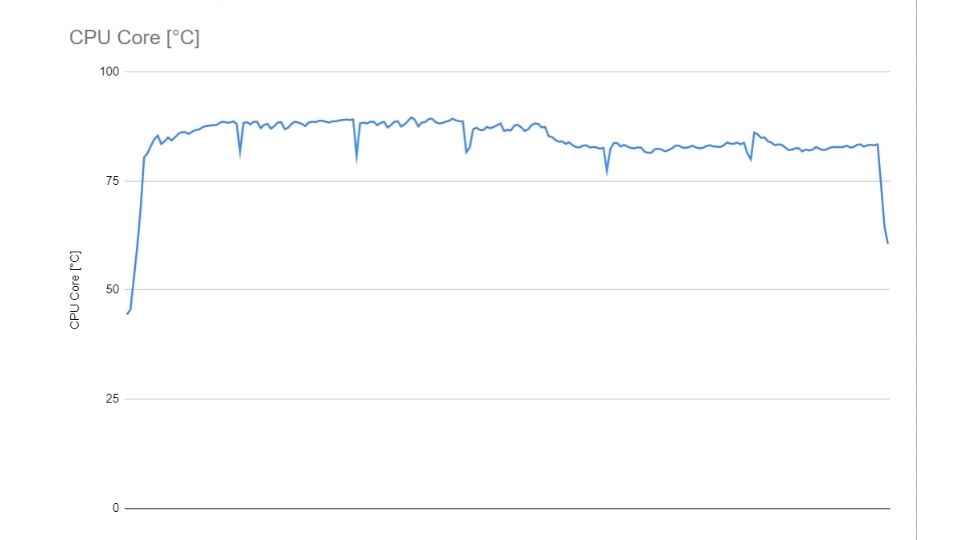 This kind of performance on synthetic benchmarks shows an immediate advantage in day-to-day use case scenarios too. Having more thermal headroom even during the most unrealistic stress tests will always benefit the CPU and will allow it to nail day-to-day workloads with ease. The only thing I could've asked for was dual-channel memory instead of a single 8GB stick to get slightly better performance.
GPU Performance
The Nvidia GeForce GTX 1650 isn't exactly the latest GPU to have on your laptop. That being said, it's a tried and tested card and we know exactly the kind of performance it offers for these mainstream laptops that are priced competitively.
In 3DMark's GPU-centric FireStrike stress test, the Lenovo Legion 5 managed to score 8534 that puts it in the same league as many other laptops in this price range. The GPU was able to hit a max clock speed of 1755MHz during the stress test. That's more in line with the reported clock speed of the GPU under load.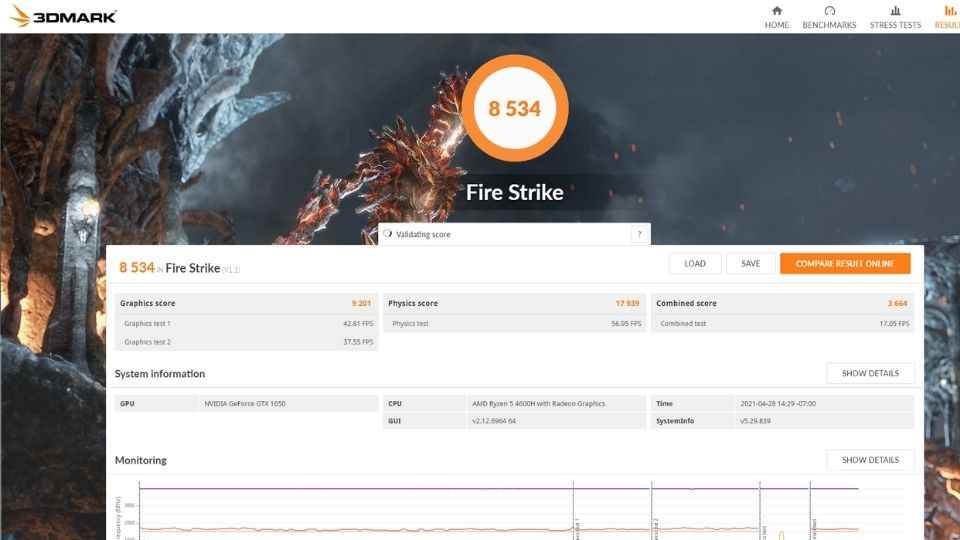 I was able to get stable results with other 3DMark stress tests too like the TimeSpy, TimeSpy Extreme, FireStrike Extreme, etc. When it comes to gaming, I played the usual set of games that we use to gauge the performance of a laptop. We're looking at titles like Forza Horizon 4, Metro Exodus, Doom Eternal, and more. All these games were running at 1080p resolution and the graphics settings were set to have the best visual fidelity.
The Lenovo Legion 5 managed to score very well, although I do recommend tweaking the graphics settings a bit to get the best frame rates at all times. This graph below should be able to tell you the kind of performance you can expect from this laptop -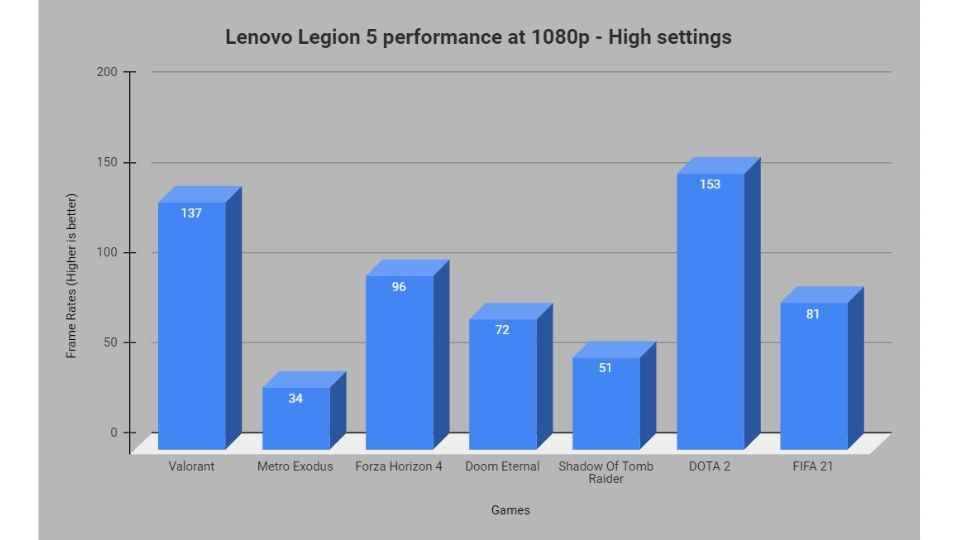 GPU temperature was also well under the acceptable limits throughout the test. The good thing about the Lenovo Legion 5 laptop is that the internal components are arranged in a way that the heat dissipation doesn't show up on the chassis. The keyboard deck stays relatively cool despite the GPU hitting the max temperature of about 70°C under constant heavy load.
The temperature around the WASD keys was only about 43°C whereas I recorded a peak temperature of about 51°C at the centre of the keyboard. Those numbers will not make you uncomfortable at any point while gaming.
Lenovo Legion 5 Display Performance
The Lenovo Legion 5 sports a 15.6-inch FHD (1920x1080) IPS 250nits Anti-glare panel. Instead of a 144Hz panel, Lenovo has opted to go for a 120Hz refresh rate panel here for the Legion 5. That's shouldn't keep you from buying the laptop at all though. It's a decent panel that gets pretty bright.
Lenovo claims a peak brightness level of about 300 nits and during my testing, I was able to record a peak brightness of 310 nits. It's good to see that no false promises have been made here.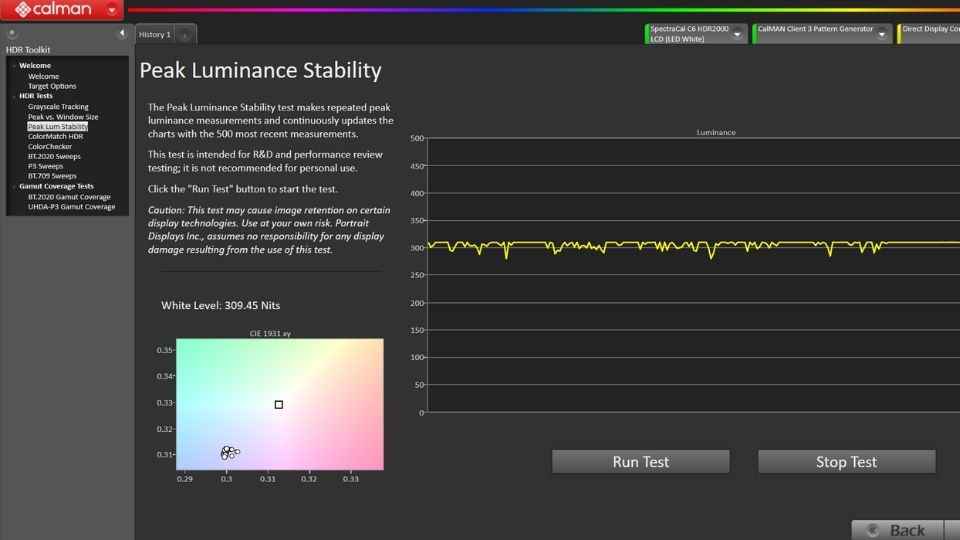 Lenovo Legion 5 display tested on Calman Ultimate
I also tested the display using Calman's SpectraCal colourimeter to get the sRGB and DCI-P3 colour space. The display covers 58% and 39% of sRGB and DCI-P3 colour space respectively. It's certainly not the most colour accurate panel on the market, although I wasn't expecting any earth-shattering numbers here from a mainstream laptop of this calibre.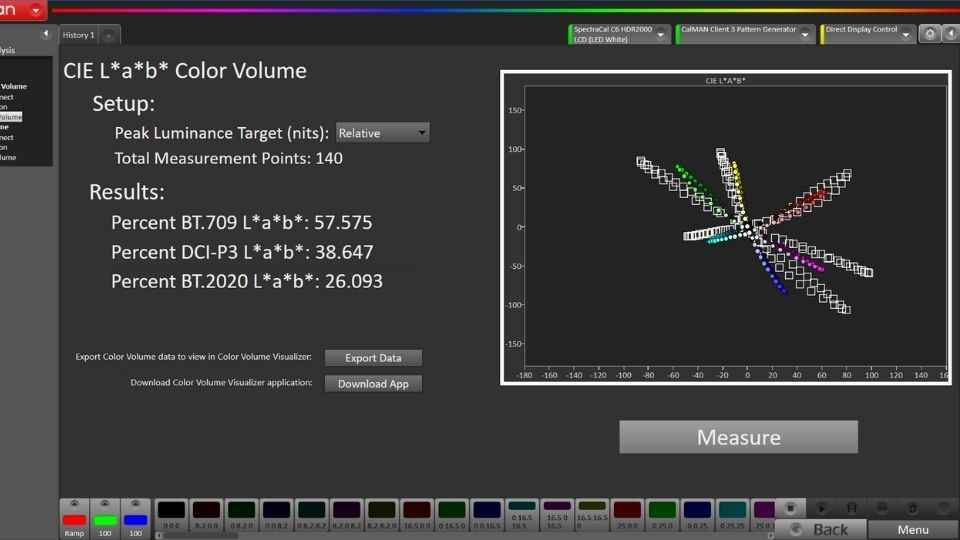 Lenovo Legion 5 display tested on Calman Ultimate
Lenovo Legion 5 Performance Verdict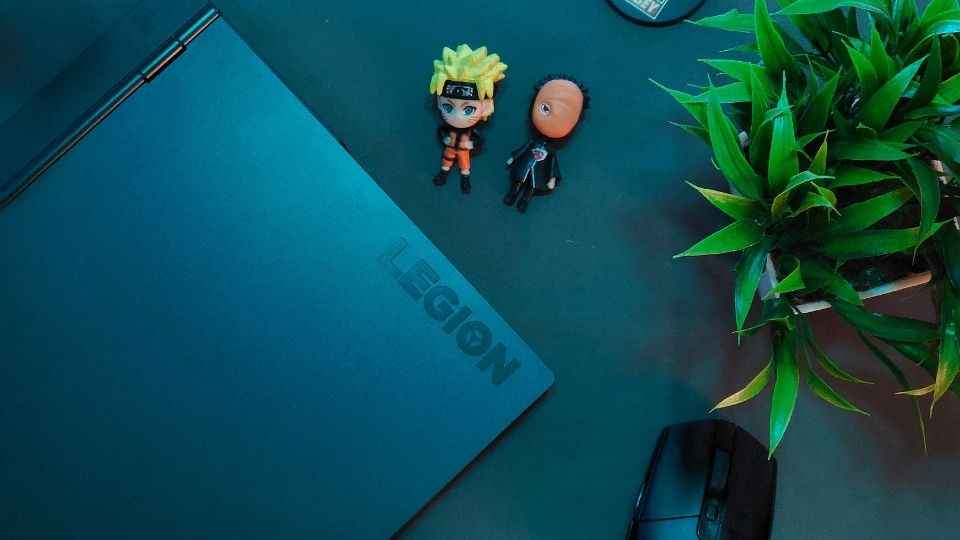 So, is the Lenovo Legion 5 a good purchase? While this isn't my full review of the laptop and it only covers the performance metrics, I can confidently say that it is indeed one of the best laptops one can buy for Rs 67,990. Both CPU and the GPU performs optimally without any issues. It should be able to handle just about any kind of workloads that you are trying to achieve with a laptop in this price range.
Gaming performance is also pretty good. Yes, the GTX 1650 is a relatively old and low-end GPU at this point, but it won't give up that easily even while trying to run some of the modern AAA titles. The display results, as you can see, are also pretty solid and I also appreciate Lenovo for adding a 120Hz refresh rate panel, if not a 144Hz one.