Asus India announced its new lineup of gaming laptops and gaming towers in India today. While the company announced its entire lineup of gaming products with their prices, their availability remains a big question. Asus hasn't mention when they will actually start selling in India. The price of the new ROG range starts at Rs. 82,490, with the GL552VW, and over Rs. 3 lakh for the ROG GT51 PC tower. Not all of them were showcased today, but we did get some hands on time with two of the major devices, the ROG G752VY and the ROG G501VW.
Let's start with the flagship, the ROG G752VY. It is big, bulky, beautiful and extremely powerful. Here is quick look at the specifications.
Processor: Intel core i7-6700HQ
GPU: NVIDIA GeForce GTX980M 4GB DDR5
Display: 17.3-inch, 3840 x 2160p G-Sync enabled display
RAM: 16GB DDR4
Storage: 128GB PCIe 4 + 1TB SATA
Weight: 4.3Kg
Price starts at Rs. 1,75,990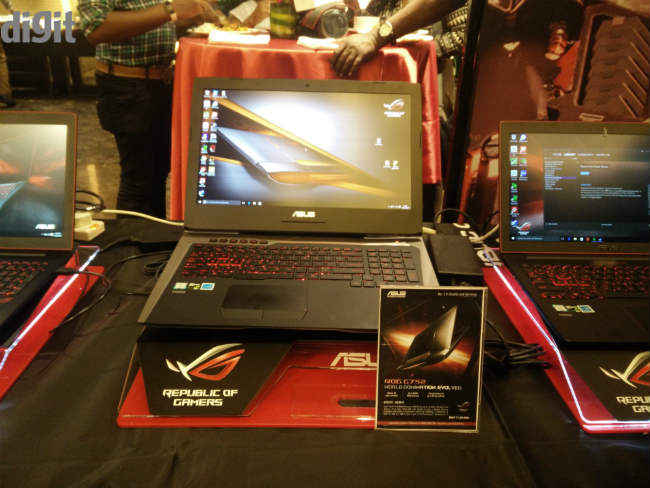 We used the laptop at the event and played Call of Duty: Modern Warfare for a while. It felt extremely smooth, running at full resolution and the highest settings possible. It was quite evident that the Intel Core i7-6700HQ along with 4GB DDR5 GTX980M GPU is enough to handle the most demanding games with ease. Now, some of you may think that 16GB RAM is not enough, at least for this price, but Asus has skews, going up to 64GB of DDR4 RAM. However, 16GB of DDR4 RAM should do just fine.
Performance has never been an issue with high end, especially flagship class laptops, but they usually end up with a plastic shell. Asus has fixed that, the newly launched ROG G752VY has an all metal shell, with an angular design and to make it look flashier, there are LED embeds. Asus also went all out with the I/O port, featuring 1 x SPDIF audio out, 1 x microphone jack, 1 x headphone jack, 3 x USB 3.0 ports, 1 x display port, 1 x HDMI port, LAN port, microSD card slot and a DVD writer. There's an USB 3.0 Type-C port to boot.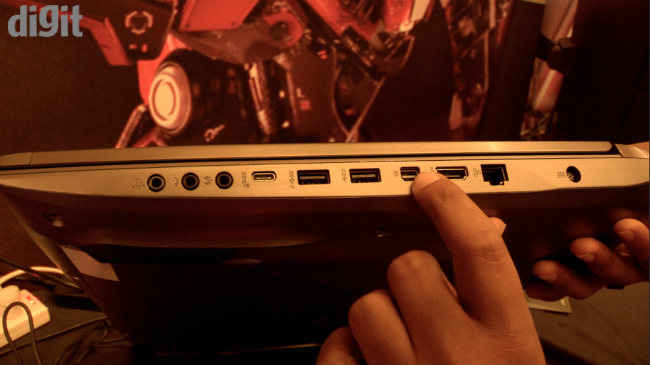 The other laptop we saw today was the ROG G501VW, which is not quite as powerful, but still likeable. It is light and powerful enough to handle all recent games (like Tom Clancy: Division) without breaking a sweat. Here is a quick look at the specification sheet.
Processor: Intel core i7-6700HQ
GPU: NVIDIA GeForce GTX960M 4GB DDR5
Display: 15.6-inch, 1920 x 1080p
RAM: 16GB DDR4
Storage: 128GB PCIe 4 + 1TB SATA
Weight: 2.06Kg
Price starts at Rs. 95,490
Apart from the less powerful GPU and a lesser display resolution, we believe the ROG G501VW has the potential to become a great allrounder. It is not very heavy, and is powerful enough to handle casual gaming at high frame rates, or even mainstream gaming at playable framerates. However, hardcore gamers may feel the lack of a 4K display, G-Sync and more.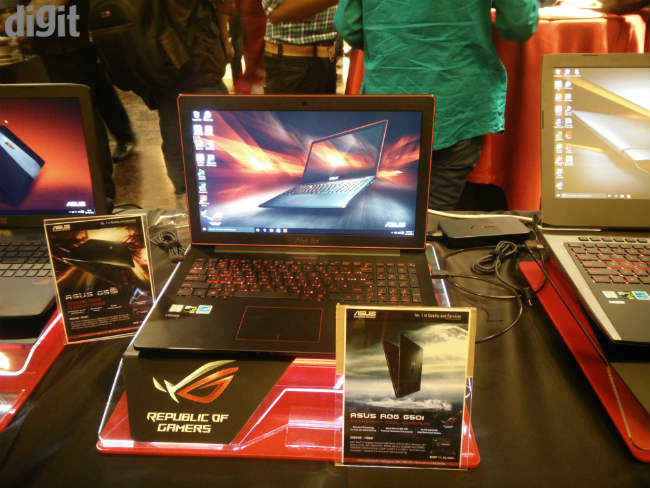 Like the ROG G752VY, the ROG G501VW also has a metal uniform. To be accurate, it looks like the gaming version an Apple MacBook Pro and that says a lot about the design. Further, the Full HD 1080 anti-glare display looks good and the red LED backlit keyboard matches the whole gaming theme. We will be able to give you more details once we get the laptop for review.
Moving on, Asus also announced the G20CB and G51CA gaming towers, which essentially offer the best in gaming hardware, packed in one place. The G20CB is a much lighter and less powerful beast compared to the G51, but it still packs an NVIDIA GeForce 980M DDR5 4GB GPU. Powered by an Intel Core i7-6700 processor, combined with 32GB of RAM, the G20 can easily handle gaming without any hiccups. It is priced at Rs. 1,22,990.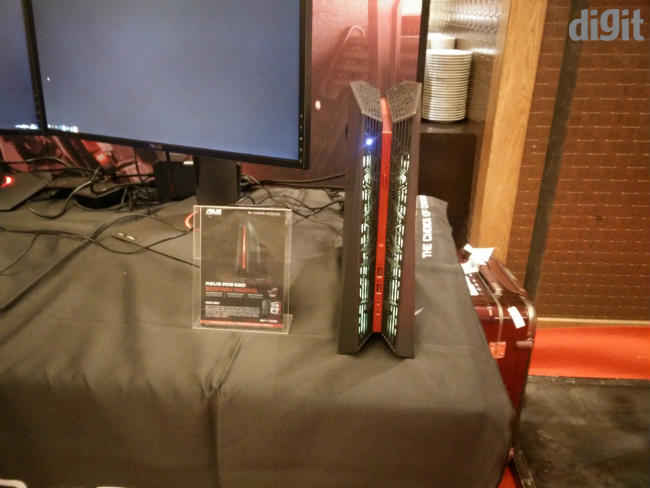 As for people who have money to spare, Asus is bringing the ROG G51CA to India by June. Starting at Rs. 3,25,900, it is one cool looking gaming machine. It comes with two NVIDIA GeForce GTX980 cards in SLI, which can be further upgraded to a GTX TITAN X setup. To power this beast, Asus has equipped the Intel Core i7-6700K processor, which is liquid cooled. There is enough power here to run games across three 4K monitors. Sigh!