In the ASUS TUF DASH F15 gaming laptop review, we will talk about the laptop's performance in everyday tasks, gaming and see whether the latest ASUS gaming laptop is worth your money or not. We spent more than a week using the ASUS TUF DASH F15 and tested its gaming, thermal and display performance.
Our ASUS TUF DASH F15 gaming performance review includes a bunch of CPU and GPU focused synthetic benchmarks, along with real-world performance tests in several popular games.
ASUS TUF DASH F15 Specifications
Processor: Intel Core i7-11370H 4-core/8-thread, 3.30GHz base clock, 4.80GHz boost clock, 12 MB Intel smart cache
GPU: Nvidia RTX 3060 GPU with 6GB GDDR6 VRAM (85W TGP)
RAM: 16GB DDR4 3200MHz
Storage: 1TB NVMe SSD
Display: 15.6" FHD IPS LCD 240Hz, 100% sRGB
Battery: 76Wh
Weight: 2kg
OS: Windows 10 Home
ASUS TUF DASH F15 Synthetic Benchmark Performance
As mentioned above, our ASUS TUF DASH F15 gaming laptop comes with an Intel Core i7-11370H CPU. It is a 4-core/8-thread unit. The Core i7-11370H is Intel's Tiger Lake CPU, meaning it uses smaller 10nm nodes for fabrication compared to 14nm for last-gen. The Core i7-11370H has a 12MB Intel Smart Cache, a 35W configurable TDP, and a base clock speed of 3.30GHz.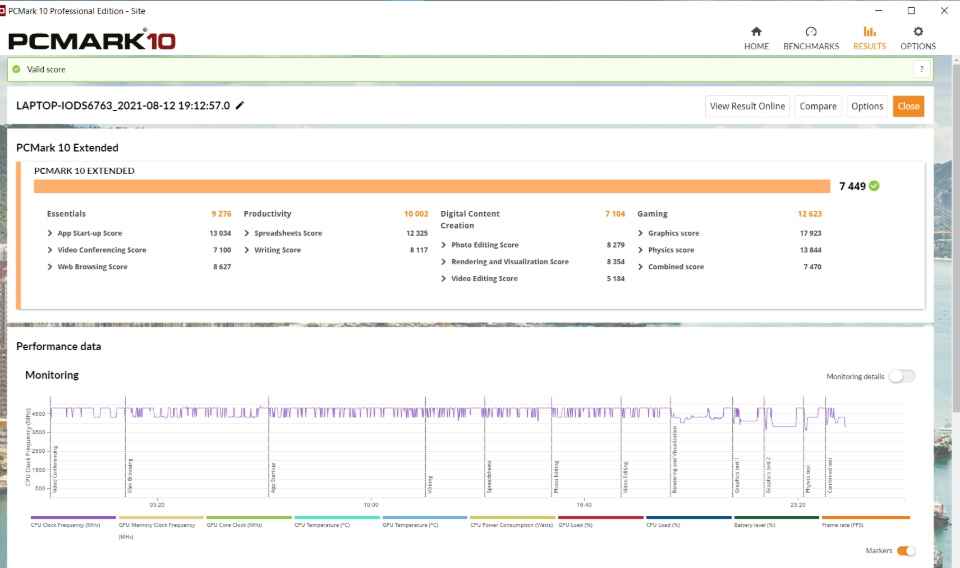 While running PC Mark 10, the ASUS TUF DASH F15 managed a score of 7449, which indicates a decent performance in tasks like video conferencing, editing documents, and UHD video playback.
The Intel Core i7-11370H chip manages a good score of 1529 in single-core performance in the Cinebench R23 benchmark, which puts it ahead of much more expensive laptop CPUs like the AMD Ryzen 5800HS and 5900HS. However, the Intel chip only managed to score 7021 in Multi-Core tests due to fewer cores. Thereby putting it behind one of its main competitors the AMD Ryzen 5 5600H, a 6-core/12-thread CPU.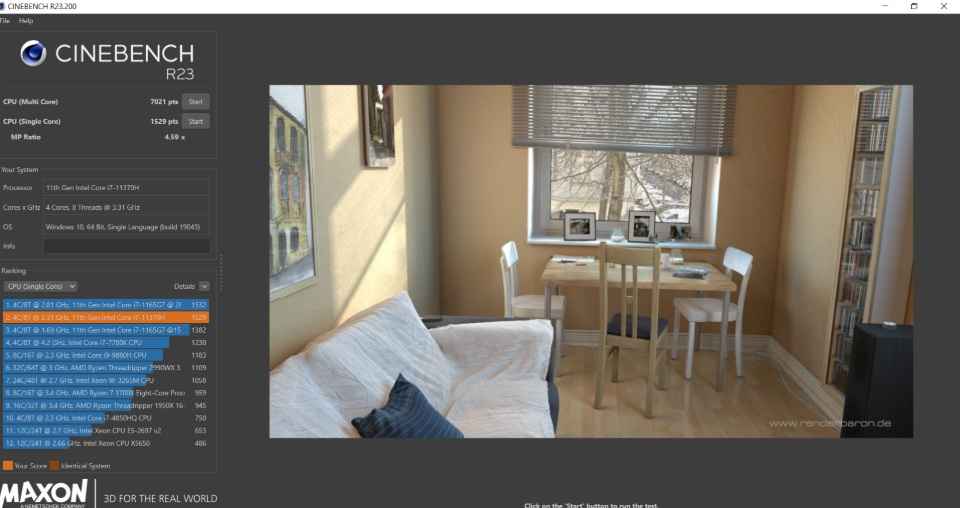 The ASUS TUF DASH F15 comes with an Nvidia RTX 3060 with an 85W TGP. In 3DMark's Firestrike test, the GPU managed a score of 15511, which is decent enough in this price range.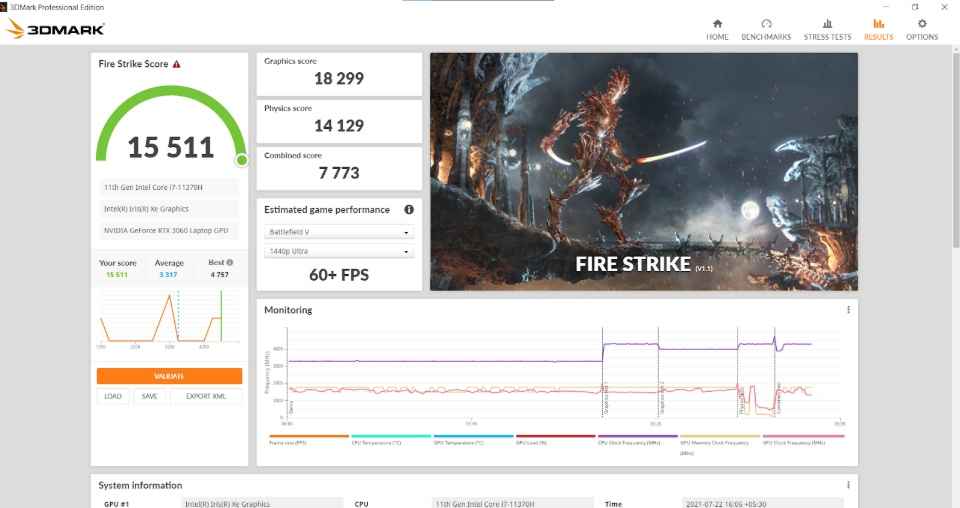 ASUS also offers another TUF DASH F15 series laptop with the identical quad-core Intel CPU and an Nvidia RTX 3050ti, which has a relatively low 3DMark's Firestrike score of 12295.
Our ASUS TUF DASH F15 also has a 3DMark's Timespy score of 6726, which makes a good laptop in terms of overall GPU performance. For reference, the RTX 3050ti scored 5586 and AMD Radeon 5600M scored 5623 in the same test.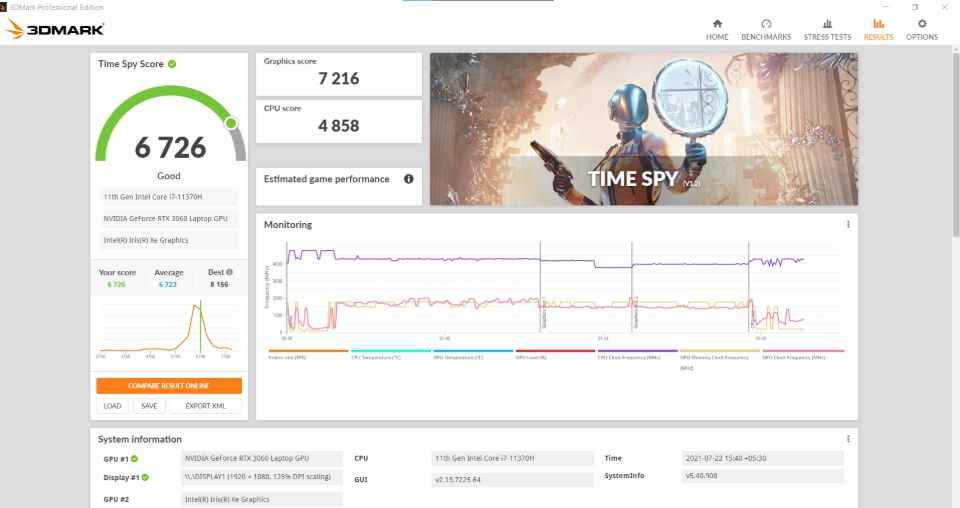 ASUS TUF DASH F15 Thermal Performance
The ASUS TUF DASH F15 features downward-facing speakers, dual upward-facing vents, two laptop fans at the bottom, multiple air vents on the sides and on the back along with two additional bottom vents for cooling.
We tested the thermal performance of ASUS TUF DASH F15 while performing everyday office tasks and playing games like Shadow of the Tomb Raider and Metro Exodus.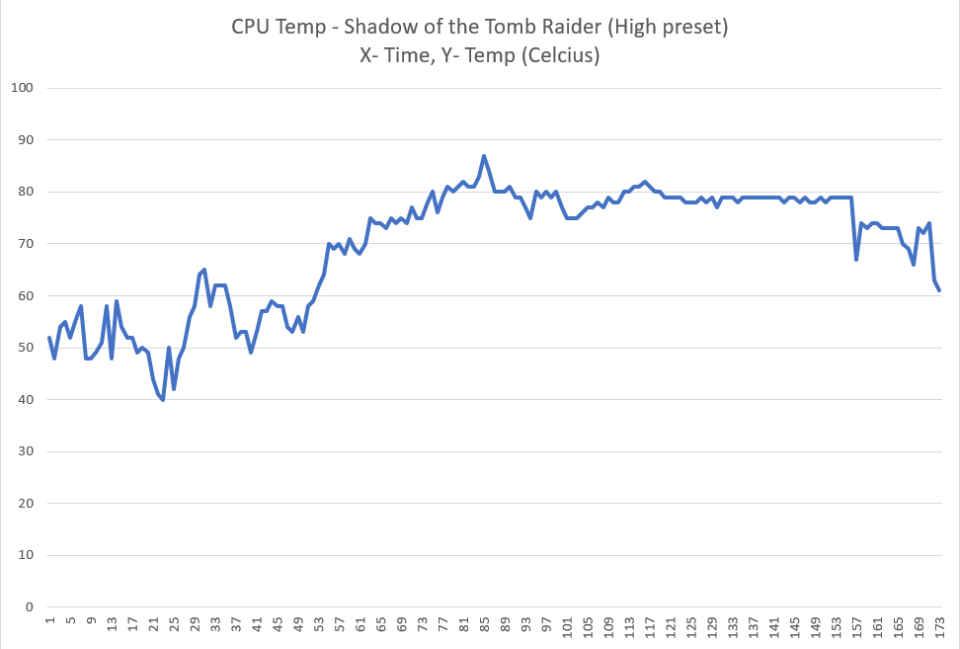 While playing Shadow of the Tomb Raider, the Intel Core I7-11370H CPU reached a maximum temperature of around 86°C, but quickly came down to slightly below 80°C and then hovered at the same temperature for the rest of the session.
Meanwhile, the Nvidia RTX 3060 GPU maintained a temperature between 70-80°C throughout the play session.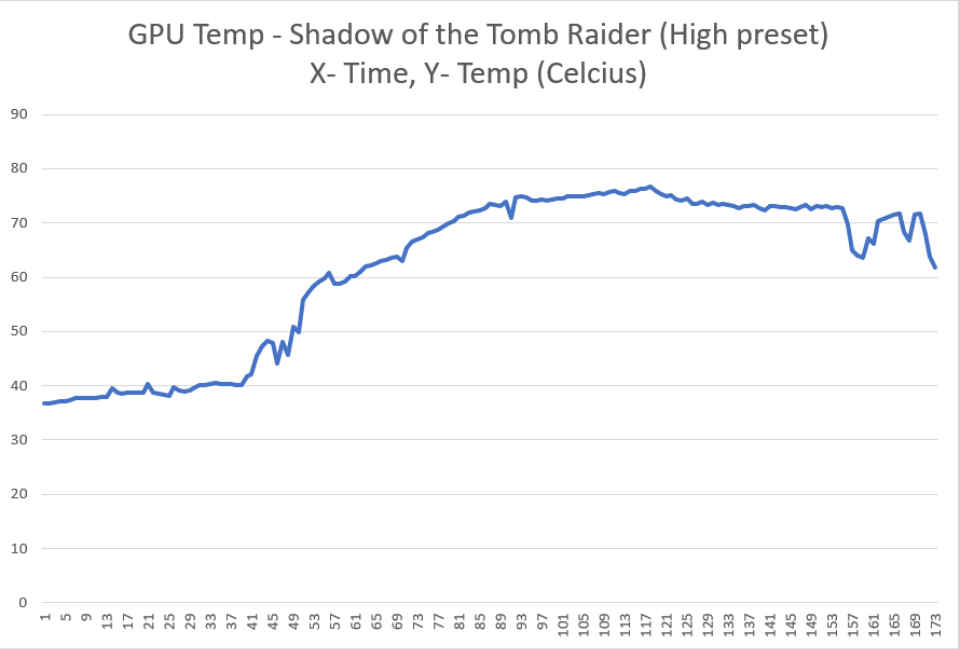 Similarly while testing Metro Exodus, the CPU reached a maximum temperature of around 83°C but remained below 80°C during most of the duration of the tests. The GPU still remained relatively cool by maintaining a temperature between 70-80°C. We got similar results while playing other games as well.
During office/productivity tasks, the ASUS TUF DASH F15 maintained a temperature of around 65°C and only sometimes spiked up to 75°C.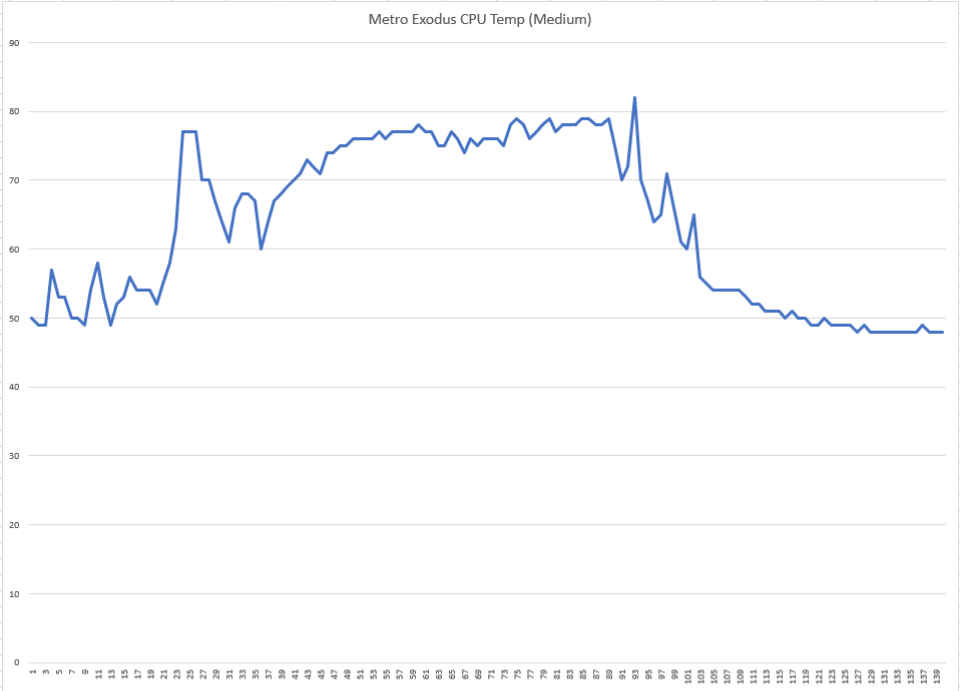 While playing games on ASUS TUF DASH F15 the temperature near the W, A, S, D keys reached around 38°C. Meanwhile, the centre of the keyboard recorded up to 48°C but quickly recovered down to 43°C. The laptop's palm rest remains relatively cooler at 32.8°C during most workloads.
ASUS TUF DASH F15 Display Performance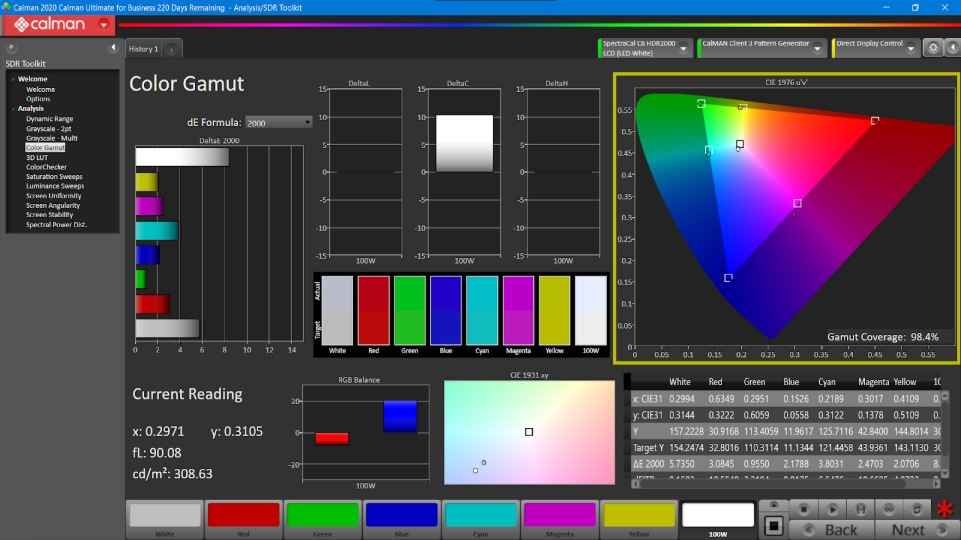 The ASUS TUF DASH F15 has a peak brightness of around 308 nits, which is bright enough for gaming and daily usage. The screen covers 98% sRGB and 75% DCI-P3 colour space. The display supports a 240Hz refresh rate which comes in handy when playing esports titles.
ASUS TUF DASH F15 Gaming Performance
After testing the synthetic benchmarks, I got a rough estimate of how the ASUS TUF DASH F15 gaming performance would be. I expected 60+ FPS in modern titles at 1080p resolution and the laptop easily delivered so.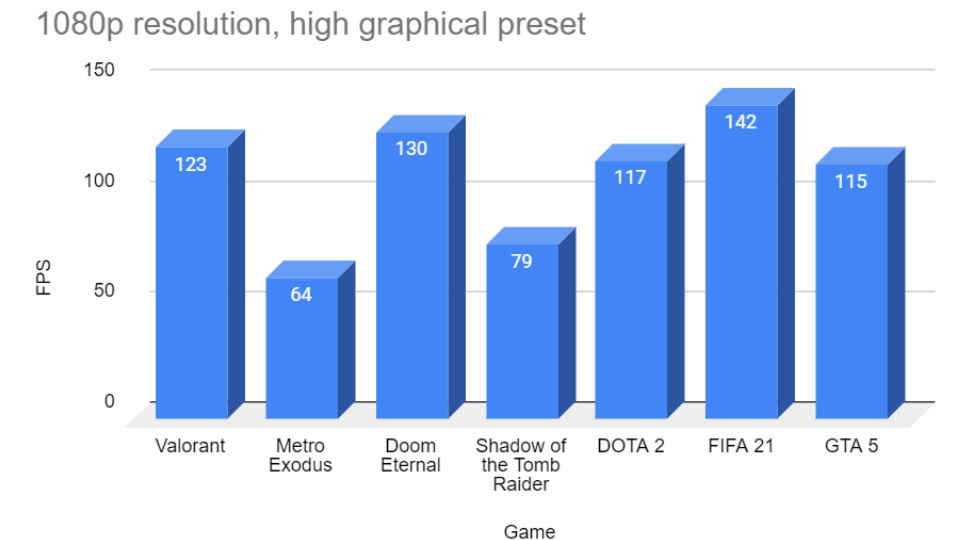 While running Doom Eternal at 1080p, the ASUS TUF DASH F15 delivered 142 and 130 FPS at medium and high graphical preset respectively. The laptop also ran graphically intensive titles like Metro Exodus at 60+ FPS in high graphical preset in 1080p.
In esports titles like Valorant and Dota, the ASUS TUF DASH F15 delivered close to 120 and 150 FPS respectively in high preset, which is good enough. Additionally, while playing GTA V, the ASUS TUF DASH F15 also delivered close to 120 FPS in high settings at 1080p.
Overall, the ASUS TUF DASH F15 is a decent laptop to play games at a smooth frame rate in FHD resolution.
Verdict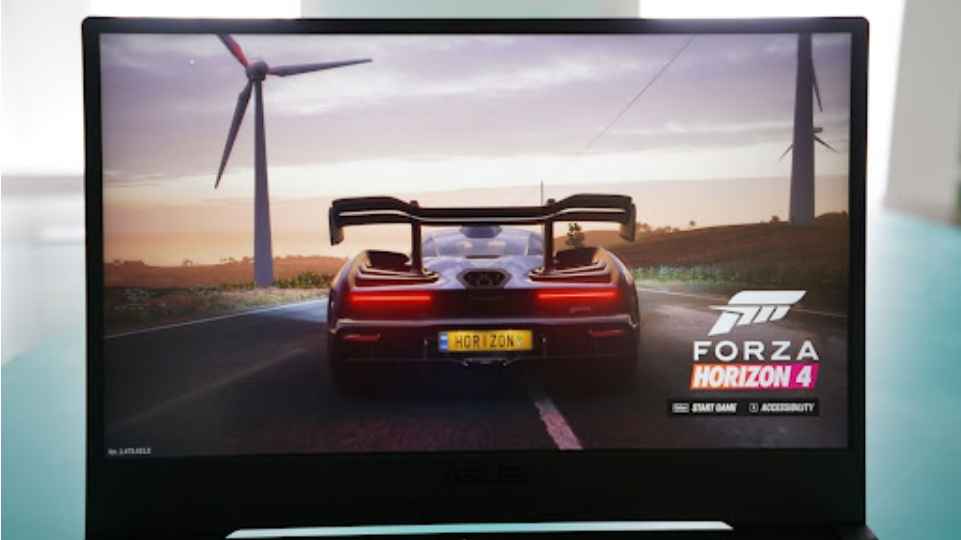 We conclude from these tests that ASUS TUF DASH F15 can easily deliver above 60FPS at 1080p resolution in high preset in older open-world games, modern linear games, and some new AAA titles.