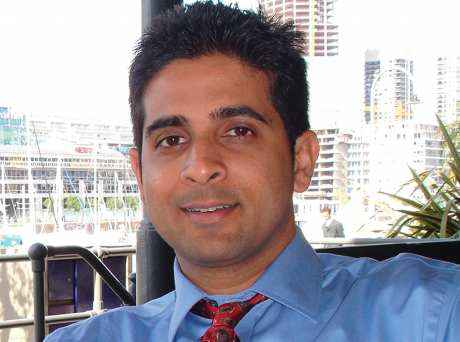 1. In many ways bringing processor "intelligence" to everyday objects seems obvious. What were the challenges getting to this point? And what are the challenges moving forward?
The internet is bringing transformative changes to the embedded world. The era of intelligent connectivity for everyday objects has started & will pick up pace rapidly. According to a recent IDC study, there will be 15 billion devices connected to the internet by 2015, most of which will be embedded devices such as cars, home media phones, digital signs and shopping carts, medical devices, factory robots, intelligent wind turbines, etc etc.
These kinds of products require chips with high-performance to be able to run the applications and new usage models that naturally come about once a device is connected to the internet. At the same time, the devices require small form-factor & low thermals, thereby implying a higher level of integration. With the launch of our embedded Atom family of processors, we are now able to achieve all of these requirements.
And we are only just getting started...
2. With processors come complexity, and complexity brings device failure or breakdown to the picture. Would we need to reboot our fridge and install more RAM along with defrosting it? How do you design everyday "intelligent" equipment we rely on, to not fail?
This is an excellent question. It all boils down to software; today, a refrigerator or a washing machine doesn't really require an operating system, because it is a single function device with specific hard-coded functions. The moment you connect these devices to the internet, there are a host of new functions these devices can perform. The key is to make sure that the device has a robust OS. In addition, hardware assisted manageability features are a major factor in keeping these device up and running. For example, Intel's vPro technology allows a device to be remotely managed from an external location, independent of the state of the OS. So a refrigerator manufacturer could conceivably run a remote- management center to support all the "connected" devices that have been deployed.
3. The next obvious step would be to connect these disparate, innumerable devices together. You call this the Embedded Internet and Mr. Patrick Gelsinger was quoted as saying that there will be "15 billion intelligent, connected devices by 2015". What kind of a network do you foresee connecting these smart devices? Is it going to be the Internet we are familiar with? Will our Toaster tweet our bakery to order bread?

The embedded Internet will bring transformative changes to the techology world. Just like the internet grew into a global human network, stimulating new usage models & unleashing new opportunities for businesses, a similar transformation can be expected in the embedded internet era. For example, a medical device in a rural area of India, connected to the internet using wimax, allows doctors in the cities to monitor & treat rural patients remotely, increasing their quality of life.
At Intel, we are working with customers to envision the innovative possibilities and capture such unprecedented opportunities for industry growth. Driven by breakthroughs in microarchitecture and process technology, the same Intel® architecture that is at the heart of the majority of today's Internet applications can now deliver scalable intelligence and connectivity to billions of new intelligent, connected devices.
Yes, when you go shopping for groceries in the near future, your "intelligent" connected shopping cart could check the refrigerator in your house, realize that you are out of milk, and recommend that you take a trip into the milk aisle! J

4. How are you tackling the power issues -- power requirement vs. thermal envelope vs. battery life, etc.
Intel's Atom processor family was designed specifically for small devices and low power, while maintaining the Intel® Core™ 2 Duo instruction set compatibility which consumers are accustomed to when using a standard PC and the Internet. This is Intel's smallest chip & is built with the worlds smallest transistors. Future versions of the Atom will include a significant level of integration & lower thermals thereby supporting portable devices with long battery life requirements.
5. What is Intel's vision for the more consumer devices vis-a-vis embedded processors: cell phones, notebooks, etc.
As mentioned earlier (with ref to Q1) there will be 15 billion devices connected to the internet by 2015; most of which will be embedded devices such as cars, home media phones, digital signs and shopping carts, medical devices, factory robots, intelligent wind turbines, etc.
As the first step towards fulfilling this vision, Intel Corporation and Nokia have recently merged Moblin and Maemo to create 'MeeGo', a Linux-based software platform that will support multiple hardware architectures across the broadest range of device segments, including mediaphones, connected TVs, in-vehicle infotainment systems, pocketable mobile computers, netbooks and tablets.
6. Do you foresee some game-changing products coming out of this? Any new product category or something currently ordinary, extraordinarily transformed?
There are several fascinating products which we envision which will run on Embedded Intel Atom architecture:
Digital surveillance systems (DSS): these devices today are "intelligent systems" with the capability to run huge number complex applications like image comparison and motion detection. The focus is on "intelligent surveillance where strategically- placed monitoring cameras paired with software intelligence are able to signal an alert if baggage is left unattended over period of time, people moving suspiciously in a parking lot, etc. The DSS captures real time images, runs the specified algorithm, identifies objects that are out of place and triggers an alarm based on predefined states; We have several customers building these DSS systems with Intel Embedded Atom.
In Vehicle Infotainment (IVI): Imagine if you could download your favorite movie, access the internet, get navigation directions, have your children play video games - all while you are driving in the car. This is possible with an Intel Atom-based IVI system in your car. Some of the interesting apps are location based services, state-of-the-art navigation systems, driver assistance, vehicle-to-vehicle communication etc. On the multimedia side, we are looking to enable the car to become a part of the digital home where content can be seamlessly be syncd between the car & the home entertainment system. Obviously, this is in very early stages in India but we are pretty excited about the long term prospects.
7. In the embedded space in India, is Intel working with any noteworthy names in the industry? Any government agencies? Can you give me 5 of the most interesting projects happening in the embedded space in India?
To cater to the rapidly growing embedded market in India, we launched the "India Design House Program" which is an ecosystem program for the lndia market. We work with all the big names in the Indian design services industry, including Wipro Technologies, TCS, Infosys etc.
We are very excited about the Embedded space in India. There are several interesting projects that we are working on with our customers/ecosystem. Here are some recently announced products:
Portable Embedded Devices for Financial Inclusion: A large part of India resides in rural areas, which are not very well served by bank branches. In order to allow rural India to participate in the banking system, we are working with financial inclusion firms on some unique technology needs. We recently announced a portable embedded banking device with a local OEM (Analogics) in Hyderabad. The device is a ruggedized portable device with a biometric scanner & integrated printer/card reader. A bank employee goes into the village with this device, meets villagers, enrolls them with a bank account & handles transactions. Everything is synchronized with the bank servers over GPRS.

Medical devices for the Rural market: Our of our design house members Ktwo Technologies has announced a device which allows villagers to get access to quality pathology labs. Their embedded device has a microscope with a camera, connected to a ruggedized medical device. When a villager goes for a blood test, the technician places the blood sample under the microscope. The device automatically provides information on blood cell count etc. A pathologist from the city can also log in and provide his/her opinion.
These are ways where Intel embedded technology is transforming life in rural India.
8. Who do you see as your biggest competitors in India?
We don't comment on competition. We do believe that with the embedded Intel Atom product family, we are uniquely positioned in various embedded market segments such as retail, digital signage, in-vehicle infotainment etc where customers can take advantage of the large installed SW base in the PC ecosystem.
9. Anything new and exciting we can expect to see this year? We're talking about both innovations and finished products.
We are actively looking at the energy space. We recently announced a concept of a home energy management dashboard which communicates directly with various appliances & smart-meters in the house. The concept platform monitors the performance of each device & recommends usage patterns to save energy. When users are away from home, they can remotely view and control home thermostats and appliances from their work PC.