With the way things are, working away from the office has become a norm rather than the exception. As such, professionals need a robust solution that will be up to the challenges of the 'new normal'. Besides offering the right hardware, these devices also need excellent security and management features to ensure that there is no disruption with work. This is especially important as professionals may not have easy access to IT services when working remotely.
The all-new Acer TravelMate Business Laptops have been designed with all this, and much more, in mind. These laptops are powered by the new 11th Gen Intel Core processors that should ensure more than enough power for most use cases. It also comes in a sturdy matte black chassis that ensures elegance and class. The TravelMate Business Laptops can weigh as little as 1kg and can be 20mm thin. This makes them easier to carry around, which is pretty important when talking about laptops. Aside from all this, it also comes with numerous security and management features.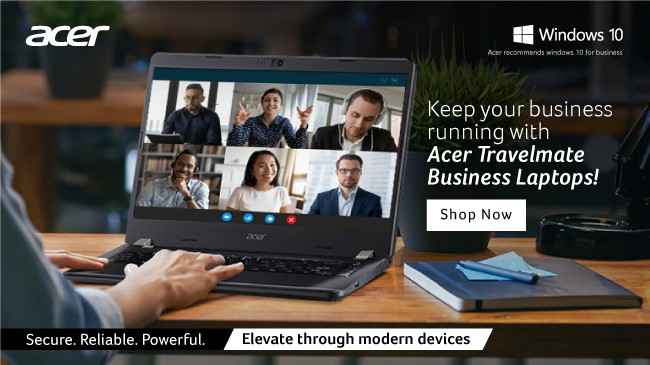 Robust Security Features
Security is paramount when it comes to business laptops. The Acer TravelMate Business Laptops come with the Trusted Platform Module (TPM) 2.0, which is essentially a powerful anti-tampering chip that checks for signs of intrusion during system boot-up. The TPM 2.0 ensures secure authentication and safeguards company data. This is extremely crucial in the current scenario as many professionals are working remotely and may have little to no security support on their systems. For greater privacy, these laptops also feature a webcam cover that physically blocks the user's webcam. This ensures that the camera cannot be used when not in use. Further, the laptops come with additional security features, such as a fingerprint reader, IR cameras, and Windows Hello. These allow for an easy and secure way to unlock the laptop.
Enhanced Connectivity
Internet connectivity is vital when it comes to business laptops. To ensure faster and smoother connectivity, the TravelMate Series features advanced Intel Wi-Fi 6 (802.11ax) technology. This is designed to help users enjoy a smoother wireless experience and promises up to 3 times faster speeds than the Wi-Fi 5 (802.11ac) standard.
Ports for all needs
A good business laptop requires a number of ports so that professions can connect it to a wide variety of peripherals. This can come in very handy during meetings where users may wish to connect their laptop to an external monitor. The Acer TravelMate Business Laptops should make pretty much everyone happy as it sports pretty much all the ports one would need. This includes VGA, HDMI, USB Type-C, and the latest Thunderbolt™ 4. As if that wasn;t enough, there is also the option to add additional ports via the optional Acer USB Type-C Dock. As such, business professionals will not only be able to connect a variety of external displays, but also charge devices and plug in a host of other peripherals.
Military-Grade Toughness
A business laptop needs to be tough enough to push through any hazards that one may come across in their daily lives. This could include anything from a tumble of the desk to getting caught in a downpour. The Acer TravelMate laptops are Military Standard tested, and come with an impact-resistant chassis that should stand up to daily wear and tear. These devices are designed to survive shocks, drops, rain, and more, making them more than ideal for professionals on the go.
Go the distance
When working remotely, professionals may or may not have easy access to a charging port to charge their laptops. Which is why a long battery life can be a bit of a godsend for professionals. Acer seems to know this quite well as the TravelMate series of laptops are tipped to offer up to 13 hours of use. This should be more than enough to last an average workday.
To learn more about the Acer TravelMate Business laptops, visit: http://acerindia.co.in/smb.
[Sponsored Post]