ViewSonic PX748-4K is a competitively priced short-throw 4K projector that's available in India for ₹1,69,000. This is a rather portable digital lamp projector that promises to be quite versatile. It claims 4000 lumens of maximum brightness and seems like a great option for boardroom presentations, gaming, or even watching 4K UHD HDR content. Does the experience match the specs on paper? We have been testing the ViewSonic PX748-4K UHD HDR projector for the last 10 days and will share our experience here. This should hopefully help you decide if this is the right option for your specific needs. Let's get started.
ViewSonic PX748-4K UHD Projector Specs
Resolution - 3840 x 2160
Lens - F=1.94-2.12, f=12-15.6mm, 120%+/-6% projection offset
DMD Chip - DC3
Brightness - 4000 (ANSI Lumens)
Contrast Ratio - 12000:1 (SuperEco+ Mode)
Lamp Life - 4000 Hrs in Normal Mode, 20000 Hrs in SuperEco+ Mode
Zoom - 1.3x Optical Zoom, 0.8x-2.0x Digital Zoom
Input Lag - 4.2ms and 240Hz high refresh rate (company claims)
Connectivity Options - 2x HDMI (HDMI 2.0b, HDCP 1.4/2.2), USB Type C, Audio-out (3.5mm), USB Type A (Power), 12V Trigger, RS232, RJ45
Dimensions and weight - 312 x 222 x 108 mm; 2.8 kg
ViewSonic PX748-4K projector: design and connectivity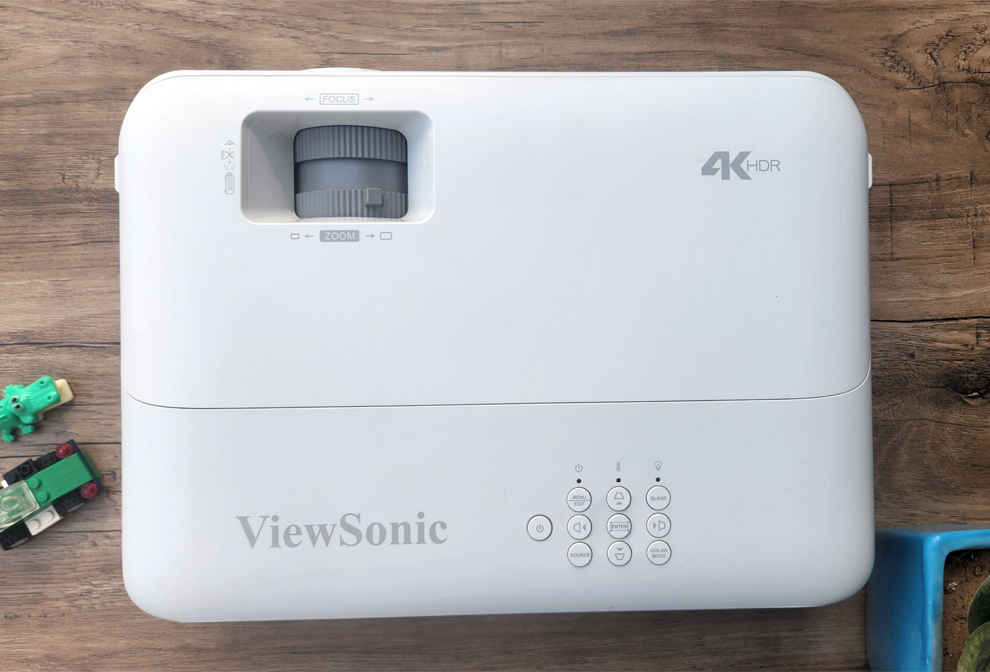 ViewSonic PX748-4K is a rather compact and light 4K UHD projector. On the front, you have the ViewSonic logo, the lens with an attached protective cover and an IR sensor. At the top, you will find the power button, other OSD menu buttons and LED indicators. You will also find zoom and focus rings for manual lens adjustments.
There is just one adjustable foot at the bottom that can be used to increase the height of the projection when you mount the projector on a front table. All connectivity options are on the rear; these include 2x HDMI 2.0b ports (both can accept 4K input), a USB Type-C port, a regular USB Type-A port, an RS-232 connector, and an audio jack. The projector also has a 12V trigger for motorized screens and an RJ45 LAN Jack for it to play well with home automation.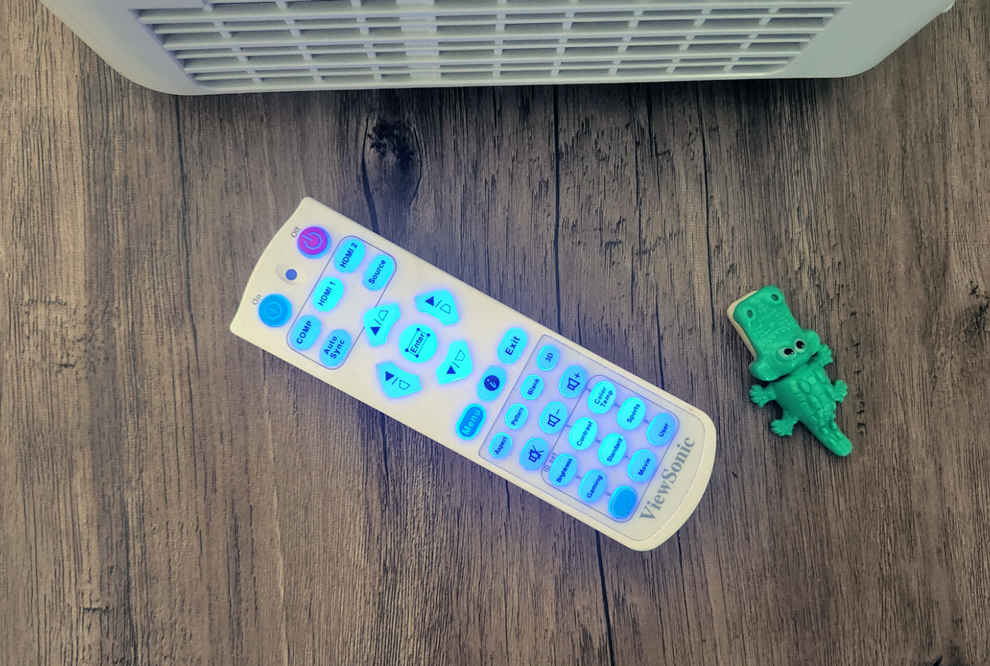 The plastic casing is reasonably sturdy. There are vents on either side for the fans and for the 10W speaker. The projector remote is backlit, which is really convenient for changing picture modes and other settings as you'd be often using it in a dark ambience.
ViewSonic PX748-4K Projector: setup and ease of use
The +/-40 degree vertical and horizontal keystone correction and corner correction for squaring off the projection gives you some flexibility to position the projector around the room. There is warping support to let you project on a curved wall or screen. We'd recommend you take your time for physical adjustments since using digital adjustments can negatively impact image quality and latency. Nevertheless, these options are very much welcome and can come really handy for minor adjustments at times.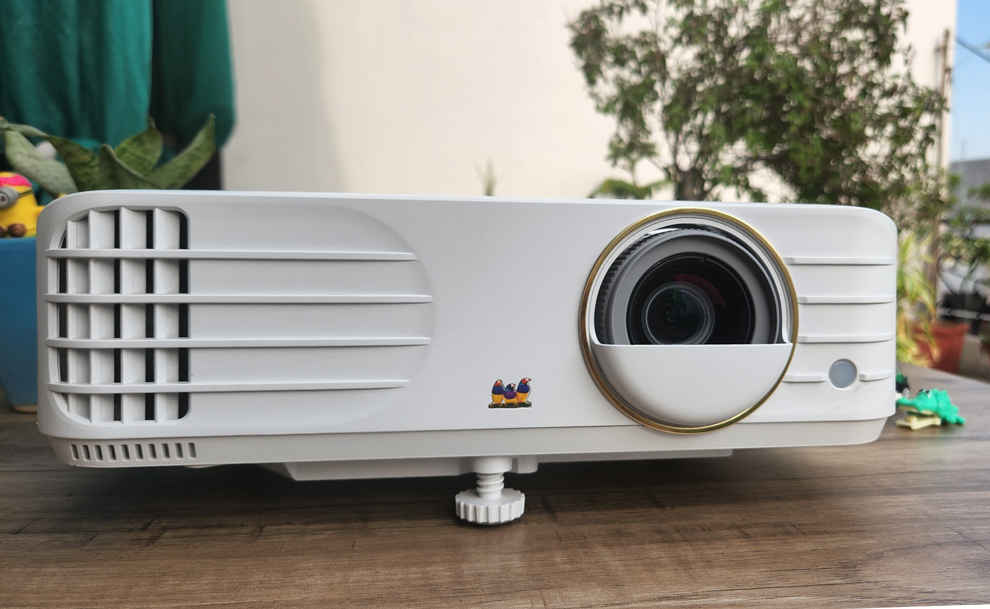 Since this is not a laser projector, you can comfortably position it at a suitable distance from the screen. The 1.3x optical zoom comes in really handy when setting up the projector in a medium-sized room. We could get a projection of 100-inch just by positioning the projector around 2.5m away.
The USB Type-C port makes the projector remarkably convenient to pair with laptops and mobile phones. ViewSonic software is pretty straightforward and it was easy to find whatever we looked for.
ViewSonic PX748-4K projector: performance and colour accuracy
This is not a native 4K projector but uses pixel-shifting technology to achieve 4K UHD resolution or 8.3 million pixels. Nevertheless, it's 4K certified and can accept 4K UHD input from a source via its HDMI port.
ViewSonic doesn't confirm the colour wheel on PX748-4K, but a little research on the forums indicates that the projector is using a six-segment RGBRGB colour wheel and yet manages 4,000 ANSI Lumens of brightness. This is one of the brightest 4K projectors in its class, and the sharpness is also quite impressive for viewing multimedia content.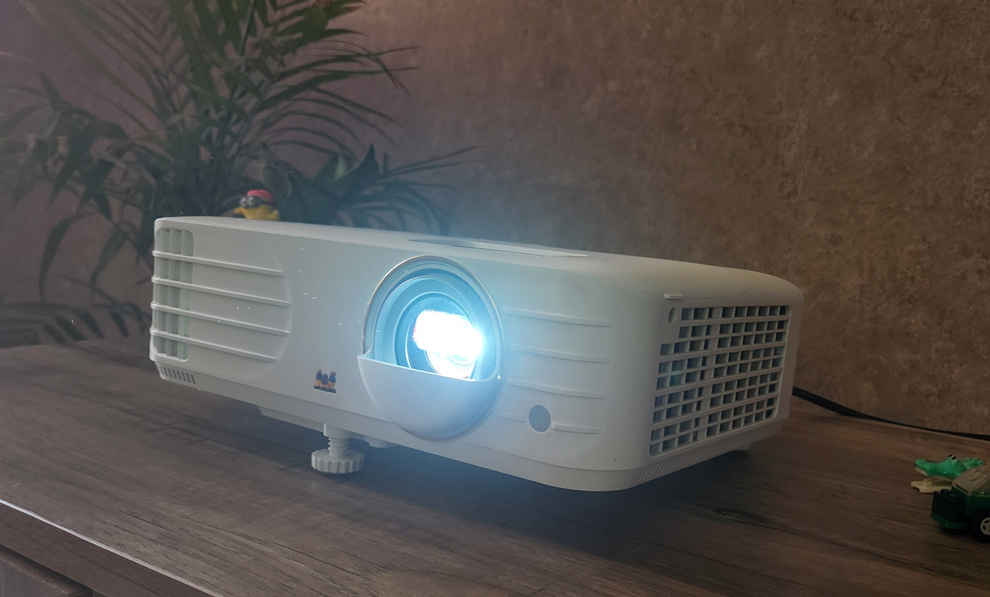 Thanks to the high brightness, you can very well use the PX748-4K in a regular living room with some lights turned on (not directed at the screen) and don't necessarily need a pitch-dark room for casual viewing. The high brightness and 4K sharpness make it particularly useful for office or educational presentations or perhaps even as an external monitor. A 65-inch 4K screen with UI scaled to 200% worked really well for us.
HDR Playback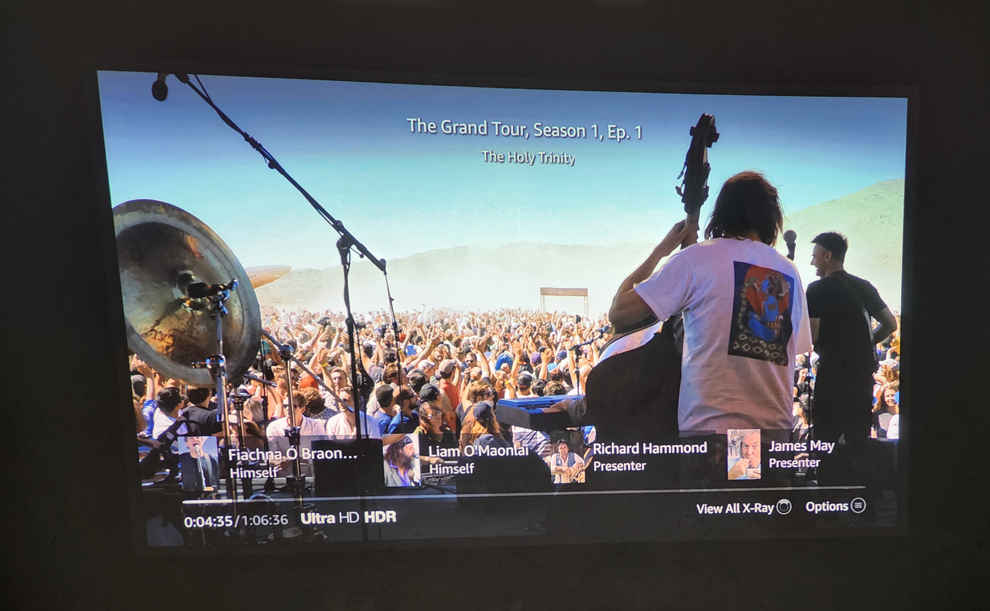 To test the HDR performance of the projector we used a FireTV Stick 4K. The USB-A port with 5V/1.5A can be used to power the dongle but make sure that 'USB A Power' is turned on in the menu (it tends to get disabled when you toggle different setting options).
It's hard for DLP projectors to do HDR, so don't expect much here. For best results, you will need to use it in a dark room. The high brightness helps boost specular highlights, but we noticed a lot of posterization artefacts and banding in both extra bright and dark scenes. This is because it's not possible to implement true 10-bit wide colour gamut support as is required for the best HDR experience.
The projector could certainly do with a little more contrast and deeper blacks, but that's again to be expected of digital lamp projectors. Upscaling is not the strong suit of PX748-4K either. If you are planning to use this projector for your home theatre, you surely don't plan on sourcing low-resolution content. However, if you are streaming any classic old movie or show this could be an issue.
The picture quality is significantly better with SDR content, especially in bright scenes. Here too noise and artefacts were noticeable in challenging dark sequences.
For casual viewers, the sharp and bright scenes projected by the PX748-4K on a large 100-inch screen should surely offset the negatives. Indeed, watching 4k content on a 100+ inch screen can be exhilarating in itself even if it comes at the expense of some quality.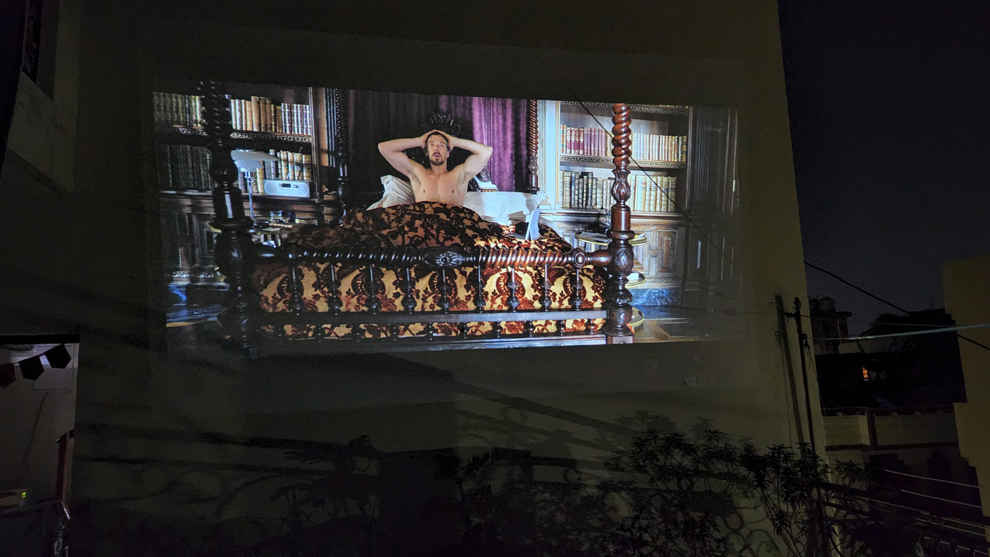 For some size perspective, that patch on the bottom left is the balcony door
To ascertain this, I screened 100+ inch 4K HDR content for family and friends outdoors on my balcony and nobody complained about quality even on the patchy and flaky side wall. But yes, if you are fastidious about accurate colours and HDR, you will need to balance your expectations.
There are 5 preset colour modes on the projector - Brightest, Sports, Gaming, Movie, Movies - and the option to add 2 user profiles as well. None of these felt colour accurate, but Standard and Movie (Rec 709) modes are what we preferred for watching multimedia content.
You can adjust parameters like brightness, contrast, colour temperature and more from the settings menu or using ViewSonic's VColorTuner, which is a very interesting software tool.
How does VColorTuner work?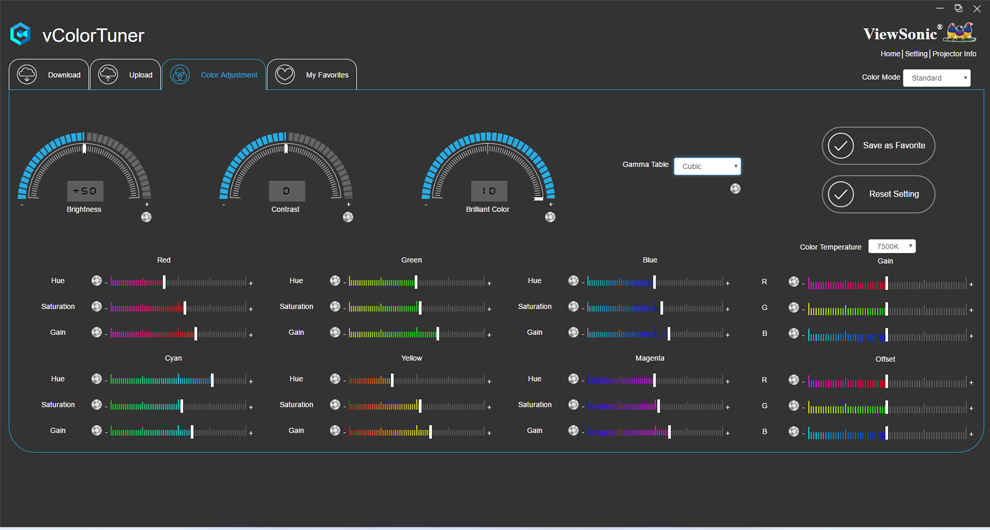 You can download the vColorTuner software for PX748-4K here. The software is easy to set up but you will need a USB Type-A to USB Type-A cable for vColorTuner to work. Other cables like Type-C to Type-C or USB Type-A to Type-C won't work.
The software lets you change colour temperature, brightness and contrast. It also lets you fiddle with the Hue, Saturation, and Luminance of primary and secondary colours. If you dig deep, you will find these options in the OSD menu, but it's simpler to make adjustments using vColorTuner
Of course, to make the most of the software you will need a colourimeter, but if you feel the colour temperature, gamma or a particular colour is a tad off, you can try fixes using vColorTuner.
Moreover, you can also directly download profiles uploaded by other users and a couple of these were helpful in boosting HDR. All of these adjustments can be made while your content is playing on the screen and thus make it really easy to interpret changes.
Also Read: Sony X75K 55 inch 4K LCD Smart TV review - a pricey affair
ViewSonic PX748-4K projector: gaming
ViewSonic PX748-4K supports 240Hz input in Gaming Mode with 1080p resolution. We tried gaming on the projector and input lag was bearable. We noticed the rainbow effect on PX748-4K a couple of times while gaming, but it was never bothersome.
There is no HDMI 2.1 port on the projector so 4K 120Hz gaming isn't supported for consoles. Once again, the experience will be best with the lights turned off.
ViewSonic PX748-4K projector: audio, noise and lamp Life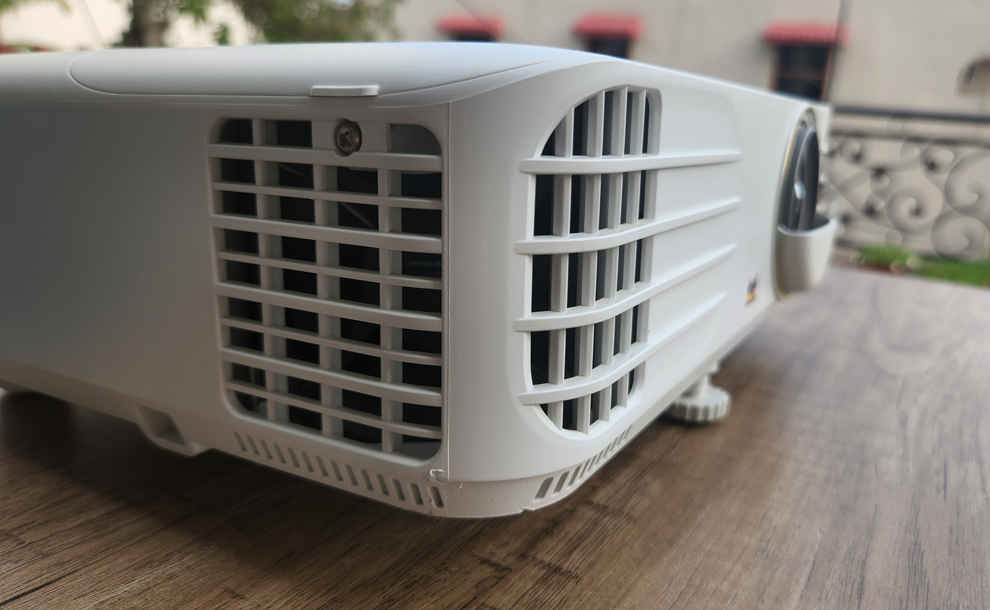 The 10W basic speaker should be useful if no other audio option is available, say for a short video included in your office presentation. The noise from the fan never really bothered me, especially since we reviewed the projector in hot Indian summers punctuated by the hum of the air conditioner and ceiling fan in the background. ViewSonic also adds a silent mode, and that makes a bit of a difference.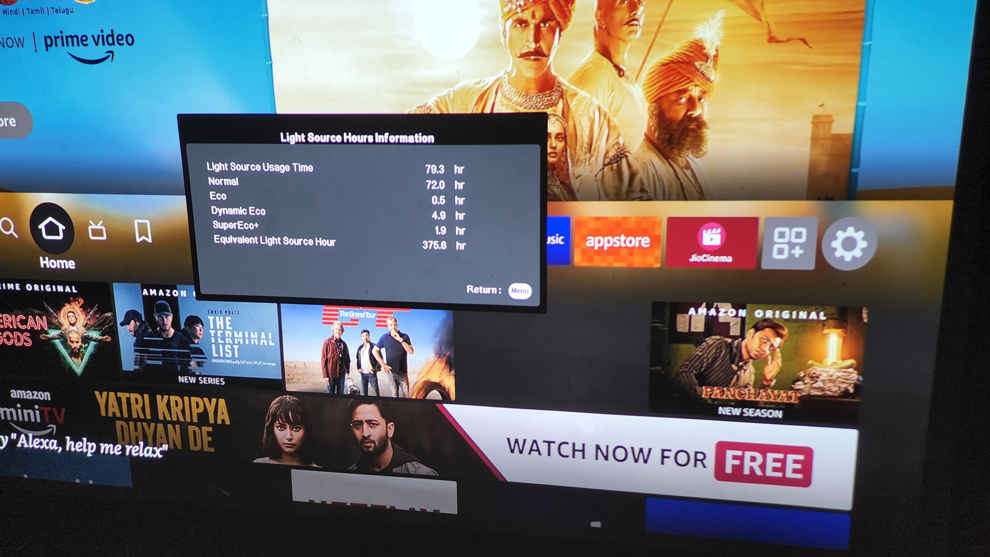 The lamp of PX748-4K is rated to last for 4000 hours in the normal mode and 20,000 hours in the SuperEco+ mode. If you watch a lot of HDR content you will just burn it faster. With around 78 hours of testing the projector, mostly for multimedia content and mostly in Normal mode, we have exhausted 374 equivalent light source hours.
ViewSonic PX748-4K projector: verdict
ViewSonic PX-748 is a solid entry-grade 4K projector which is a good value option for both homes and offices. It's quite portable and is well suited for casual home theatres and gaming. The upside is the large, bright and sharp 4K screen that you get at the expense of some contrast and quality. This is a projector you can carry to your friend's home to watch sports or to play a movie on a makeshift screen outdoor while chilling around a bonfire or for similar big-screen fun. It's not meant for critical home cinema viewing.