As Microsoft's software team wraps up the Anniversary Update universally, the hardware team is seemingly gearing up for a refresh of last year's Surface tablets and laptops. A recent report by Windows Central points at a new Surface Book 2 and an all-new lineup of Surface All-in-One PCs, alongside a regular upgrade to the tablet, as Surface Pro 5. Despite information being limited on these machines, the latest report states that the Surface AIO is being tested by Microsoft in three different screen sizes, alongside bringing an 'elegant' design to it that sits well in living rooms.
General consensus around Microsoft's upcoming devices suggest the use of Intel's 7th generation Kaby Lake processors to drive performance, so the Surface AIOs can be expected to be powered by the same. The three screen sizes that Microsoft is reportedly testing include a Full HD, 21-inch display, and two 4K resolution displays with screen sizes of 24- and 27-inch. There is no clarification on whether all of these screen sizes will make it to a commercial launch, and Microsoft may launch only one of these, initially.
"The company may just be moving closer towards a hardware portfolio that matches Apple's"
It is interesting to note that if the Surface AIO is for real, then Microsoft will have a hardware portfolio that includes Lumia smartphones (based on Windows Mobile), Surface Pro tablets, Surface Book laptops and Microsoft's Band fitness tracker. There have also been lingering rumours surrounding a Surface Phone, but nothing on that so far. The Redmond-based company may just be moving closer towards a hardware portfolio that matches Apple's, which has an iPhone, iPad, MacBook, Apple Watch and iMacs currently under production. Both the companies have manufactured their own operating systems (Windows Mobile and iOS respectively), and an 'elegant' all-in-one PC designed to seamlessly fit living spaces sounds like a Windows counterpart of the iMac.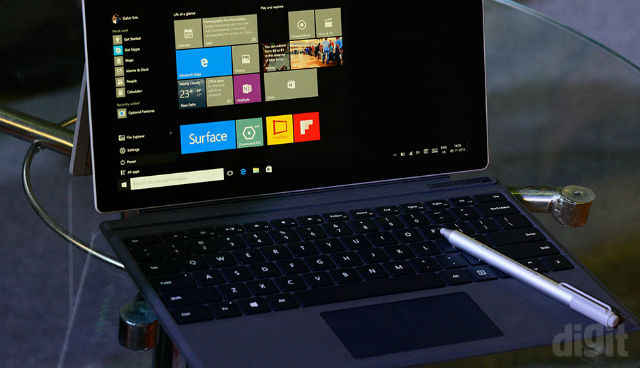 Whether this will boost Microsoft's business scheme and seriously rival Apple's market of iMacs and iPhones remain unanswered, and only time will tell if Microsoft's Surface AIO will be a commercial success. Meanwhile, in other news, the Surface Book also seems geared up for an upgrade, around the same time when the MacBooks are also being reportedly upgraded. On the new, rumoured Surface Book 2, what notably changes is the mechanism of Microsoft's fulcrum hinge. The proprietary hinge left a slanting gap between the display and the keyboard when the Surface Book was shut down, and Microsoft is reportedly redesigning it to make the display and keyboard sit flush on each other on the new Surface Book 2. Exactly how this is being done remains within Microsoft's R&D labs, but it will certainly be an interesting piece of reengineering in hardware, if Microsoft is indeed doing the same. The laptop is also rumoured to get an upgrade in internal components, which basically means 7th generation processors with greater graphics computing power.
This report happens to be one of the first ones regarding Microsoft's new hardware for this year. The company has remained tight-lipped, and even the usual Surface Phone rumour has been missing from the circuit for a while.
Does that mean that the Surface Phone might actually launch soon?