The 'Future Unleashed' conference, held at Mumbai's Nesco convention center, was a two-day conference hosted by Microsoft Corporation. There was a heavy amount of buzz surrounding the event, with everyone excited to hear from the company's fairly new Indo-American CEO, Mr Satya Narayana Nadella. Add to that, the conference was attended by the creme-de-la-creme from the world of business and politics. But, somewhere between all that pomp and show, was a disturbing uncertainty which I could not help but feel. The conference was kicked off by a rather short introductory speech by Mr Bhaskar Pramanik, Chairman of Microsoft India. Microsoft has completed 25 years in India, and Pramanik was quick to acknowledge that fact. "Twenty-Five years for us is about learning, it's about understanding what we can do in this country, it's about evolving, and we are going to use that understanding and that learning for the next 25 years," said Pramanik.
Although this mission statement from the Microsoft India Chairman imparted confidence in the company's long term plans for the country, my mind was constantly trying to battle the fact that I had no 3G connectivity on my phone, and due to some technical issues, even the WiFi at the 83,589 sq ft compound, hosting a massive technology conference, refused to come to life.
We talk about technology being our saviour, about how services like cloud computing, data management and smart analytics can truly change the game for India's billion-plus tech-hungry population, but sadly, our technologists have still not been able to crack the last mile of connectivity.
Nonetheless, the show must go on, and so it did.
Mr Anand Mahindra, Chairman-MD of the Mahindra Group, delighted with his stirring keynote. He recounted his college days with Microsoft Founder, Bill Gates, who dropped out before they could graduate. "He dropped out of college in order to start something more valuable than a Harvard Degree," a thought that resonated with the eager and hopeful start-up founders sitting in the audience. Mahindra also stressed on how technology can help small businesses scale their operations and reach, while reforming community dynamics. Giving examples of such businesses, he spoke about a US-based grocery delivery chain, called Farmigo. Farmigo is a different take on a local farmer's market. The company started by designing software for farmers, but gradually grew into a consumer marketplace where users can directly order farm-fresh groceries with a tap on their smartphones. The thought here was not about just another grocery delivery website or app≤ but about enhancing both the experience of the customer and the community.
Mahindra went on to highlight more such initiatives, including a Mahindra group property – Smart Shift. Smart Shift is a newly-launched app which connects transporters to cargo owners. " it's like an Uber for truck owners," he claimed. Besides showcasing some other projects in the pipeline, Anand also highlighted the importance of Digitisation in India. "Digitsation brings about diminution, decentralisation and democratisation," said Mahindra. He also threw in some references from Davis Guggenheim's documentary, 'An Inconvenient Truth,' which added to the charisma of his speech.
Yes, you might think where does Microsoft come in here? While lessons on the importance of technological growth inspire innovation, sitting among an entranced audience, I was left wondering when will all this culminate into a truly grassroot level shift in the way our nation functions. How long, before we can see a business-to-community transaction powered by the true potential of the technology of our times? We live in a world where devices, connectivity and functionality rule the roost. Microsoft is a pioneer in creating such technology. Take for instance its ambitious 'Hololens project', using which one can create complete virtual worlds or even the much-talked-about 'Display Dock', which I tried out at the event, but unfortunately, was not allowed to shoot a demo of. These are just two of the many recent examples of Microsoft's prowess, but I needed to have a clear picture of Microsoft's plans for India and Indians, and my questions were somewhat answered when Microsoft CEO, Satya Nadella, finally walked on to the stage.
"This morning, I want to talk about Microsoft and I want to talk about our sense of purpose. Every successful company has a core and for us at Microsoft it is about empowering every person to achieve more," said Nadella, after taking on the stage. Just last year, Nadella replaced Steve Ballmer, who served as the CEO of Microsoft for 13 long years. This was the first time that he addressed crowds on Indian shores, and his big bang address at the Future Unleashed conference had been a much awaited event in the prior months.
"There will be more computing in our lives...the key will be the mobility of our human experience...That is truly where technology will go." These opening thoughts from Nadella in his speech made way for him to introduce his version and vision of Microsoft. He highlighted some key Windows-based tools such as Outlook client for iOS, which has a standout feature called the 'focused inbox'. The focused inbox uses machine learning to sort through a user's email, and separate them into two categories – 'Focused', and 'Others'. Over time, the app learns which messages you feel are important and which are not, and then sifts them accordingly.
Nadella also showed off Delve Analytics, which is a tool for enhancing personal productivity and information discovery. This is where start-ups need to sit up and take note. Delve analytics is a great tool for those who are just stepping into the world of business. Nadella compared Delve Analytics to the sensors on the Microsoft Band, and said that the way the 18 sensors on the band work to get information from our bodies is the same approach applied to Delve, which does the same for your business. Delve helps users visualise all of their data in the form of interactive charts, graphs, and much more. It also helps give users a live feed of the work that is happening in their organisation, by helping them see the work their employees are doing – in real-time, on one platform. Something here, that is sure to boost productivity, of both new and old businesses.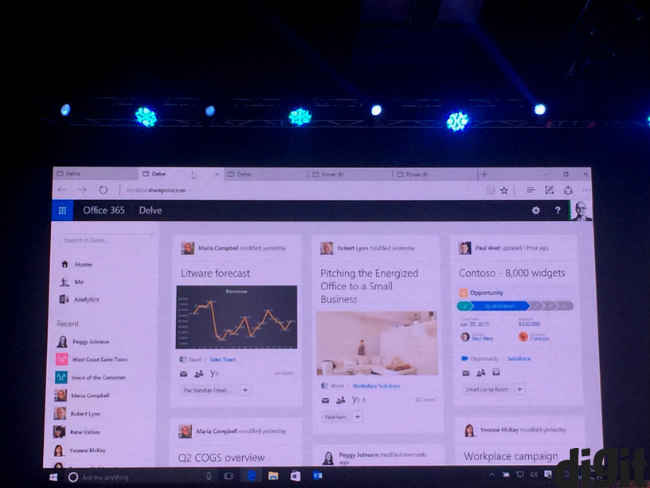 A demonstration of Microsoft Delve
Talking about the merger of technology and education, Nadella said, "One of the most exciting things for me in this trip is to see the various public sector organisations throughout the country from U.P. to Tamil Nadu to Maharashtra to Gujarat and to Andhra, where they are using technology to truly create citizen services." He gave an example of how Andhra Pradesh is using data about student enrolments and drop-outs, to predict what may happen in order to allocate resources for maximum impact. "Technology can help focus the states resources," claimed Nadella, and since this whole event was about increasing productivity, the CEO was clear in pointing out where his and Microsoft's interests lie. This subtle example of one of the many technological programs running in the state of Andhra Pradesh could be an indicator of future collaborations between Microsoft, and state governments in India. Last year, Andhra CM, Chandrababu Naidu had also sought help from Nadella for developing Anantapur as an IT hub.
Some other key announcements made by Nadella included a vague announcement of the Surface Pro 4 coming to India in January 2016. He also said that the Lumia 950 and 950 XL will reach Indian shores by December this year. No announcements were made about the specifications of the phones, and even the devices that were demoed at the event were just prototypes.
Microsoft's Azure platform seemed to be the theme for the Future Unleashed conference. In an attempt to promote it in India, Nadella highlighted the need for Indian businesses to build on Azure. "People like Snapdeal, PayTM, Just-Dial, we are all participating. We are partnering with them to not only help them but also the impact they have across their supply chain." He was excited about Azure being a productivity tool for sellers who do business with these ecommerce websites. Azure is an enterprise-grade cloud computing platform which helps in deploying websites and web-based apps, scales thousands of VMs (Virtual Machines) and much more. The platform is free for the first year so that businesses can try it out before purchasing particular plans, which are also nominally priced.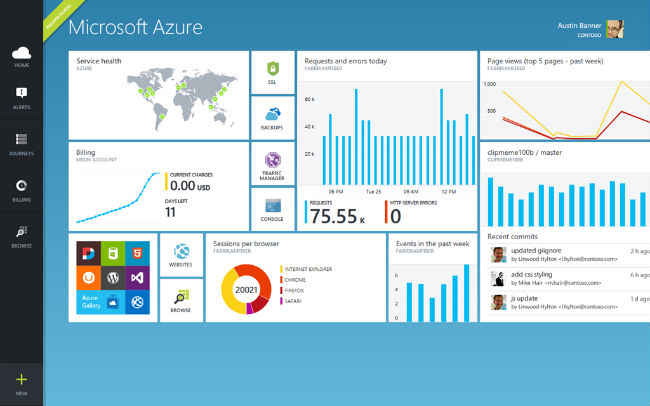 The Microsoft Azure interface
Now, I know this may sound like jargon for some, but in a country like India where we already have 3500+ technology start-ups and more coming, Azure can be seen as the next big enabler. Also, the fact that it uses data centres built in India is a huge advantage from a security of information point of view.
Nadella also announced the advent of a "special program" as a part of the Prime Minister's Smart City initiative, but failed to disclose any more details on the subject. His three-point strategy – more "personal computing", "new types of computers", "inventing new experiences around computing" – seemed targeted at the enterprise and start-up ecosystem, with little to say on the consumer front.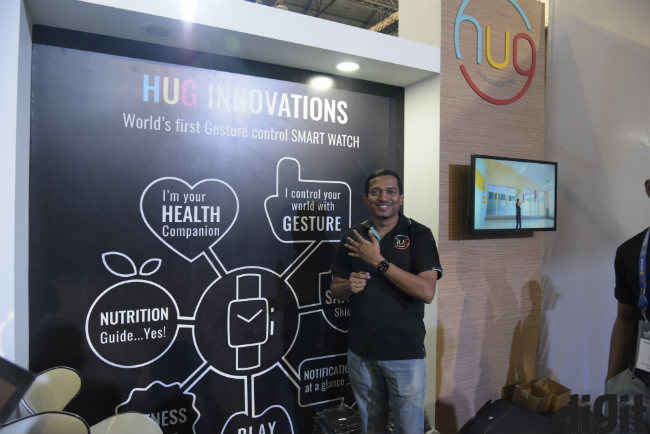 Hug Innovations start-ip showcasing its Gesture control smartwatch
On the sidelines of the keynote speeches, the Future Unleashed Conference was a display of smart, innovative start-ups working on the Azure platform provided by Microsoft, and the event garnered a sizeable footfall of interested investors, budding entrepreneurs and excited developers.
The only thing missing was a sense of immediate purpose and urgency. Even though it was great to see the strides with which India's technology start-ups are growing, in the recent past we have seen most technology giants jostling to attach themselves to the cause of Digital India. Yes, we need technology to create a digital India, but what we also need is an acceleration in the adoption of that technology. Tech companies are in a race to 'make it in India' and 'digitise India', but what will be the price that India will pay? Our start-ups will eventually grow into full fledged businesses, but what after that? At the end of the day, technology can be God-like – it can amass a huge following and create an illusion of trust, but once technology companies have a stronghold on everyone's data, big or small, who will rule the world? These are just some of the few questions that unfortunately remained unanswered due to the lack of dialogue with company spokespersons.
To conclude, what I have taken away from the two-day-long conference is Microsoft's show of new beginnings and fresh ideas, coupled with a sense of caution for an India that waits with baited breath for a digital future.