After months of teasers and anticipation, Marvel's Avengers finally launched earlier this month. The game promised a healthy dose of single-player action mixed with some chaotic and fun multiplayer brawling. The game gave players the chance to step into the shoes of their favourite Marvel Avengers and allowed them to don Ironman's high-tech suit, be worthy to wield Mjolnir as Thor or simply smash everything around them as the Hulk. In order to ensure an immersive experience, the developers of the game, Crystal Dynamics partnered with Intel to make CPU optimizations to the game specifically for PC players.
Worthy gaming experience
The improvements seen on PC thanks to Crystal Dynamics' partnership with Intel can broadly be classified into three categories. This includes armour destruction, environmental damage and finally water simulation. Armour destruction takes into account the damage players do to enemies creates metal, glass and other debris that one might expect in a battle. Environmental damage helped create the type of destruction you might see when superheroes and supervillains battle. Finally, water simulation helps ensure that the water in the game looks and reacts the way you would expect fluid to react.
The optimisations were made keeping in mind quad-core, octa-core and deca-core rigs that are most common among PC gamers. So those with high-end rigs as well as those with budget-rigs will be able to benefit from these enhancements in some form. Of course, Marvel's Avengers is just the first result of the collaboration between Intel and Crystal Dynamics and it will be very interesting to see where this partnership goes and what benefits it will have for gamers. Fingers crossed for that!
Gear up!
This isn't the only bit of interesting news. Intel India has announced a Marvel's Avengers-themed sweepstakes style contest. What's on stake you ask? Everything a PC gamer might need. There are two high-end Intel-powered gaming laptops, a gaming chair and a Marvel's Avengers collectible CPU Box i7-10700K which is worth about INR 4,00,000* in total. Partaking the sweepstakes is also pretty simple. All you need to do is register and answer a simple question for a chance to win one of the prizes that have been announced. The contest kicks off on September 19 and will go on till October 30.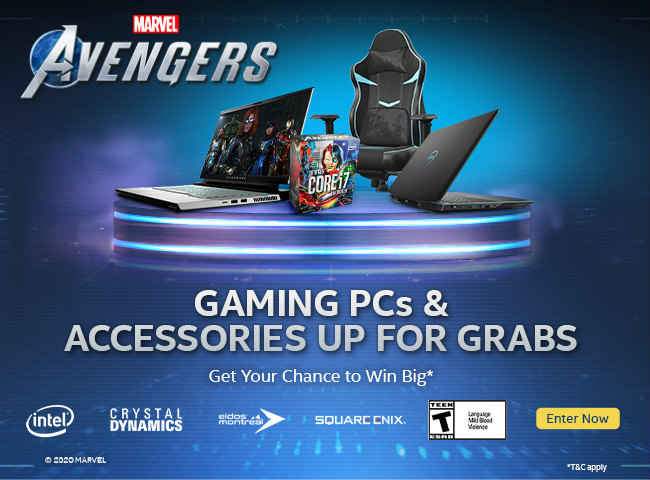 Influencers, assemble!
During the buildup to the launch of Marvel's Avengers, some of India's most notable game streamers like Rakazone Gaming, Xyaa, Ankkita C, PC Peasants Gaming, and GodAtWar who are a part of the #IntelUltimateSquad, kept excitement levels up. However, they aren't done yet as they. As a part of the #IntelUltimateSquad, they have loads of activities, giveaways and interactions to conduct. Besides that, the streamers will also share some tips and tricks as well as recommendations on which Intel-powered devices to buy. You should also keep an eye on their social media channels for a chance to win Intel x Marvel's Avengers prizes.
Team up!
To help enhance the experience even further for Marvel's Avengers fans, Amazon, Croma, Dell, Flipkart and Reliance Digital will be teaming up with Intel India to offer discounts and deals on 10th Gen Intel® Core™-powered gaming laptops. So those looking to upgrade their existing setup or buy and brand new laptop have a little added incentive to take a leap and amplify their gaming experience!
*For complete details, visit: https://game.intel.com/static/giveaways/avengers/in/
[Sponsored Post]