Google buzz is here to stay. Sure, it may not be the next Facebook or a Twitter replacement, but surely as a social media tool it has its pluses. Those of you who have been using it for a while now, will find these tips useful. Those who are not buzzing, there's no better time to start.

1. Send @ replies without knowing the persons email id.
Buzz allows you to tag people in your buzz posts by inserting an '@' sign in the post. This opens a drop down menu of all your contacts and you can add the contact you were looking for. The buzz post will then be automatically be emailed to the inbox of the person mentioned. However, what about people who are not in your contact list, and you are just commenting on their post? Simply hover over their name and in the browser's notification area you will see a link to their Google profile. It will be something like this: http://www.google.com/profiles/abcdef#buzz. Just copy the part before #buzz and sufix it with @gmail.com. In this example that would be @abcdef@gmail.com
2. Search tips
To search for comments from a specific user, try this operator "commenter:name" in the buzz search field. Use "author:name" to find all posts composed by a user. Similarly you can use "has:photo" or "has:video/link" to filter posts that have the respective attachments. This is quite a neat tool to discover active buzz users. The "source" operator will allow you to restrict the sources eg. Twitter, reader, flickr etc.
3. Share any webpage on google buzz
Found something interesting in the vastness of cyberspace which you'd like to share on Buzz? As a Chrome user, you can do it in a jiffy with the Buzz it! [https://chrome.google.com/extensions/detail/mlbimplbdkhjjfhnlmhjnoemmnnehjif] extension. Once you decide to share something clicking on this button will bring up a dialogue box where you can give a title and add a note about the piece you are sharing. Click Post item and it gets added to your buzz stream via reader. For Firefox users there is a much more popular addon by the same name[https://addons.mozilla.org/en-US/firefox/addon/75917 ]. This addon posts via the buzz@gmail.com email route. However at the time of writing this article the extension was not working :-(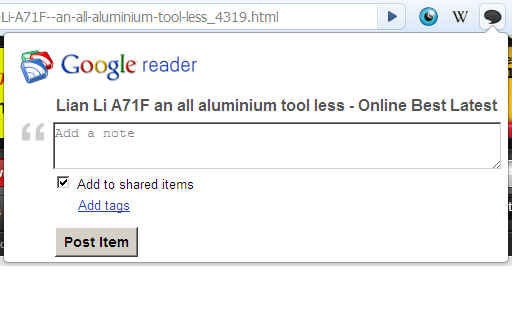 4. Send buzz posts to twitter
Sending your twitter feed to Google Buzz is quite a simple matter. Simply go to settings tab and under the newly added buzz tab, you can link your twitter account. But pushing buzz posts into twitter is a bit of a tricky affair. There are two ways of doing this by using two different online apps. Each has its own advantages. The first is buzzcantweet [buzzcantweet.com]. Click on get started and it will prompt you to sign in with your google account. Next allow the app access through the twitter api and you're done. Some of the additional options on the settings page allow you to use your own Bit.ly account for link generation and...
Tweet only buzz which contains keyword "#twitter"
Exclude text after keyword
No link on short messages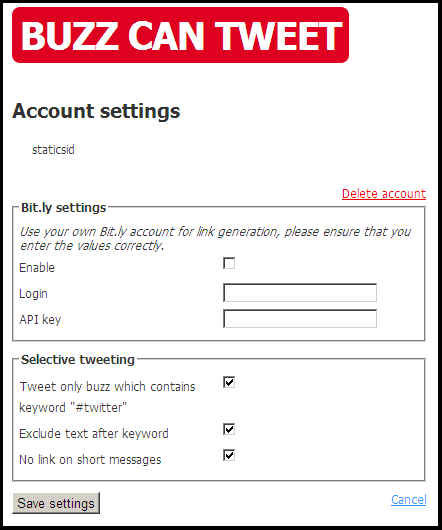 The other option is to use Buzz2Twitter [http://reader2twitter.appspot.com/buzz] - A little difficult to set up but not rocket science. I noticed the Buzz2Twitter sync has lesser lag - probably to do with the pubsubhubbub protocol that it uses. To get started you need your Google Profile Number ID. Usually your Google profile with look like this https://www.google.com/profiles/yourname. To get your number ID click "edit profile" on your profile page. At the bottom of the page you'll find your profile URL; click "see other options". Copy the number, paste it here [http://reader2twitter.appspot.com/buzz] and click submit. By default it uses goog.le to link to your buzz post but you can use your own bit.ly account too.


Advantages of posting to twitter from buzz:
You can use buzz as your own very own Twitter image / link / video sharing service since all your twitter posts will be permalinked back to your image enhanced buzz posts!
No restriction of character count!
5. Keyboard shortcuts
Simply make sure keyboard shortcuts are enabled in your settings
Shift l - 'like' a post
m - mute a thread (very useful if you don't want a popular thread to highjack your timeline)
r - reply to a post
j/k - go to the newer / older posts
o - expand post

# Bonus Tip: Import twitter contacts
Still in closed beta, but once it's up you can use this service to import twitter contacts to follow them on buzz. http://tw2buzz.com/. Be sure to register for an invite.
The author is a buzz enthusiast (for now) and is saddened by the fact that most content shared via buzz, twitter, and Facebook stands in this ratio:

Follow his buzz on http://www.google.com/profiles/staticsid