This year's Mobile World Congress, besides being a hotbed for new smartphone launches, had a very evident theme - 5G. From device makers, to telecom provider, to network equipment manufacturers, the 5G hum could be heard from every booth and every corner of the showfloor at the world's biggest mobile technology event.
While Huawei had its 5G-ready Mate X cordoned off in a glass box and OnePlus' 5G prototype was encased in a thick cover revealing only its display, Samsung's Galaxy S10 5G was out and about, functioning on a working 5G network implemented by the company using its own network technology in partnership with local telecom operator Orange. Not only did Samsung have a working 5G smartphone to strut around, the company also gave us a quick tour of their network booth wherein we got to see its second generation mmWave radio frequency integrated circuits as well as digital/analog front end (DAFE) application-specific integrated circuits that support 28GHz and 39GHz bands and can reduce the size, weight and power consumption of its 5G base stations. Moreover, we also saw Samsung's various solutions for bringing 5G to the last mile user as well as utilise the network for cloud gaming, autonomous driving, factory automation, and more.
Samsung's 5G chips for base stations and why they matter
Samsung's new RFICs for 5G base stations are smaller than a penny and its new DAFE has also taken a significant cut in size. The smaller size of the RFIC and DAFE enable Samsung to ship 5G base stations with 25 percent reduction in size, weight and power consumption, making them more efficient to implement. Equipped with these 5G Base stations, Samsung is all set to take on Huawei, which currently dominates the world's telecom equipment supply and finds itself embroiled in tensions with the US, Australia and New Zealand, barring it from participating in 5G rollouts of these countries.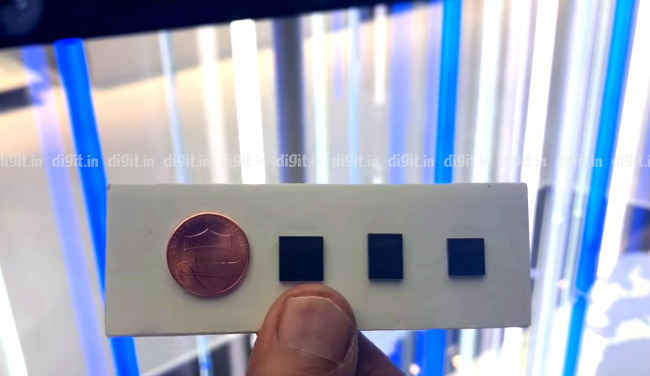 Samsung's new RFIC
To that effect, Samsung has partnered with Verizon and Sprint in the US for the deployment of 5G home and mobile connectivity services. It is also the only vendor supplying 5G-ready equipment in South Korea, which is expected to see the commercial roll-out of 5G networks as soon as next month. Samsung tells us that the company is also in talks with Romania, Turkey, Germany and Italy for 5G trials and pre-commercial roll-out. And yes, India is on their list too.
Driving global wireless spending
Samsung's deep commitment to drive 5G globally can be seen in how majorly the company is investing in the technology. While most of Samsung's business comes from its smartphone and semiconductor operations, by creating a solid 5G network infrastructure, Samsung is also hoping to further support its smartphone technology as well as get a headstart on competition. In fact, Samsung has committed to investing $22 billion in 5G technology to gain a 20% market share by 2020.
At MWC in Barcelona, Samsung showed us their various 5G base stations that aim to increase network capacity and data speeds. Samsung showcased solutions for both sub and over 6GHz spectrum bands. One such solution shown by Samsung included a 3.5GHz Base Station with 100MHz bandwidth, something Indian telcos, Department of Telecommunications (DoT) and Telecom Regulatory Authority of India (TRAI) are also interested in. The 3.5GHz spectrum band has also been commissioned for 5G use in US and Korea, so moving to a similar infrastructure would be easier for India too since equipment for these bands is already available.
In its live sub-6GHz 5G NR demo, Samsung showed off four phones connected to a 5G network, together producing speeds of up to 3 Gbps concurrently. Samsung's base station used for this demo could support both 4G and 5G networks at the same time, which is something the company predicts will be a trend for sometime once 5G networks are deployed and before they become as mainstream at 4G. Operators will be able to use these base stations from Samsung to deploy both 4G and 5G, before they move completely to 5G, so that the hardware will not need to be changed.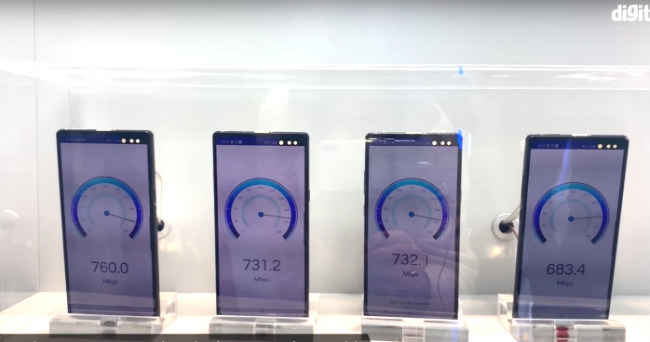 Four Samsung phones connected to sun-6GHz 5G NR
When it comes to above 6GHz bands, a single Galaxy S10 5G was able to achieve speeds of up to 1.9Gbps in the demo, using a 5G network routed through a Samsung base station. Currently, Samsung is capable of providing base stations in both sub and above 6GHz bands. For instance, the company is already working with Verizon in US on base stations that support 28GHz, while all major operators in Korea have partnered with the company for 3.5GHz base stations. The size of these base stations is notably smaller, with some easily deployable by hanging from poles and cables.
India, 5G and Samsung
The Indian 5G story is currently at a very nascent stage. While the TRAI has made its recommendations, the DoT is only likely to conduct 5G spectrum auctions by August of this year, with a roll-out expected sometime by 2020. In its recent 5G white paper, the Telecom Regulatory Authority of India said, "The 3.5 GHz band is likely to be the first to be used globally for 5G deployments, and since DoT is yet to auction spectrum in the 3300-3600 Mhz bands, telecom service providers in India are likely to initially incur an additional investment while launching 5G services on account of spectrum cost."
When 5G networks will start working in India is something that solely depends on telecom operators, but Samsung predicts that 5G can start working in India within 3-5 months of spectrum auction.
"If you look at 5G there are two different parts of it, one is the societal value and the other is the commercial value. 5G rollout is dependant on how fast the government wants to do something. Smart cities is a good example of societal value compared to commercial value. When we look at the commercial value, that will depend on the operator on how quickly they want to enter the service. The technology is there and can be rolled out. 5G rollout in India will not be slowed down by technology, it will be by the need and the value government and operators see in it," Srinivasan Sundararajan, Network Business Division Head at Samsung India told Digit.in on the sidelines of MWC 2019.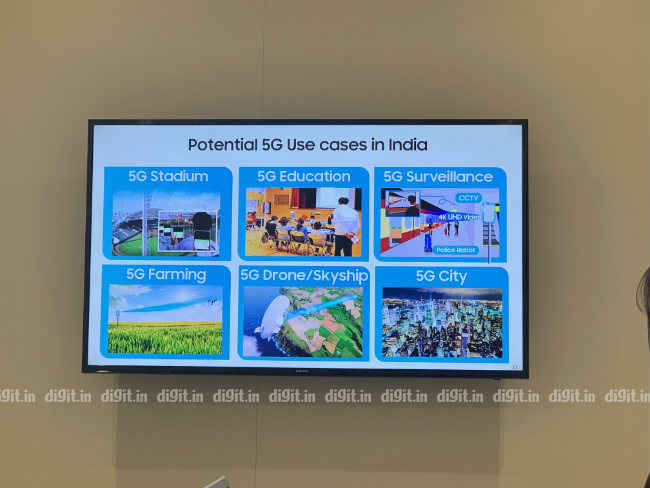 Some common 5G network use cases that Samsung sees in India are - deployment in sports stadiums, education, surveillance, farming, drones and smart cities, in addition to the mobile network use case. Samsung says it is ready to do trials in India and is also in talks with the DoT for the same. "We're trying to figure out what are the right use cases and so on. We are in discussion with the DoT. All of the conversation id with DoT. What they want to show, the locations, etc. All our conversations are predominantly with the DoT," said Sundararajan, not revealing the telco Samsung is working with to deploy 5G. However, given Samsung's existing close relationship with Reliance Jio, it could be expected that the two will partner up to deploy 5G in India. Samsung says that its first 5G trials could happen in New Delhi, testing use cases in both sub and above 6GHz bands.
Samsung's 5G smartphone story
While Samsung's 5G network equipment readiness is pretty evident, it is also supporting its 5G efforts through its smartphone division. Just ahead of MWC, Samsung announced the Galaxy Fold (which will have a 5G version) and the Galaxy S10 5G. The 5G variant of the Galaxy Fold will be available in Korea once the fifth gen network is deployed, while the S10 5G will be exclusive to Verizon and is expected to launch at a later date.
Currently, there is no case for Samsung to launch these 5G phones in India, thanks to a lack of network, but the company is hoping they will be able to popularise these device in countries like US, Korea, France, Germany, Spain and others. However, Samsung may face multiple challenges in doing so, including the higher cost of these devices, the fact that 5G coverage will not be wide reaching in the beginning, and that the new network will be a battery guzzler.
At MWC, Samsung told Digit.in that they expect their 5G phones to deliver at least one day of battery life for power users and that the company hopes players like Reliance Jio will be able to get costs of 5G handsets lower, just like it did with 4G devices. The company also hinted at the fact that it may make 5G phones more affordable so as to make them attainable by the masses. These phones are expected to run on Qualcomm's 5G-enabled chipsets, although the same could not be verified when we spoke to executives at Qualcomm who said that if Samsung is hoping to offer cheaper 5G handsets, it is entirely the Korean company's prerogative and that there is no special low-cost 5G chipset in the works for the same.