Apple's WWDC keynote has just concluded and like every year, the company showcased a brand-new version of iOS, updated MacOS, announced incremental updates to its Macbook lineup and showcased the much awaited smart speaker. Like the rumours suggested, there was a new 10.5-inch iPad Pro as well, but the highlight of the show remained iOS 11 and how the new operating system has been redesigned for the iPad Pro.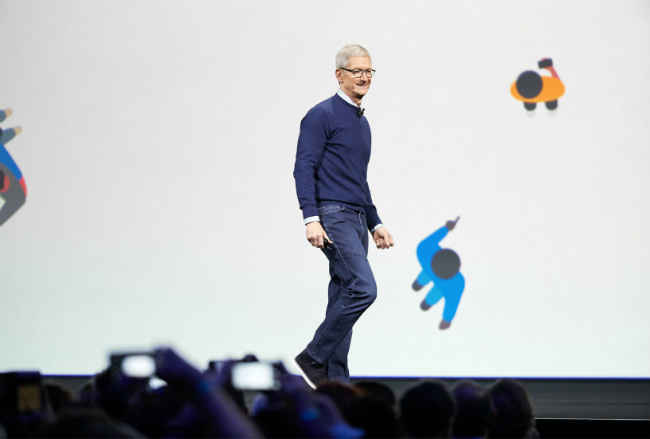 Apple also unveiled the new iMac Pro, which will be shipping later this year in December and could be configured to feature up to an 18-core Xeon CPU in addition to discrete graphics. Although, there was no news regarding any update on the ageing Mac Mini and the Mac Pro. Still Apple announced a lot of stuff in the almost two and half hour-long keynote. The entire keynote seemed rushed and even Craig Federighi, Tim Cook and other hosts were literally running on and off the stage. Anyway, let's jump into what Apple announced today at WWDC.
TvOS
Apple CEO Tim Cook came up on stage and announced that the company has 5 announcements to make. The show started with TvOS, which got just one addition. Amazon Prime will be available for the TV app and on the Apple TV later this year.
WatchOS 4
Post TvOS, Apple jumped into the new Watch OS, which is now called WatchOS 4. The new update brings such as automatically updating complications on your watchface based on time and location. Besides adding more Pixar's Toy Story based watch faces, there is a new Siri based watchface which gives out info at a given point using machine learning.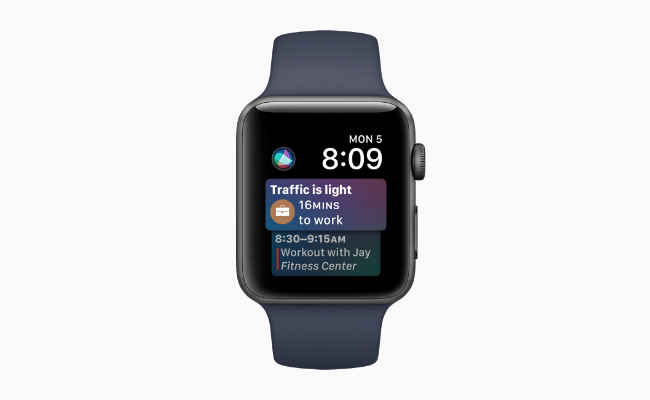 The new OS brings updates to fitness tracking and the workout app can even connect with gym equipments for more precise measurements of your fitness regime. Music management has also improved and Apple now offers a vertical scrolling dock to scroll through recent apps. Watch OS is now available for developers and will be available to watch users in fall.
iOS 11
Apple's next OS version for its iPhones and iPads does change the OS entirely, but brings about noticeable design changes and improvements in multiple areas where the OS was lacking especially when it comes to the iPad. Features like synchronised messages across iOS and MacOS, drag and drop functionality on the iPad, files app and support for AR has been added. Apple showcased a small AR demo on the stage before announcing that the release of ARkit for the developers.
In addition to this, the control centre, Apple Music, Maps and the App-store will receive a redesign. Maps app will now support indoor layouts for malls in selected cities and countries and there is a new do not disturb mode for when the phone detects that you are driving. This mode restricts notifications to minimise distractions while you are driving.
Apple Music with iOS 11 will support multi-room audio between iPhones and iPads with AirPlay 2, for which Apple will partner with various third party speaker makers. Apple Music will also incorporate a new social feature through which multiple users can add to a single playlist. The biggest redesign however has been given to the App Store with iOS 11. The App Store will feature a Today tab, which would suggest an app for the day, a game for the day and How-to guides for certain apps.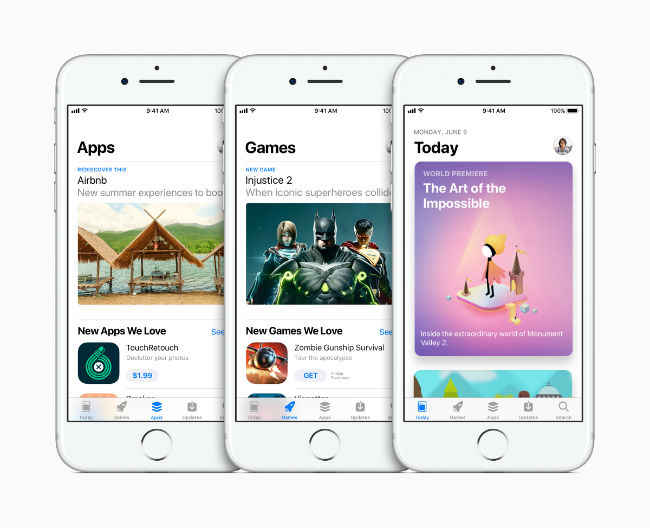 Amidst all this, Apple also announced person-to-person payments, which is also integrated within iMessage. Then there is Siri, which is also getting updated and Apple has used machine learning to train it and sound more natural. There is a new intelligence feature which will allow Siri to know your interests and suggest more stuff you might be interested in. Apple says that this data is shared among your synced devices and "kept completely private, readable only by you and your devices."
The biggest changes in the upcoming iOS 11 however are meant for the iPad with Apple calling it "the largest iOS release for the iPad ever". For the iPad, Apple has updated the dock, which can now be pulled out from the bottom just like on the Mac, in any app. There is a new app switcher to add more functionality along with the spaces similar to the Mac.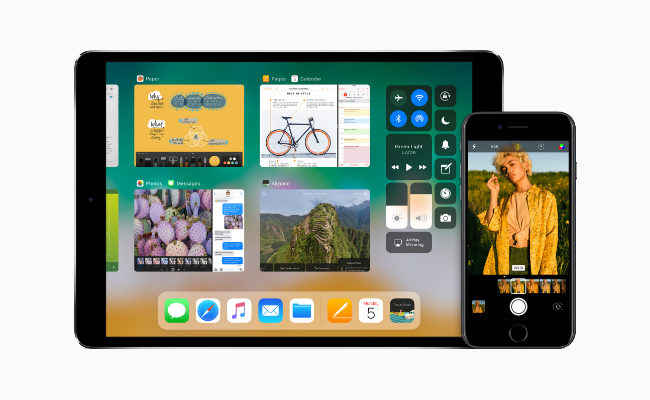 The Apple pencil is now better integrated with iOS and allows users to open the note app by simply tapping the lock screen with an Apple pencil. iOS 11 is capable of identifying handwriting text via machine learning, making it searchable through iOS' spotlight feature. iOS 11 will be coming to all compatible iPhones and iPads this fall.
iPad Pro 10.5
At WWDC 2017, Apple announced the iPad Pro 10.5-inch, which, as the name suggests conveniently slots between the 9.7-inch and 12.9-inch iPad Pro. It is powered by an Apple A10X chip and will be available in 64GB to 512GB storage options in both Wi-Fi and cellular models. The new iPad Pro also has a new brighter display with a 120Hz dynamic refresh rate, which is a first in its category. Apple claims 10 hours of battery life on the device.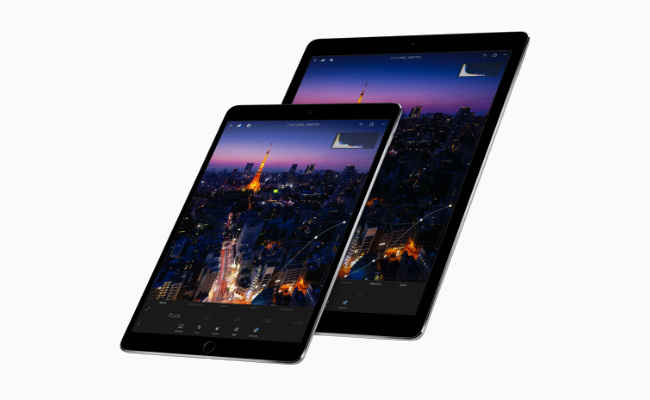 Along with the new iPad Pro 10.5, Apple also announced its new Pencil, which as we mentioned earlier will be better integrated with the OS once iOS 11 is available later this year. The Pencil is now also a bit faster offering 20ms latency in comparison to Microsoft's recently announced Surface Pen offering 21ms latency.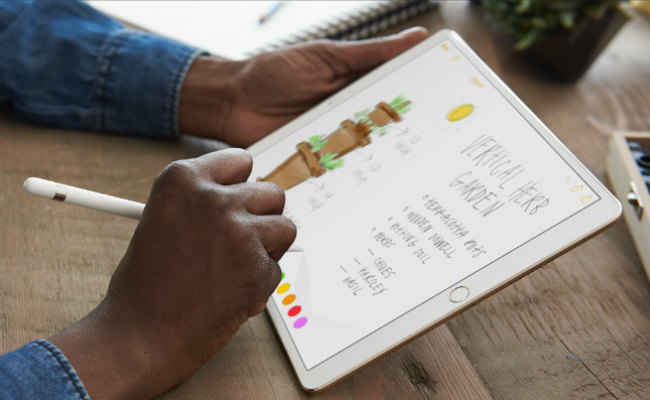 Apple has also updated the 12.9-inch iPad with the same specifications and we reckon both devices will launch in India within a few months.
MacBook & iMac
The Entire MacBook lineup will now run on Intel's latest Kaby Lake processors and feature 50% faster SSDs. Apart from that there is no other significant change except a slight change in pricing. Another addition is that one can now connect the laptop to an external graphics card and Apple announced a Thunderbolt 3 enclosure featuring an AMD Radeon RX 580 GPU for developers.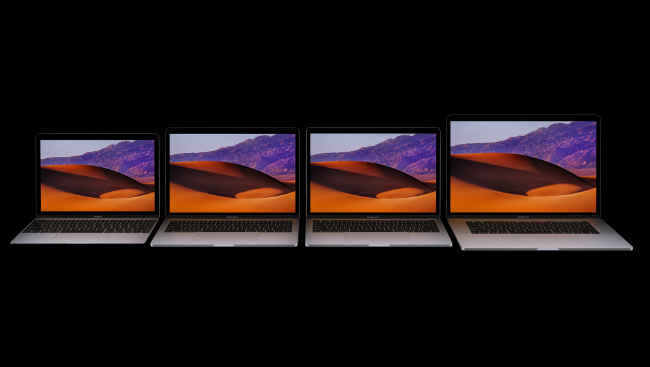 As for the iMac, it is also getting the new 7th gen Intel processors across the range and with newer memory configurations. So, the 21.5-inch iMac can have up to 32GB of RAM and the 27-inch model can have up to 64GB of RAM. The 27-inch iMac will now get Fusion Drive as standard and can be specced up to 2TB and the company says that it will also feature 50% faster SSDs across the range. The new iMac will also come with two Thunderbolt 3 ports. On the graphics front, the entry level 21.5-inch model will feature an Intel Iris Plus graphics making it 80% faster than its predecessor. The iMac Retina 4K 21.5-inch model will now feature Radeon Pro 550 and 560 graphics with upto 4GB vRAM, making it 3x faster than its predecessor.
The iMac 5K 27-inch gets the biggest graphic update as it can pack in a Radeon Pro 570, 575 and 580 GPUs with up to 8GB vRAM. The company also claimed that the displays are now much brighter and can represent 1 billion colours.
iMac Pro
Apple introduced an all new all-in-one desktop line called the iMac Pro, which is essentially aimed at the Prosumers who yearn to replace their ageing MacPros. Priced at $4,999 and shipping in December, the iMac Pro packs in some serious hardware for content creation and development alike. Apple says that the iMac will be available in 8-core, 10-core and 18-core Xeon processors, 5K display, upto 128GB ECC memory and upto 4TB SSD. The Graphics will be handled by the upcoming AMD Radeon Vega graphics. It will also feature 4 Thunderbolt 3 ports and a 10Gb Ethernet port.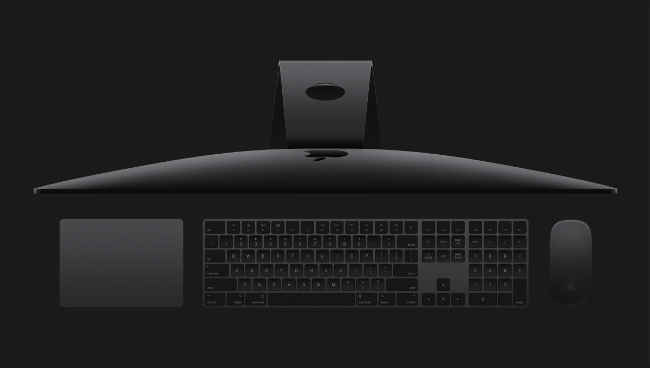 It will also come with an all new Magic Keyboard with a numeric keypad and will be available with a choice of Magic Mouse or Magic Trackpad 2. The iMac Pro will be launched in an all new space grey colour.
MacOS 10
The MacOS also got an update and the latest version is called High Sierra. Apple's senior vice president of software Craig Federighi even joked about it saying, "We talked to the guys and they said, 'this might be misconstrued,' but they assured us this name is fully baked". Going beyond the naming scheme though, it is quite obviously an incremental update to the OS, promising higher overall performance. Changes have been made to the native apps such as Safari to stop autoplay videos and block ad trackers, keeping up with Apple's strict privacy measures.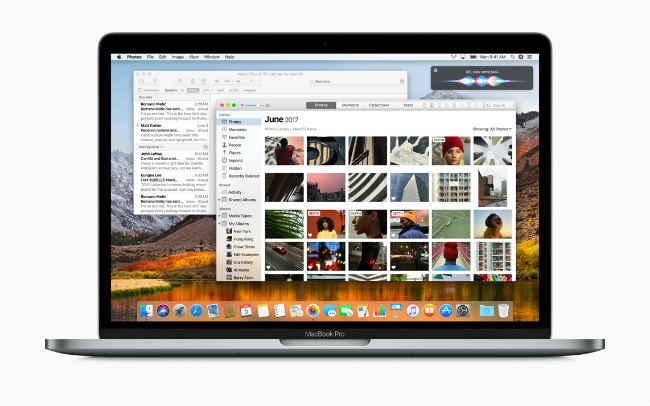 The biggest update comes in the form of VR support with the announcement of Metal 2, it's own graphic technology. This combined with the powerful hardware available on the iMac Pro, we detailed earlier would enable MacOS users develop VR apps and content.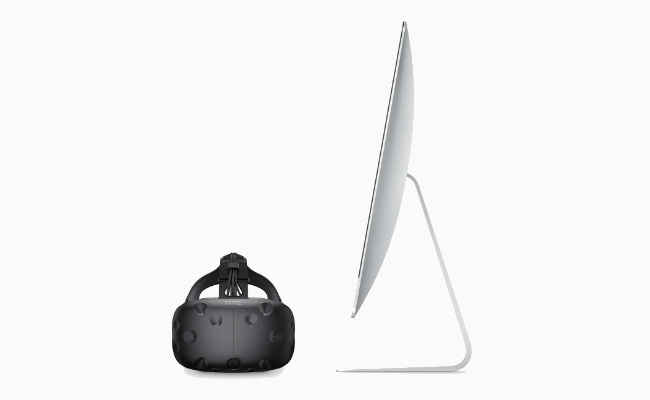 With this new OS, Apple will be replacing its Hierarchical File System, which has been around since the birth of the company to Apple's File System. The company claims it will add more speed, stability and security to the system. There are performance improvements in almost all native apps and Apple claims that Safari is now 80% faster than Chrome in Javascript performance.
HomePod
Lastly, there is the HomePod, which is Apple's foray into ambient computing plus a home speaker system. Apple claims that while this new product combines good audio output and an AI interface, which currently no one in the market offers.
It is about 7-inches tall, has 7 tweeters at the bottom and a single woofer firing upwards, which are automatically adjusted to the room once the device sets itself up using spatial awareness procedure. This means once you set it up, the omnidirectional speaker setup will throw sounds of different frequency at the surrounding and will adjust the audio output accordingly. The speaker also has a six-microphone array which Apple claims will be able to pick up instructions even when music is playing.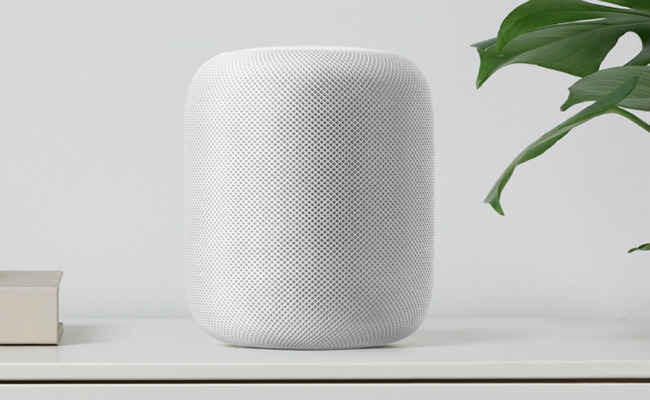 There is an Apple A8 chip powering the HomePod and with Siri being the UI, one can easily ask for info about a particular song, check messages, set alarms and basically do pretty much the same stuff you use Siri for. Apple says that the device has local recognozation and whenever it picks up "hey siri", only then it connects to the internet. In addition Apple claims, all the commands one asks Siri are encrypted and sent with an anonymous ID. Privacy being a prime concern for the company.
The Apple HomePod is priced at $349 and will be available in two colours and will start shipping (at least in the US) in December