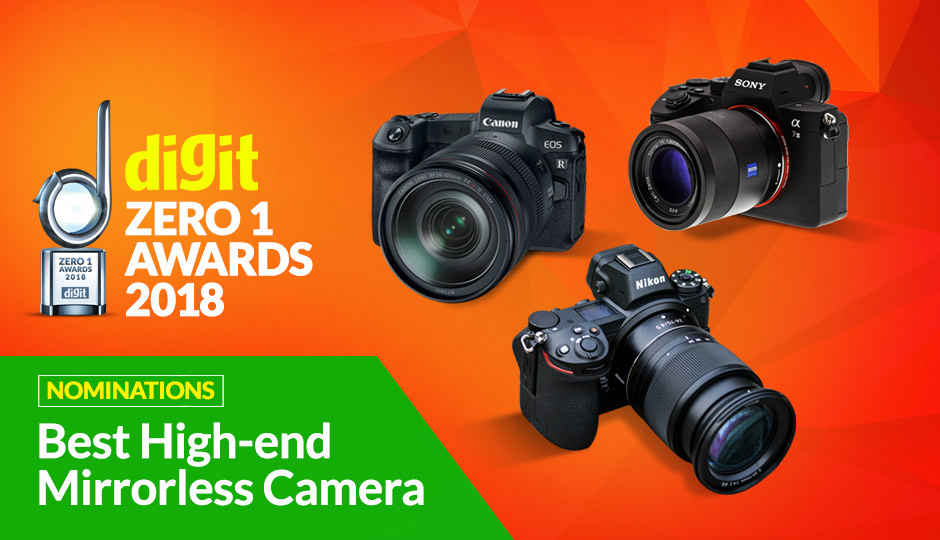 HIGHLIGHTS
The mirrorless camera segment has been steamrolling ahead, chewing through the market share of DSLRs at a consistent rate. The year 2018 is perhaps the most interesting one for the segment as both Nikon and Canon have entered the game with their first high-end mirrorless cameras
Just five years ago, no one would have believed that mirrorless cameras would become a tool much loved by professional photographers. This year, we saw Sony release two full-frame mirrorless cameras aimed at different types of professionals, but this is something they've been doing for three years now. What really marked the "arrival" of professional mirrorless cameras is Canon and Nikon both jumping into the waters. With this consideration, this year's Zero1 awards, for the first time, look at a diverse offering when it comes to professional mirrorless cameras. Zero1 Awards is Digit's platform that recognizes and rewards products that yield the absolute best performance, price no bar. Keeping that in mind, let's look at the nominations for the Best High-end Mirrorless Camera award for 2018.
Nikon Z7
Nikon had been teasing its full-frame mirrorless camera for months, and when the final announcement did happen, we were treated to not one, but two cameras. The Nikon Z7 is the camera with a higher megapixel count at 45 megapixels packed into a BSI-CMOS full frame sensor. Boasting the ergonomic quality of a DSLR, a focus system with 493 AF points and up to 9 frames per second burst mode, the Nikon Z7 does not leave out any bell or whistle. While its spec-sheet is impressive, we're currently evaluating the camera to see if it can emerge at the top to win our Zero1 Award
Canon EOS R
Canon's maiden full-frame mirrorless camera exhibits one of Canon's biggest strengths; innovation. This is a camera that shows the amount of time and effort the camera giant has spent into making the EOS R a reality. With a unique and configurable touch bar at the back, a 30 megapixel full-frame sensor which comes with 5655 AF points, could the Canon EOS R be the mirrorless camera that pulls Canon's DSLR loyalists over to the dark side? We will know once we're done evaluating the camera and find out whether it is the right candidate for the Zero1 Award 2018.
Sony A7 MarkIII
It would be easy to assume that the A7 MarkIII is the third-generation update to the original A7, but in reality, many other Sony cameras have come before it. The refinements found on the A7 MarkIII are not just from the A7 MarkII, but also borrow from the Sony A9, Sony's sports-grade full-frame mirrorless camera. Between the release of the A7MarkII and the A7 MarkIII, Sony has managed to release four additional full-frame mirrorless cameras, each of which has seen some level of refinement, bringing us to the 24-megapixel full-frame beast from Sony. However, ergonomic and feature improvements alone don't make for a winner. We will assess whether the A7 MarkIII performs like a champ and whether it can out-perform the competition, given that Sony has been doing this for longer than Nikon or Canon.