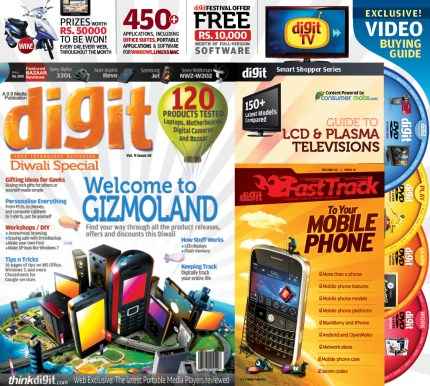 As the festive season approaches, Digit brings you just the thing you need to assuage your spending woes!
This Diwali, the Festival of Lights (named after its effect on wallets), we bring to you a Digit Special Issue that is focused on equipping you with all the knowledge and information needed to make wise decisions while buying electronics.
The October issue will feature over 100 product reviews, along with the 'Digit Smart Shopper Series' – a buying guide for all things tech – which focuses on LCD and Plasma TVs. You just know you will make the right decision when armed with this exclusive reference tool, complete with prices and feature comparisons of over 150 models.
We will also bring you Digit TV, a new video DVD customised to help you when you are purchasing cell phones, laptops, digital cameras, PMPs, graphics cards, CPUs, motherboards, and just about anything digital!
Here's a sneak peak at Digit October 2009:
Tests
Laptops: For executives, personal use and gaming enthusiasts
Digital Cameras: All of the most popular cameras reviewed
Motherboards: AMD or Intel? Onboard graphics or a card? A must read for those looking to build a PC
Bazaar - 22 of the latest gadgets and gizmos reviewed
Mega Tips & Tricks
MS Office, Windows 7, Google Services, and more...
Other Top Stories
Gifts for geeks: Buying tech gifts for yourself or others made simple
Personalise Everything
From PS3s to phones, and computer cabinets to digital cameras, here's how to leave your mark…
Workshops/DIY
Anonymous browsing | Staying safe with DriveBackup | Make your own Font | Make XP look like Windows 7
How Stuff Works
LED Displays | Flash Memory
Keeping track
Keep track of everything in your life... digitally
Fast Track
Fast Track to Your Mobile: How many of us really know how to use ALL of the features of our cell phones? Busting jargon, explaining technologies and telling you exactly what each feature does and how it's used, this Fast Track is a must-have.
This Diwali, you can at least save a bit on your Internet bill as Digit brings you 30GB of software, Games, Music, Videos and more, spread across 4 DVDs:
Digit TV
Our Test Centre opens its doors and helps you buy everything from cell phones and laptops to graphics cards and motherboards…
Play
All the latest in games, movies, music and videos to entertain you for weeks
Learn
With an aim to make learning fun, this DVD contains only the best educational content to help you get ahead
Work
Efficiency and productivity tools just got a whole lot cheaper as we bring you Rs. 10,000 worth of full-version software for free!
Click here to pre-order your copy at the Digit Store now: http://bit.ly/DigitOct2009