From innovating novel 'green' tech gadgets and products to repurposing waste products, a host of new-age Indian startups and Indians have upped the ante by hyper-focusing on sustainability, waste management and renewable energy. Some attempt to counteract the absence of basic necessities such as water, electricity, and more as well, further enhancing living conditions in the country. These Indians attempt to educate the citizens of our nation about the perils of climate change and extensive usage of non-renewable resources by providing solutions that cater specifically to them. Without further ado, let's take a moment to appreciate the green initiatives incepted by multiple eco-conscious Indians and Indian startups.
Innovative Indians
Meet the harbingers of change who have toiled for years to innovate green solutions for issues that plague our planet and country environmentally.
Jawwad Patel
Inventor, scientist and social innovator, Jawwad Patel is a recipient of a National Award for Excellence in Research and Innovation, which is amongst his numerous accolades. Patel reveals, "I have categorised my interest into five domains Water, Energy, Health Science, Space and Agriculture which are the most important verticals for the development of our country and I have invented multiple innovations and technologies in the same". The 26-year-old has multiple green innovations up his sleeve including DewDrop, a smart solar car, and AgriTech.
DewDrop is an atmospheric water generator that essentially generates fresh, consumable water from atmospheric water vapour through the process of condensation, in combination with the Thomson and Peltier effect. The device produces 1.86 litres of water every hour and weighs a mere 900 gms. It comprises of three main units - the smart condenser, filtration and mineralisation system, and a power supply unit.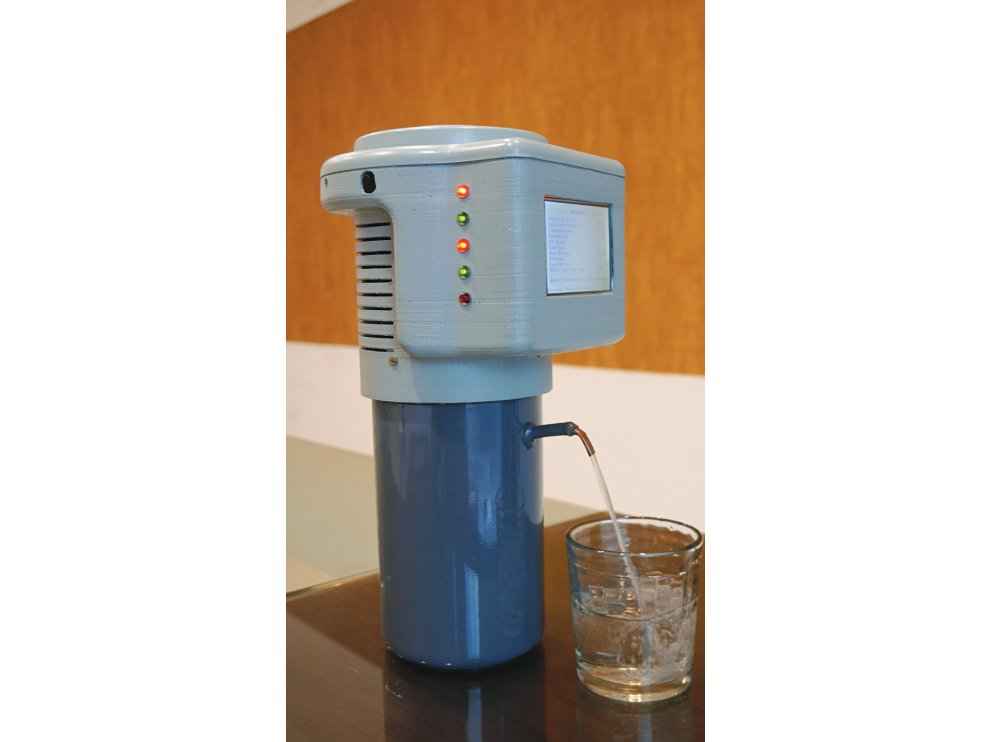 To combat global warming accelerated by emissions from traditional vehicles, Patel built a smart solar car that runs 100 km on a single charge. Patel further elucidated, "It (the solar car) consists of 10 unique sensors with smart human-machine interface system associated with an android app, in simple words, we can get all the details of the vehicle on your mobile phone". The details displayed on the Android app include battery backup details, the temperature of the motor, axis details, accident alert, speed alert, fire and other safety systems.
Lastly, Patel invented AgriTech, a smart water sprinkler system for irrigation that can provide crops with a balanced ratio of water and manure using its AI and ML capabilities. It combats the issue of over-watering crops which leads to inefficient growth of the crops and waste of water.
Nemkumar Bhantia
"India produces a bulk of tires every year which adds to the existing pollution issue when they are burned or incorrectly disposed of. We recycle over 300 million tires produced in the country annually," stated Nemkumar Bhantia, Professor of Civil Engineering at the University of British Columbia. The Indian-origin innovator further adds that, along with his team, they recycle scrap tire fibre and mix it up with concrete to create roads in the rural areas of India.
These roads are also self-repairing and sustainable, meaning they have the ability to repair cracks that may develop over time automatically. Nemkumar and his team have worked extensively in Thondebavi village, 90 kilometres north of Bangalore, since 2014, testing and perfecting this technology. They successfully replaced a dilapidated dirt track which connected the village to the highway with the self-repairing road. The road is about 100m in thickness which is 40 per cent less than that of a typical Indian road, which further diminishes costs and materials required. A large percentage of the cement is replaced with fly-ash thereby curbing the usual carbon footprint seen in typical Indian roads and the emission of greenhouse gases during the production of cement.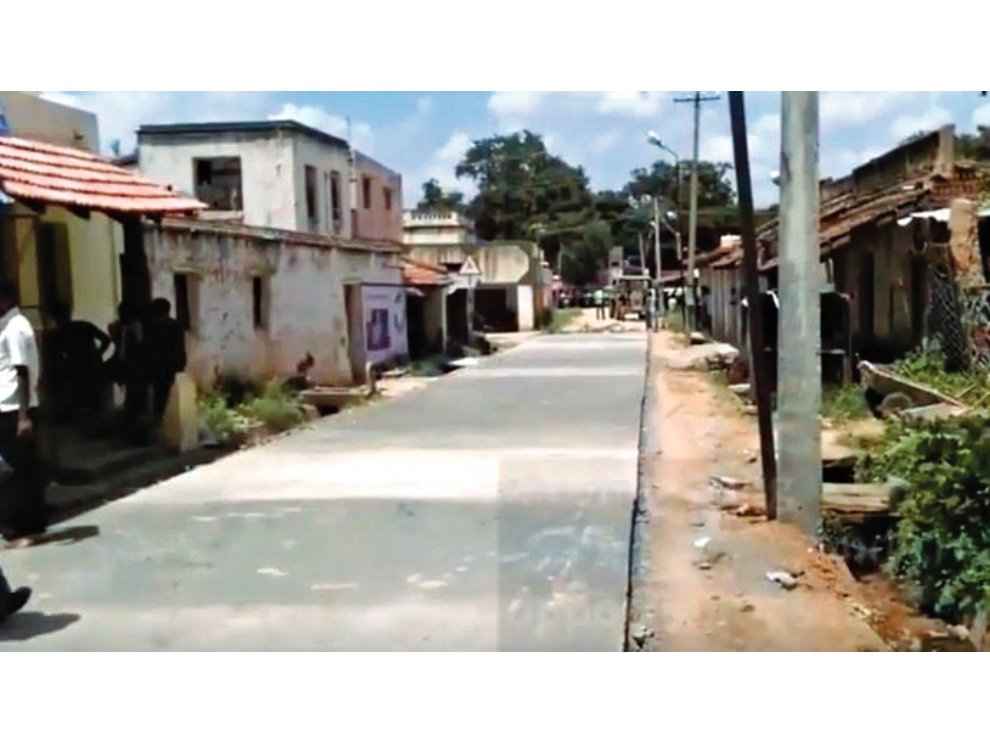 Explaining the road's built-in crack healing, Professor Nemkumar stated, "The fibres used in our roads have a hydrophilic nano-coating on them. This means they can attract or absorb water which in turn becomes available for crack healing. Usually, if typical roads develop a crack, they have unhydrated cement. However, our innovation gives the cement-fibre mixture the hydration capability which produces silicates that aid in closing the crack over time". Nemkumar's fibre-infused self-repairing roads cost 30 per cent less to make and can last for up to 15 years.
Dr Govinder Singh Pawar
A scientist at the University of Exeter, UK, Dr Govinder Singh Pawar is leading the research to make fuel available from the process of photosynthesis. Pawar has fabricated a semiconductor photoelectrode that can extract pure hydrogen from water by achieving photoelectrolysis. This form of hydrogen can be used as an alternative source of energy and fuel.
Somil Daga
Putting his engineering studies to use, Somil Daga helps provide lighting solutions and affordable charging provisions to Gangapur village in Bihar. Along with his team, he attempts to address the energy needs of the village which, until Daga came along, had no electricity supply. He has provided one LED per household in the village and designed a solar panel which can charge twenty mobile phones at the same time.
Chewang Norphel
Chewang Norphel is an Indian civil engineer from Ladakh who has constructed 15 artificial glaciers hence earning the nickname 'Ice Man'. He created the glaciers by redirecting a river into a valley and slowing down the water stream by constructed obstacles. Once the flow has slowed down enough, the water freezes, creating man-made glaciers. These can be used to increase ground-water recharge and provide water for farming.
Eco-conscious Indian startups
These eco-conscious Indian startups are making an effort to overcome the environmental issues that torment our planet by introducing sustainable and eco-friendly solutions.
K. K. Waste Management
"Plastic is inevitable. The banning of all plastic products is next to impossible because it is omnipresent. So, the best solution is to dispose of plastic in an efficient manner", says Mr Ahmed Khan, Managing Director at K.K. Plastic Waste Management and recipient of Real Hero Award, 2010.
Khan, along with his team, has come up with an innovative solution to dispose of plastic by blending it with synthetic vitamins or tar coal. This concoction is then put to use by K. K. Plastic Waste Management into asphalting roads and pavements as well as making bricks and slabs. Khan and this team conceived this idea in 1996, and after perfecting their technology and approach to repurposing plastic waste in asphalting roads, they made propositions to various road builders but to no avail. After toiling for a while, they approached the Central Road Research Institute of India (CRRI) and Indian Road Congress (IRC), and finally, their innovation was cleared for use.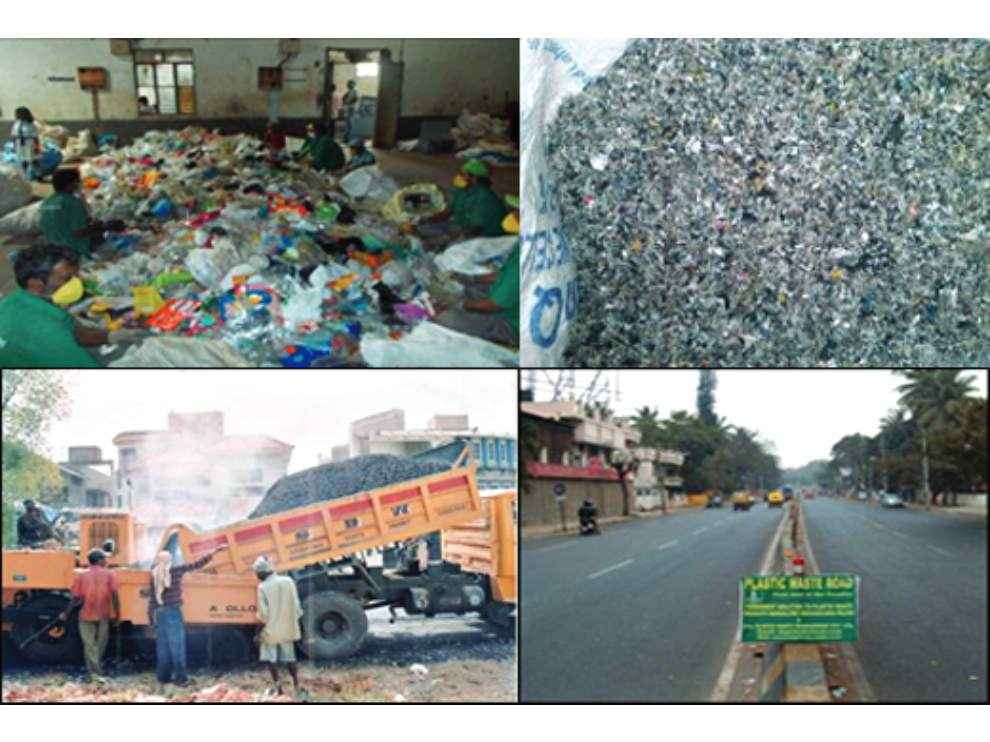 Finally, in 2002, the plastic-induced roads were constructed in Bengaluru as a trial. Now, the startup has constructed a total of 3,200 km of plastic-induced roads in Bengaluru alone which consumed 15,000 tonnes of plastic waste. Khan stated, "Using plastic in roads will increase their lifespan by three times and the cost will be driven down as well. If plastic is used to reconstruct every road in India, almost 1.5 crore tonnes of plastic waste can be redirected here".
To make this blend of plastic and tar coal, the startup designed their own machinery. However, the ones fabricated in 1996 are now obsolete, so they have created new automated machines with funding from companies such as Dr Reddy's Laboratories, FCL, ONGC and more.
The Prime Minister of India has allocated K.K. Plastic Waste Management a huge set up in Gurgaon. They're also in talks of setting up units at Noida, Hyderabad and Panvel in a few years which would allow them to take their initiative further.
Chakr Innovation
To deal with the menace of air pollution, Chakr Innovation, a Delhi-based startup, has developed an innovative technology called 'Chakr Shield'. This device is retrofitted on diesel generators which then capture 90 per cent of particulate emissions from said generators. These emissions, which would otherwise pollute the environment, are captured and converted into ink and paint, thus closing the carbon cycle. Shreya Kapoor, Marketing Manager at Chakr Innovations stated, "Our product deals with the problem of unrestrained emissions from diesel engine generators. Among these emissions, particulate matter (carbonaceous Nano-sized matter) pose an enormous risk to public health due to its carcinogenic nature".
The startup was founded by Kushagra Srivastava, Arpit Dhupar and Bharti Singhla, a team of IIT-Delhi graduates that came up with this novel technology back in their college days. Suffering from breathing problems to due air pollution right from his childhood, Dhupar's inspiration for this project is apparent. Dhupar, along with Srivastava and Singhla, thought of this idea when visiting a sugarcane stall. They noticed a wall had turned black from the emissions coming out of the diesel genset used by the vendor. This triggered their innovative instincts and they went ahead to develop a product that could capture such harmful emissions.
So far, Chakr Innovation has installed more than 80 Chakr Shields and they have captured a total of 500 kg of particulate matter. To break it down further, each device captures 17.5kg of particulate matter from a 25 kVA DG (diesel generator), running at 80 per cent load for 8 hours daily, over a period of one year. A single device can also purify around 255 billion litres of air in its lifetime. The more devices are installed, the lesser the PM levels in the air will become which will result in better visibility, air quality and reduced smog.
Suryagen Renewables
In collaboration with IISc researchers, Suryagen Renewables has developed an open-source solar water purifier that can convert water from any source, such as sea, river, ponds, rain, etc, into potable water. Impure water is collected in the contraption and then evaporated by solar energy and the vapours are condensed to pure water on a cold surface, eliminating bacteria, metal residue, arsenic, fluoride and other impurities.
Banyan Nation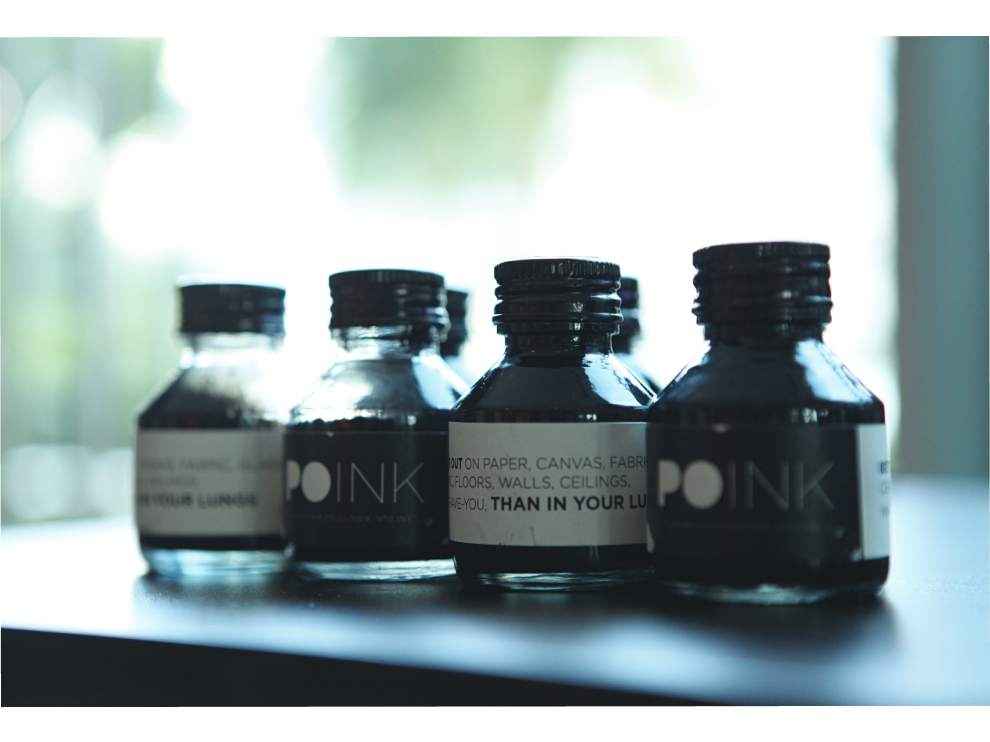 Banyan Nation uses internally-developed thermal technology to clean and re-engineer 1,200 tonnes of plastic waste per annum. The plastic waste is restructured to become as close to virgin plastic as possible, thereby enabling reuse of the revamped plastic, which they call 'Better Plastic', in manufacturing processes. Tata Motors and L'Oreal have both used Better Plastic in their auto components and product packaging respectively.
Ulta Chaata
Samit and Priya Choksi, a couple passionate about conservation and sustainability, created the Ulta Chaata. It is a patented canopy that captures rainwater and then filters it to provide potable water. The unit also works as a solar energy generation system and is IoT-enabled. A single unit can harvest 1,00,000 litres of water and capture energy with a maximum peak power of 1.5 kW.
If you want to be a 'green' hero yourself, start by taking small steps to reduce your own carbon footprint. Tell us about your efforts by writing to us.