If there is one thing the Japanese are known for, it is consistency. Last year when the Gel Kayano 25 came out, it was the 25th edition of the shoe and even then, the company chose to stick with the same design language. Suffice to say, if they didn't change things for the "silver jubilee" edition, they wouldn't do it for the 26th. The Asics Gel Kayano 26 may not look a whole lot different from its predecessor, but it does come with a number of notable upgrades. Asics shared a sample of the shoe with us so that we could evaluate it with respect to the amount of tech embedded into the shoe. But first…
Some Basics
The Asics Gel Kayano 26 is a running shoe designed keeping long-distance runners in mind. The amount of technology in this shoe makes it one of a kind. Asics has thrown in almost all their home-grown technologies into the Gel Kayano 26 which includes the Trusstic Guidance System (for stability), three types of foam (FlyteFoam, FlyteFoam Propel and Dynamic DuoMax) and of course, a new layout for the Gel that offers impact protection to the entire foot bed. There's a lot going on so to properly assess the shoe, we put some distance on it.
How we reviewed the Asics Gel Kayano 26
Run distance – 55Km (8 runs of 5Km each, one run of 10Km and a few short runs of 1km)
Run surface – Delhi roads
Walk distance – 18Km
Asics Gel Kayano 26 Upper
The Asics Gel Kayano 26's upper is made of a material that dries rather quickly and is very breathable. It comprises a mesh-like material, which makes it durable and surprisingly quick to dry. Having been a Nike Epic React Flyknit user for some time now, one thing that immediately stood out was the upper unit on this shoe. The Flyknit is a sock liner-type upper which, while sliding the foot in, tends to buckle at the back, making putting the shoe on somewhat of a work. The Gel Kayano 26 has a stiff heel and the generous use of memory foam lining around the heel collar which means that most people will find sliding their feet into the shoe super easy. I was able to do it without the use of a finger to hold up the heel collar, something that's become a rather enjoyable experience. The toe box has enough wiggle room for your feet when they swell up from long-distance runs. I was able to verify this after a 10km run where my feet still fit snug inside the Gel Kayano 26 without feeling cramped but when I put on my Epic React right after, they felt too tight.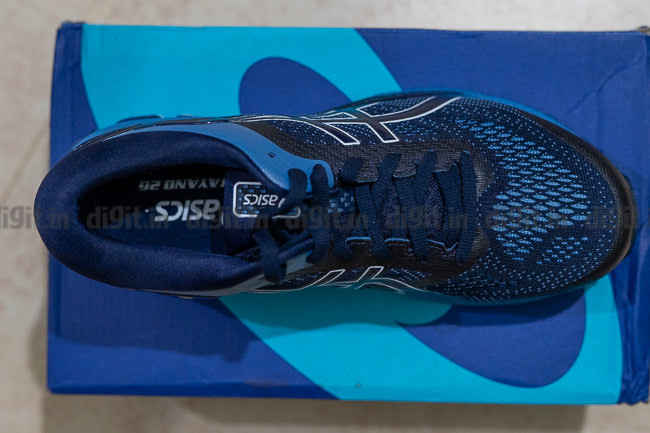 Running in the Asics Gel Kayano 26
Gone are the days when all you needed was good cushioning in a running shoe. You're going to run long distances, would make sense for you to want some comfort, right? Partially. The thing is, the more cushioning you have, the more energy you lose while running. But then the harder the sole, you get better energy returns, but it also gets progressively more uncomfortable. To provide the perfect balance, all shoe companies have come up with their proprietary foam. Adidas has Boost, Nike has the React and Asics has FlyteFoam.
The Asics Gel Kayano 26 makes the run comfortable using numerous design choices spread across the heel, the midsole and the toe. The heel now has a gel pad that's aligned at an angle of 45-degrees. This provides the heel with plenty of cushioning, although on my longer 10K run, it did start to feel a little on the stiffer side. While the gel is visible only on the heel, it does run all the way from the heel to the toe.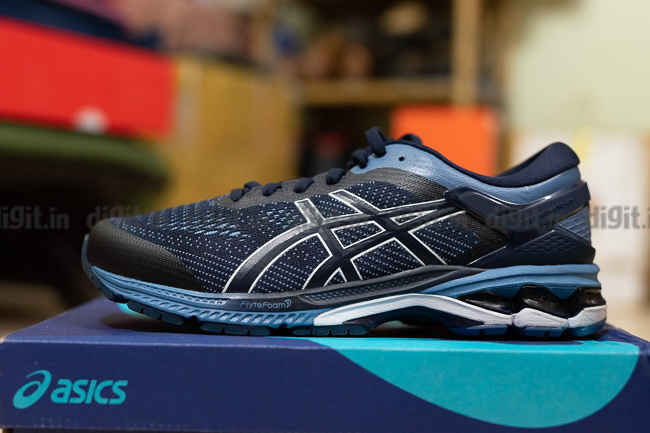 The Asics Gel Kayano 26 features three types of foam and additional gel for a great experience
Depending on your strike style, the Asics Gel Kayano 26 will give you a different feel while running. I have a midfoot strike for long-distance running and forefoot strike for shorter runs (1K) and sprints. The midsole of the Gel Kayano 26 is not only adequately cushioned, but also provides solid energy return. This results in a rather comfortable long run thanks to the use of FlyteFom and FlyteFoam Propel foams.
Making the long run more comfortable is the Impact Guidance System (IGS), a combination of a hard resin structure in the midfoot and an S-shaped structure that runs from the heel till the toe. There is also a hard plastic heel counter that keeps your heel from wiggling around in the shoe. The combined result is better balance while running. As fatigue starts to set in on a long run, our strides can often get off balance. The Impact Guidance System keeps that to a minimum, if not eliminating it completely. As a particularly heavy runner, I found my strides and consequently long runs to not only be more balanced but also result in lesser fatigue of the base of my foot.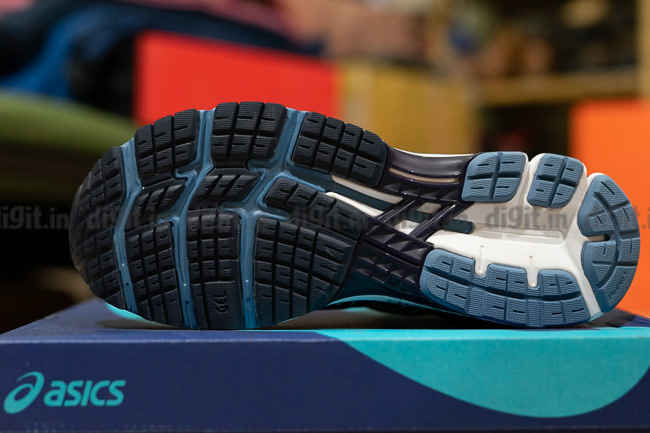 The Impact Guidance System is a combination of features for a well balanced run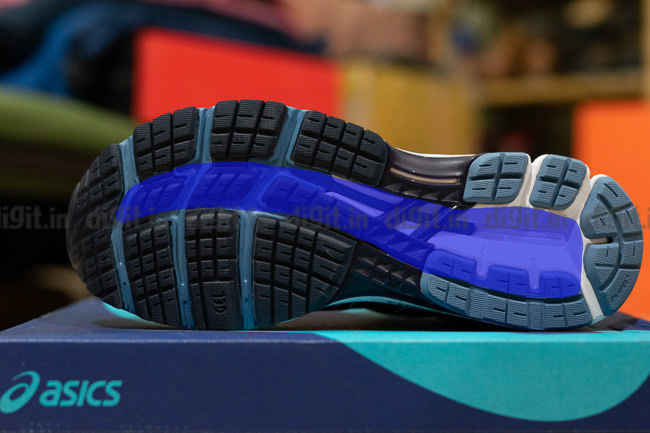 The S-Shaped structure highlighted above is where the fore of each stride is channeled
Another element to proper running is protection against a runner's tendency to tilt their ankles inwards or outwards while running. This is called Pronation. If you tilt your ankle inwards, its 'overpronation' and tilting outwards, 'underpronation'. The Asics Gel Kayano 26 uses the Dynamic Duomax foam to prevent overpronation. Now, even if you're not an overpronator, there's a common understanding that on long runs, even non-pronators tend to overpronate. Having a corrective system in place is always welcome, even if it's not something you particularly need.
During my multiple runs, all of which took place on roads (the surface this shoe was designed to run on) there were some notable observations about the Asics Gel Kayano 26. For starters, if you're a forefoot striker, you're not going to enjoy the relatively thin cushioning on the front. There's only a small layer of the FlyteFoam and gel to absorb the impact and it's not enough to make sprints or long-distance runs (with a forefoot strike) very comfortable.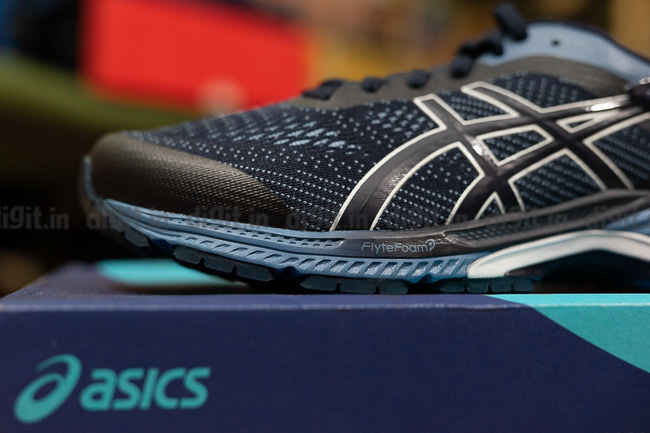 Those who run on their toes might find the cushioning towards the front a little thin
The Gel Kayano 26 is a shoe that would find favour with first-time runners or those who are getting back into long-distance running. Sprinters or runners with a forefoot strike may want to look at other options like the Epic React 2. The Gel Kayano 26 is incredible to walk around in, but they are a little too expensive to be used as just a pair of walking shoes.
Bottomline
The Asics Gel Kayano 26 is not the cheapest pair of running shoes in the market, but they are definitely providing plenty of technologies in a shoe to justify the price. With a robust support system that ensures the right strike and a guidance system for maintaining balance, this is a shoe where multiple technologies come together to provide a super comfortable run. The FlyteFoam along with the Dynamic Duomax provide adequate cushion to the midfoot but falls a little short on the forefoot. Also, the Gel Kayano 26 weigh 311 grams, notably heavier than the Nike Epic React Flyknit which weigh just about 285 grams. This is a great shoe for those who seek to get into long-distance running and need a shoe that will be more forgiving to poor balance and improper strike and gait motion arising from fatigue.