Prime Minister Narendra Modi on Friday launched Bharat Interface for Money app, or in short, BHIM app - an app that brings together UPI and USSD based payments on one platform to push the digital payment trend forward in India - at the Digi Dhan Mela event in Talkatora stadium in New Delhi. The app from National Payments Corporation of India, or NPCI, supports fingerprint authentication and is available only on Android as of now.
As most UPI-based apps, even this app does not require you to load money into a wallet. So how does the app work? To begin with, you need to set a PIN for the app. Post that, to register your account:
Select the mobile number against which the app will verify your bank details.
Select the bank. The app will identify account using the phone number as an identifier.
Enter additional details like card details etc to verify the account and set a UPI PIN for said account. If your account already has a UPI VPA, the process is most likely to stop at this stage unless you unlink your previous VPA from the previous app.
The major difference here is that your mobile number is your identifier. In most UPI apps you need to create a Virtual Payment Address (VPA) for payment, but BHIM defaults to a VPA with your phone number, like '<phonenumber>@upi' - as you can see, the VPA created here is bank agnostic. Using this VPA, allows you to send money to another phone number, check balance, or scan a QR code to make a payment without sharing a phone number.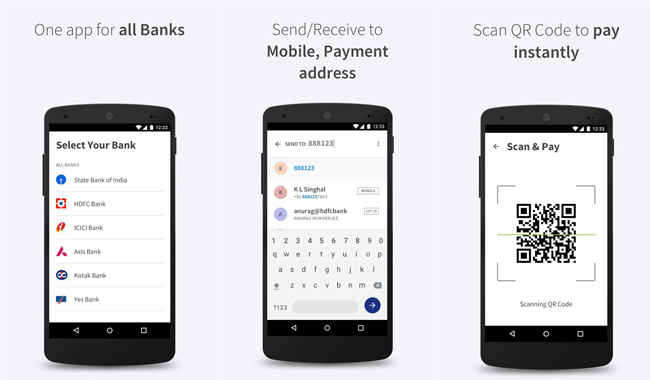 Along with that, you can also create a custom payment address if you wish to do so - go to the 'Profile' section of the specific account in the app and tap 'Add Primary Address' - and you will be able to create a customised payment address, with its own separate QR code.
Another interesting feature is that the application's features are also accessible on feature phones in the form of a USSD based interface. Users will have to dial *99# to access it. This removes the dependency on an internet connection on feature phones, which the app does need to work on Android.
The app also allows you to generate a QR code for a payment request - this is different from a standard account QR code and is specific to that payment. As of now, this feature is not available on all UPI apps. As for limits, there is a per-transaction limit of INR 10,000 and a daily limit of INR 20,000 on the app and the app only links to one bank account at one time.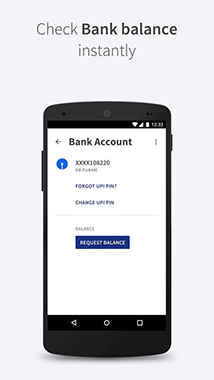 ​
The app supports Hindi and English, and more languages will be added soon. The full list of supported banks is as follows - Allahabad Bank, Andhra Bank, Axis Bank, Bank of Baroda, Bank of India, Bank of Maharashtra, Canara Bank, Catholic Syrian Bank, Central Bank of India, DCB Bank, Dena Bank, Federal Bank, HDFC Bank, ICICI Bank, IDBI Bank, IDFC Bank, Indian Bank, Indian Overseas Bank, IndusInd Bank, Karnataka Bank, Karur Vysya Bank, Kotak Mahindra Bank, Oriental Bank of Commerce, Punjab National Bank, RBL Bank, South Indian Bank, Standard Chartered Bank, State Bank of India, Syndicate Bank, Union Bank of India, United Bank of India, Vijaya Bank.
Stay tuned to this space for more updates regarding UPI and the BHIM app.